News18
»
Other Sports
3-min read
Trainer Rajesh Narredu Wins First Regional Classic, Keeps Alive Family Legacy
The Delhi Race Club witnessed the running of the regional classic race Vikram Greenland Stud North India 2000 Guineas on Tuesday. A terms race for 3 year olds run over a distance of 7 furlongs.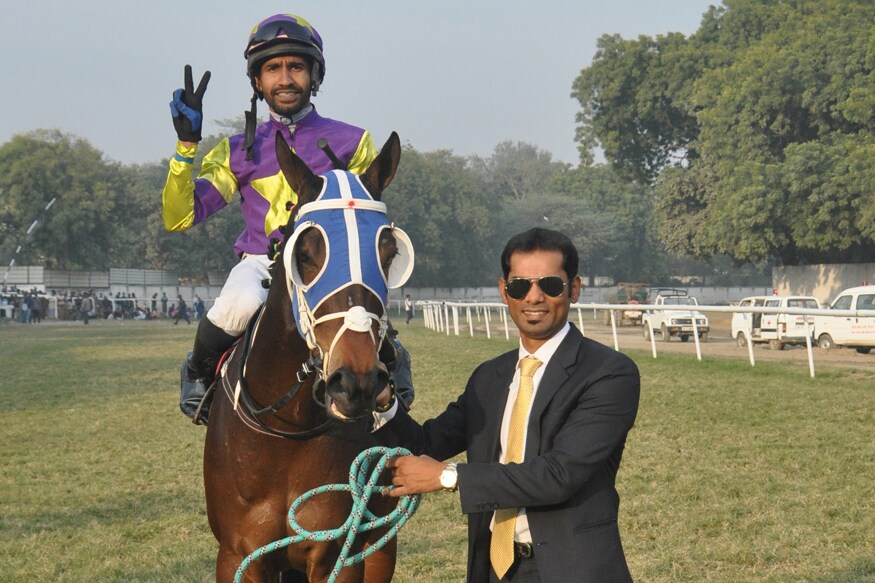 Rajesh Nareddu celebrates after winning the race.
The Delhi Race Club witnessed the running of the regional classic race Vikram Greenland Stud North India 2000 Guineas on Tuesday. A terms race for 3 year olds run over a distance of 7 furlongs.
Animal King, the 3 year old bay gelding foaled at Dashmesh Stud Farm came out victorious for the Bangalore based owner Ravi Pathak. The credit most certainly goes to the young and committed 30 year old trainer Rajesh Narredu who is known to work relentlessly on his wards. He has successfully managed to expand his string of horses training under him.
Animal King, the winner has been sired by Win Legend out of Actuate. He was ridden by B Mahesh and carried a weight of 57 kgs. The horse clocked in a timing of 1.25.04.
Rajesh who hails from a family full of equestrians is a trainer who's showing great promise. He came out victorious as a part owner of Super Storm in the 2013 Indian derby. The horse was part owned by an unassuming BTC tote collector Rajamma who collected all her savings to buy a horse and emerged victorious in the biggest race of the country absolutely caught off guard!
There is a story here. The Narredus have a keen eye for horses. It runs in the family. Whether it is the father Satish who's a veteran trainer at the BTC, or the classic record breaking trainer Malesh who's also been a successful jockey. Even the jockeys in the family are summed up to be amongst the best in the country. The 'classic' example being Suraj who just won the Indian 1000 Guineas last weekend on Lady in Lace or even Yash who's showing phenomenal promise at such a young age. Remember he is the same jockey who reversed the lengths on Be Safe astride Quasar in the much talked about Invitation Cup in 2015.
Coming back to the North India Guineas, Animal King is a horse that was much fancied by Rajesh. A quick dinner with him a day before the race and you could feel the confidence in the air. When posed with the question of expecting a victory, it was an unequivocal yes! "He will be right there," said Rajesh who flew into Delhi for the race.
Big Orange his biggest threat ran third in the Guineas. "Animal King's form from Bangalore was very good. And I thought he could handle this field well. But I always regarded Big Orange as my main threat. They're both very good horses," observed Rajesh.
"My competition always was Big Orange. He is a very talented horse and has performed very well on the Delhi track. I always considered him as my main threat. The rest of the field was very mediocre and I had faith in my horse to get the better of them. As far as the next big race is concerned we still have to discuss and decide with the whole team. But I can say my ward will probably run the Delhi Derby," he added.
The North India Guineas winner had most of the preparation of the big race done in Bangalore. The horse traveled to Delhi a month back with this race as his target. A proper glance at his mock race last week got the connections convinced he'd run a big race at the Guineas.
This happens to be this young professional's first classic win as a trainer. A classic is very special for any trainer, jockey or owner. "It is surely a very special win being my first classic and I hope to go on from here. I am very thankful to God, my parents and my family. I must also make a special mention to thank my brother Suraj who has been guiding me and helping me around with my horses. And not to forget the most important people behind the scenes my staff both on Delhi and Bangalore. Also trainer Sangeet Charan for all his help. And not to forget a very sporting owner of the horse Ravi Pathak," concluded Rajesh.
Get the best of News18 delivered to your inbox - subscribe to News18 Daybreak. Follow News18.com on Twitter, Instagram, Facebook, Telegram, TikTok and on YouTube, and stay in the know with what's happening in the world around you – in real time.
| Edited by: Pratik Sagar
Read full article