US Open: Alexander Zverev Poised for Breakthrough Run
Alexander Zverev has never reached a Grand Slam quarter-final, but the 20-year-old German prodigy suddenly finds himself the man to beat in his half of the US Open draw.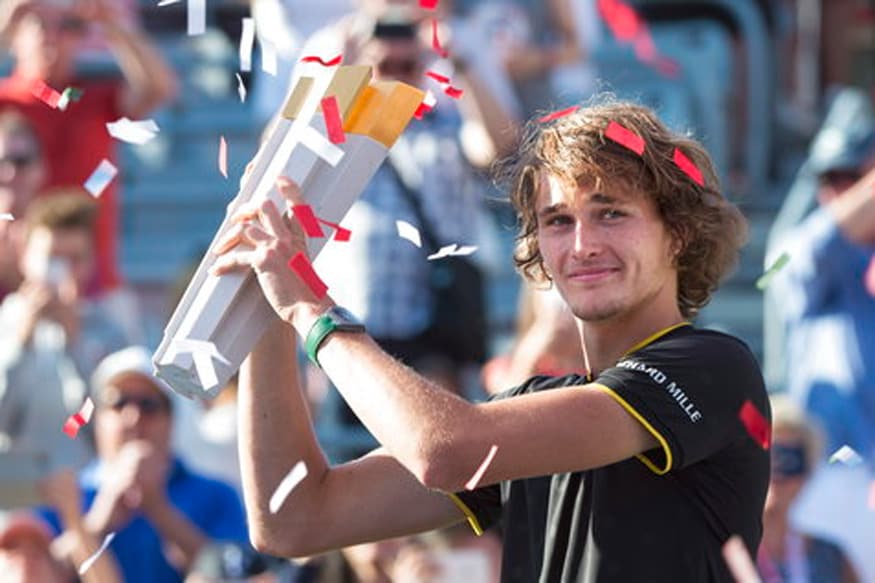 Alexander Zverev, of Germany, holds up the winner's trophy after defeating Roger Federer. (AP Image)
New York: Alexander Zverev has never reached a Grand Slam quarter-final, but the 20-year-old German prodigy suddenly finds himself the man to beat in his half of the US Open draw.
Zverev has jumped to sixth in the world rankings after winning back-to-back US Open hardcourt titles this month at Montreal and Washington and earlier crowns this year at Rome, Munich and Montpellier.
With three of the world's top-five players injured and out of the year's final Grand Slam -- Serbia's Novak Djokovic, Swiss 2016 winner Stan Wawrinka and former world number one Andy Murray -- the stage is set for a new generation's rising star.
"I feel different about this Grand Slam than I have felt before about the Grand Slams," Zverev said.
"I played great on the hard courts so far, won two tournaments. I felt like I could compete and beat anyone during this period of time."
With Spain's top-ranked Rafael Nadal and third-ranked Swiss star Roger Federer in the opposite half of the draw, Zverev is the highest-ranked player in his half, a surprising spot for a man whose best Grand Slam run was to last month's Wimbledon fourth round.
"Obviously Roger and Rafa are the biggest favorites still. How the year has been going, they are still on top of everyone," Zverev said. I'm just going to go match by match and hopefully I can get to those guys."
Zverev, who beat Federer in the Montreal final, could become the second-youngest US Open champion in the Open Era (since 1967) after 19-year-old Pete Sampras in 1990.
"Anything is possible," Federer said. "If he plays up to his potential like he has this year, and he gets going, I definitely see him going very deep.
"I think he's ready and it's going to be tough to beat him."
Two Masters titles have shown Zverev he has what it takes to defeat the world's best.
"It really showed me that I can beat those guys on a daily basis," Zverev said. "Everything is starting to come together and hopefully can continue.
"I'm trying to be aggressive, trying to take the time away from my opponents, especially when I play someone like Roger, Rafa, where you have to be the aggressor on the court. Otherwise it's going to be very tough to beat those guys.
"I'm super happy the way things are going, but I'm not going to be satisfied with just being the number four seed. Doesn't really matter at the end of the tournament what seed you were. It only matters how far you went and what matches you have won."
- Success is beating big name -
Zverev cited exhaustion in a first-match exit at Cincinnati in his final US Open tuneup. Since then he spent time golfing and on a Long Island beach before a week of training and video analysis.
"I analyze a lot and watch a lot of videos," Zverev said. "I watch the match so I know exactly what I've done wrong, what I could have done better the next time. That's how I try to keep improving."
Zverev has suffered two five-set losses in Grand Slams this season, to Canada's Milos Raonic at Wimbledon and to top-ranked Nadal at the Australian Open.
"It's just here and there a few points decided both of those matches, and who knows what could have been if I won those matches," Zverev said.
"Getting over one of those matches and beating one of the big names in a five-set match, that's where the success will come in."
Get the best of News18 delivered to your inbox - subscribe to News18 Daybreak. Follow News18.com on Twitter, Instagram, Facebook, Telegram, TikTok and on YouTube, and stay in the know with what's happening in the world around you – in real time.
| Edited by: Pratik Sagar
Read full article