Yearender 2017: End of An Era in Football
In football, change is hardly measured in years. It is instead, measured in the players who come and go.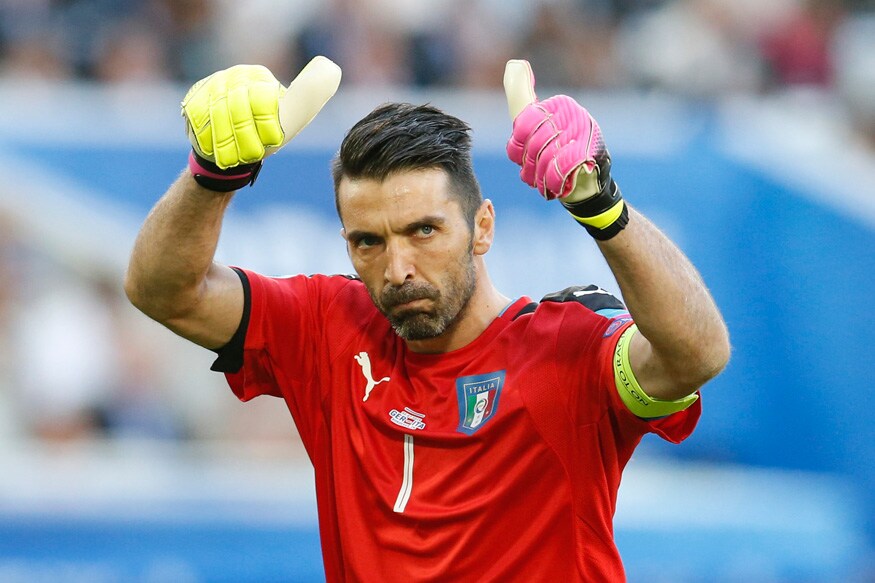 Italy captain and goalkeeper Gianluigi Buffon. (AP)
When Andrea Pirlo stepped up to take a penalty in Euro 2012 against England, his expression was one which we've known to see time and again - stern, eyes narrow, but unperturbed. Goalkeeper Joe Hart was smiling at him, making funny movements. Pirlo licked his lips once, almost as if to savour his prey, looked past Hart with a cold mafioso glare. Then he began his run-up, just a jog, baiting Hart to move first. The goalkeeper dived to his left, and Pirlo, at the last second, decided to beautifully chip it into the net. The ball flew, as if in slow-motion, and rippled the back of the net. Pirlo didn't even glance back at Hart to see the damage he had done to him. The keeper's career was never the same again. England were psychologically devastated to see a man caress the ball like that in a pressure situation. The penalty came six years after Pirlo had won the World Cup. He had then said: "I spent the afternoon of Sunday, July 9, 2006 in Berlin sleeping and playing the PlayStation. In the evening, I went out and won the World Cup."
There is one moment which defines Brazilian midfielder Kaka's ability to gracefully dissect the opposition. It was the 2007 Champions League semifinal. AC Milan vs Manchester United. The first leg was poised at 1-1. Kaka had already scored. Then he decided to show Old Trafford some magic. He chased a long ball - alone - against three defenders. Kaka nodded it past Darren Fletcher first, then flicked it over Gabriel Heinze. Realising the danger, Patrice Evra came steaming in to make a tackle. Kaka saw a tiny gap between Heinze and Evra and tapped the ball with his head to put it between the two onrushing defenders. The ball squeezed past, Heinze and Evra collided into each other comically. Kaka had raced away onto the ball, and finished with aplomb. The goal is still a nightmare in the history of the Theatre of Dreams. It was deft, it was genius, it was a classic. It was a Kaka goal. No wonder then, that he was the last player to have won the Ballon d'Or before Cristiano Ronaldo and Lionel Messi made it a two-man tussle.
Francesco Totti idolised Italian player Giuseppe Giannini. Giannini was fondly called 'The Prince' in the terraces of Italian football stadiums. Little did Totti know that he would become a legend himself - one who would fondly be called 'The King of Rome' - emulating his hero. Totti was omnipresent in Rome. Off the field, he is plastered on walls across the city - larger than life - because he was larger than life. On the pitch, he would mesmerise. He doesn't have too many titles to show for, but he conquered the World Cup. Totti is the personification of Rome - a one-club-man who stood like a stalwart in the face of football's modern mercenary world. Totti made people cry. Just like Pirlo and Kaka, Totti would score goals out of nowhere - and against AS Roma's biggest rivals. Then he would take a selfie with the fans while celebrating. That was Totti - you either worshiped him, or you worshiped him.
Between 2004 and 2015, Barcelona won 17 major trophies. Between 2008 and 2012, Spain won two European Championships and one World Cup. And running the symphony of these two sides was a diminutive orchestrator - Xavi Hernandez. Master passer. La Masia product. Playmaker extraordinaire. The midfielder who was the bedrock of 'tiki-taka' football. As the game changed around him, Xavi was the constant.
Didier Drogba was hardly known in the world before his move to Chelsea in 2004. After his move, the Premier League was never the same. Because Chelsea won their first title in 50 years, breaking the hegemony of Manchester United, with Drogba being at the forefront of that mission. Drogba won four Premier League titles, four FA Cups and a Champions League in a remarkable stint made out of swashbuckling goals. When Drogba hit them, they stayed hit.
Alongside Drogba was one of Premier League's finest goal-scoring midfielders in Frank Lampard. Lampard was the catalyst of everything good Chelsea produced. Under ten managers and a revolving door made of some of football's biggest stars, Lampard remained. When the ball rebounded outside the box, Lampard was there. When it came in the box and a striker was out of position, Lampard was there. When it looked like all hope was lost for Chelsea and the clock was ticking, Lampard was there - always - and he will remain in the record books as Chelsea's top-scorer and the only midfielder to score 150 Premier League goals.
A striker's nightmare. A team's last line of defence. The last man standing. With an unbelievable reach and a leap which defied gravity. Gianluigi Buffon is 38-years-old and still ranks among the world's best goalkeepers. When Juventus were relegated to Serie B due to a match-fixing scandal, Buffon didn't leave. He stayed. Buffon's longevity in the game means that one may take it for granted that he's between the goalposts for Italy and Juventus - it has led him to own 52 records to his name. His passion such that it pushed the borders of physical ability. Sometimes, it was as if the ball was somehow attracted to him, rather than the net. Because that is how enchanting Buffon can be. Buffon didn't keep with his hands, he kept with his heart. A heart which was broken when Italy failed to qualify for World Cup 2018.
Buffon. Kaka. Lampard. Totti. Pirlo.
Philip Lahm. Xabi Alonso.
Dirk Kuyt. Tomasz Rosicky. Didier Drogba.
More than 7300 club matches and counting between them. More than 1000 international games. Between them, they hold three World Cups and eight Champions League titles. In different teams, and miles part, collectively, they conquered the world and the heart of every football fan.
Remember the moments these players gave you. The goals. The passes. The tackles they made and the muscles they tore. The controversies. The red cards. The records. The tricks you tried to copy. The hairstyles. The interviews. The transfers. The right footed volley and the left footed chip. The handball. The penalty. The trophies.
The tears of joy. The cries of delight. You lived your lives through these players.
And now you will not.
Because they've all retired or are in their last season.
It feels like the curtains have closed on the stage where your childhood was played. And it's going to be tough to like the new actors - football is cruel like that.
In 2002, a leading sports brand produced one of the most popular series of football advertisements to ever be made. It was called "The Secret Tournament" - 24 of the world's top footballers divided into eight teams of three players each. They would play a first-to-score-wins tournament - each match being recreated as an advert with Manchester United legend Eric Cantona acting as the referee. There was no YouTube then, which meant fans would have to wait for commercial breaks to see the next part.
End of an era. Tomáš Rosický becomes last participant of "The Secret Tournament" to hang up his boots pic.twitter.com/OX51E28ljd

— Mohamed Moallim (@iammoallim) December 20, 2017
These 24 players were the biggest names tied with the brand, including (the Brazilian) Ronaldo, Henry, Totti, Ronaldinho, Vieira, Scholes, Saviola, Davids, Figo, Carlos, Crespo and Rosicky.
16 years have passed since then. But in football, change is hardly measured in years. It is instead, measured in the players who come and go. And when former Arsenal midfielder Rosicky announced his decision to retire recently, it also meant that all 24 of the Secret Tournament players had retired. Rosicky's announcement was just like the final note in the soundtrack which plays during the credits.
2017 ladies and gentlemen. The end of an era.
Get the best of News18 delivered to your inbox - subscribe to News18 Daybreak. Follow News18.com on Twitter, Instagram, Facebook, TikTok and on YouTube, and stay in the know with what's happening in the world around you – in real time.
Subscribe to Moneycontrol Pro and gain access to curated markets data, trading recommendations, equity analysis, investment ideas, insights from market gurus and much more. Get Moneycontrol PRO for 1 year at price of 3 months. Use code FREEDOM.
| Edited by: Arnab Sen
Read full article