News18
»
News
»
Tech
»
"Alexa, Play Imagine Dragons on Apple Music": Amazon Echo Speakers Will Play Apple Music Now
3-MIN READ
"Alexa, Play Imagine Dragons on Apple Music": Amazon Echo Speakers Will Play Apple Music Now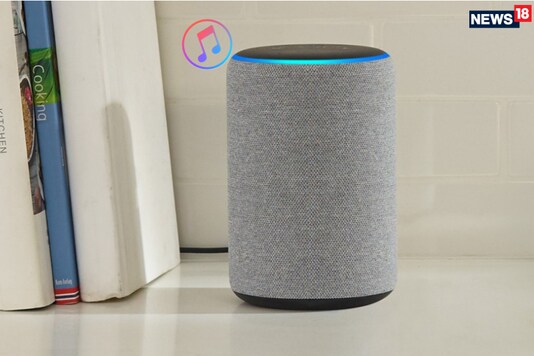 Image for Representation
Surprise! Apple Music Arrives on Amazon Echo Devices From 17 Dec. Competition from Spotify, the stagnant HomePod growth and a larger share of the user pie are some of the factors behind the move.
Last Updated: December 01, 2018, 01:20 IST
FOLLOW US ON:
Apple Music streaming will be available on Amazon's Echo smart speakers from 17 December. We never thought this day would come, but it has. This is a big move to make Apple Music more enticing to much a larger demographic of users. Apple Music users will be able to ask Alexa, the voice based virtual assistant that powers the Echo speakers, to play their favorite music tracks, artists, and albums, as well as any of the curated playlists and radio stations, on the Echo smart speakers. All Amazon Echo owners will simply need to enable the Apple Music skill in the Alexa app linked with their account.
In many ways, this is a very surprising development. Making Apple Music's entire library of more than 50 million music tracks available on Echo devices seems to be completely contrary to Apple's existing strategy of ensuring that its portfolio of services was the highlight to get potential buyers to spend on its own hardware. For instance, Apple's own HomePod smart speaker, powered by virtual assistant Siri, goes into direct competition with the Amazon Echo speakers.
According to the latest numbers shared by research firm CIRP in August, the smart speaker user base in the US alone had breached the 50 million units mark, and Amazon's Echo speakers capturing as much as 70 percent of the market share. The global scenario isn't much different. Numbers released by research firm Canalys in May this year show it is a tough battle between Amazon's Echo and Google's Home smart speakers globally—Amazon shipped 2.5 million Echo speakers in just the first quarter of 2018. The Apple HomePod, fails to figure with much significance in either report. Clearly, Apple realizes this is a demographic of users who would further drive Apple Music subscriptions, if they could access the service on the Echo speakers they own.
Then there is the question of the competition with rival streaming service Spotify, which according to the company's latest numbers, has 87 million paid subscribers—Apple Music had 50 million subscribers, as of the July numbers. It is believed that Spotify is going ahead full-steam with global expansion plans, and it is expected to launch the streaming service in India in early 2019.
It is not just Apple which will benefit from access to more users. Amazon will take advantage of a significantly more complete music library in Apple Music, something that its own Amazon Music service is not able to compete with as yet. "Music is one of the most popular features on Alexa—since we launched Alexa four years ago, customers are listening to more music in their homes than ever before. We are committed to offering great music providers to our customers and since launching the Music Skill API to developers just last month, we've expanded the music selection on Alexa to include even more top tier services. We're thrilled to bring Apple Music – one of the most popular music services in the US – to Echo customers this holiday," says Dave Limp, senior vice president, Amazon Devices, in an official statement.
Earlier this month, Apple struck a deal with Amazon to sell Apple products including iPhones and iPads on the ecommerce platform.
While the Apple HomePod isn't officially available in India as yet, you can get your hands on a variety of Amazon Alexa powered Echo speakers. The Echo Dot is priced at Rs4,499, the larger Echo is priced at Rs9,999, the Echo Plus is priced at Rs14,999 while the latest addition to the line-up, called the Echo Sub (Rs12,999) adds a lot more audio playback prowess to the Echo music listening experience.
Also Read | Amazon Echo Dot Review: The Puck Sized Smart Speaker is Growing up Fast
Next Story