Amazon launches $50 Fire tablet, looks to burn the competition
Amazon Fire boasts specifications that tablets twice its price struggle to offer.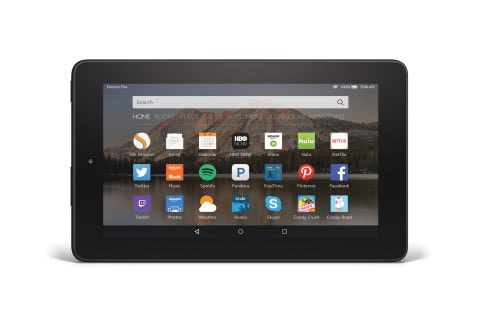 Amazon Fire boasts specifications that tablets twice its price struggle to offer.
The Fire boasts specifications that tablets twice its price struggle to offer; the aptly named release could well reignite the market just in time for the holiday season.
"Today, we're taking another step in our mission to deliver premium products at non-premium prices," said Jeff Bezos, Amazon.com founder and CEO, of his company's latest device. "Fire sets a new bar for what customers should expect from a low cost tablet."
And that's not hyperbole. The Fire, priced at $49.99, has a 7-inch IPS display and when it and has clearly been built to outdo the competition in terms of specifications regardless of its low price tag.
For example, it has a quad-core 1.3GHz processor that offers more than twice the punch of most of Samsung's $150+ models and although Amazon is known for pushing people to the cloud, the device comes with a MicroSD slot to expand local storage to 128 GB.
Other premium touches include front- and rear-facing cameras, a parental management system so that if given to children as a present, they can't access forbidden content or use it without permission and, continuing on the theme, a robust construction. Amazon claims the device is "twice as durable" as an iPad Air if dropped.
But perhaps most intriguing of all is something called Amazon Underground, which is an app that unlocks other apps. With the feature installed, $10,000 worth of premium apps, games and even in-app purchases can actually be accessed for free.
As well as going affordable, Amazon is also going big. Alongside the Fire the company also unveiled a new 10.1 inch Fire HD tablet that packs a 1 million-pixel display, stereo speakers with Dolby Audio and a huge quad-core processor for multimedia consumption.
"Fire HD combines an incredibly thin and light design with powerful performance to deliver the best entertainment experience available on a tablet," said Bezos. "A beautiful widescreen HD display, fast quad-core processor, expandable storage, Fire OS 5, exclusive features, and the Amazon content ecosystem of more than 38 million movies, TV shows, songs, books, apps, and games."
Like the new Fire tablet, the Fire HD will start shipping on September 30 and will cost $229.99. An 8-inch display version will also be offered for just $149.99.
Get the best of News18 delivered to your inbox - subscribe to News18 Daybreak. Follow News18.com on Twitter, Instagram, Facebook, Telegram, TikTok and on YouTube, and stay in the know with what's happening in the world around you – in real time.
Read full article