Android 9 Pie And iOS 12 Are Both Struggling, But For Very Different Reasons
It seems as if iPhone and iPad users are holding off on updating their devices to iOS 12, while Android phone users don't necessarily have a say in getting the Android 9 Pie update.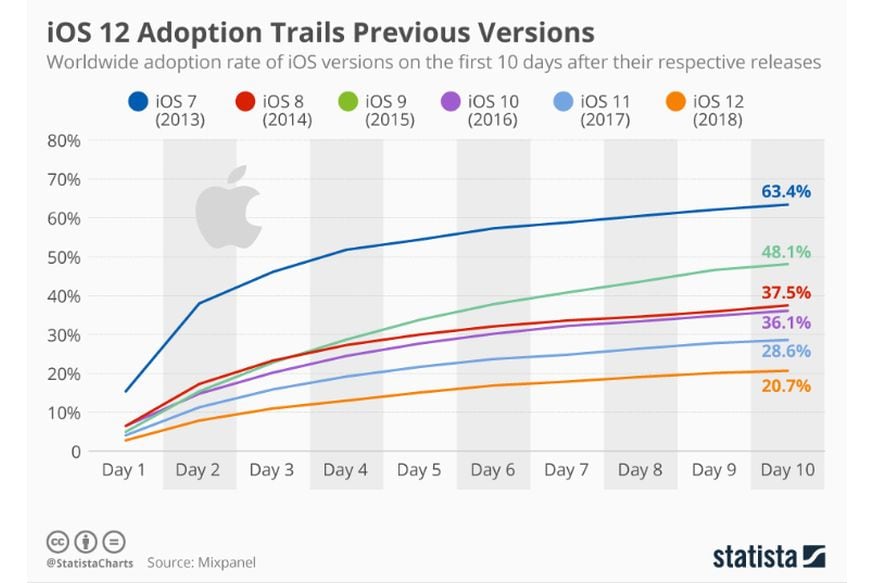 It seems as if iPhone and iPad users are holding off on updating their devices to iOS 12, while Android phone users don't necessarily have a say in getting the Android 9 Pie update.
One would have thought that the shiny new software for Android phones and the iPhones would perhaps get a little bit more love from users. As it turns out, that isn't going according to plan for Google's newest Android operating system, the Android 9 Pie, and Apple's latest iOS for iPhones, the iOS 12. But both have very different reasons for their struggles.
According to the latest numbers shared by research firm Statista and analytics service Mixpanel, iOS 12 has registered the slowest every adoption rate, compared with iOS releases in the previous years. iOS 12 released on 17 September, a few days after the official unveiling of the iPhone XS, the iPhone XS Max and the iPhone XR. In the ten days since the availability of iOS 12 as an over-the-air update for all iPhones (iPhone 5s and newer) and iPads (iPad Mini 2 and newer), only 20.7% of compatible iOS devices downloaded the newest update. This is even slower than last year's iOS 11 adoption rate, which was 28.6% measured after ten days of availability.
There are multiple potential reasons why people are holding off updating their current iPhones and iPads. There is always the fear that updating an older device could negatively impact performance, as the newer software and operating system, along with its new features, could require more processing power. That also may have a negative impact on battery life. Important to remember that the new iPhones, the iPhone XS, the iPhone XS Max and the iPhone XR come with iOS 12 preloaded. The reported charging issues that some iPhone XS Max users are facing, may have had an impact on the decision of many users, to hold off on the update for the moment. Then there is the expectation from the future—a lot of users tend to adopt a wait-and-watch approach to see how the latest iOS is behaving on older iPhones and iPads, before making the switch.
There is a lot to expect from the upcoming iOS 12.1 update, which should be available later in October. It will enable the eSIM functionality in the iPhone XS and the iPhone XS Max for multiple operators globally, FaceTime will get the group calling feature and hopefully the struggling iPhone XS Max users will get the solution for their phone charging woes as well.
Google's Android, at least the newest Android 9 Pie, isn't faring much better either. The Android 9 Pie software has been around for just over two months now, and still hasn't registered on Google's own Android Distribution numbers. As per the numbers, Android 9 Pie's predecessor, the Android Oreo 8.0 and 8.1 has a share of 13.4% and 5.8% respectively. In fact, things are so bad that Android 9 Pie has an even lesser share at the moment than the 0.3% share which Android Gingerbread (2.3.3 to 2.3.7) has—and this was released back in 2010.
The biggest problem facing Android updates are, well, the phone makers. At the moment, only Google's own Pixel phones (that makes it the Pixel, Pixel XL, Pixel 2 and the Pixel 2 XL) and the OnePlus 6 have received Android 9 Pie updates. We hear that Huawei is rolling out Android 9 Pie for the P20 Pro flagship in Europe. But good news as far as Android updates is few and far between. It is often said that the versatility of Android is its strongest point. But at times like these, it also becomes the weakest link. Variety of hardware needs to be optimized, customizations and extra features need to be tested and then there are the optimization issues with additional stuff that phone makers install in Android phones they sell—all that takes time, effort and resources for testing and certifying updates as good-to-go, and in many cases, phone makers can't genuinely be bothered to update the phones they have already sold. Unless they are flagships, and they run the risk of getting a lot of bad press.
Also Read | Google's Android Fragmentation Problem Persists as Android 9 is Yet to Make Its Mark
Also Read | Apple iPhone XS Max Charging Issues: The Curious Case of iOS 12 And How an Update May Fix it
Get the best of News18 delivered to your inbox - subscribe to News18 Daybreak. Follow News18.com on Twitter, Instagram, Facebook, Telegram, TikTok and on YouTube, and stay in the know with what's happening in the world around you – in real time.
Read full article