Android 9 Pie Review: Artificially Intelligent And More Secure
Google has focused on everything Android Oreo already had and tried to make it better. Simply put, it isn't about redesigning the wheel.
Google has focused on everything Android Oreo already had and tried to make it better. Simply put, it isn't about redesigning the wheel.
The newest iteration of Android, called Android 9 Pie is now rolling out. We do feel that "Pie" is perhaps a tad underwhelming, but then again, Google is focusing more on the number than the name. Nevertheless, the sweet goodness is what matters, and Android 9 Oreo has a lot of weight on its shoulders.
As it is with Android updates, attaining this new version of Android for your phone will require some amount of patience, lots of prayers and a generous dose of hope. All so that your phone maker actually pulls the socks up and updates your phone sooner rather than later. That is, unless you are using a Google Pixel smartphone—in which case, the update should be available on your device now.
One of the first things that you will notice about Android 9 Pie is the gesture-based interface. It might not be outlandish to say that this is inspired by the iOS 11 software that runs on the Apple iPhone X. You'll really notice this when you want to switch between apps, with the vertical layout and the swipe up gesture for closing apps. Whether you like it or not is subjective, and you will also need to factor in the initial learning curve.
The challenge with gesture-based navigation is that this is yet another aspect of Android that is already struggling with fragmentation. Phone makers are trying to do their own thing, and one of the biggest examples is OnePlus with the latest 6. Till Google can knuckle down and ensure uniformity, the experience will remain as Google wants on their own Pixel phones but might not be as smooth on a lot of other Android phones.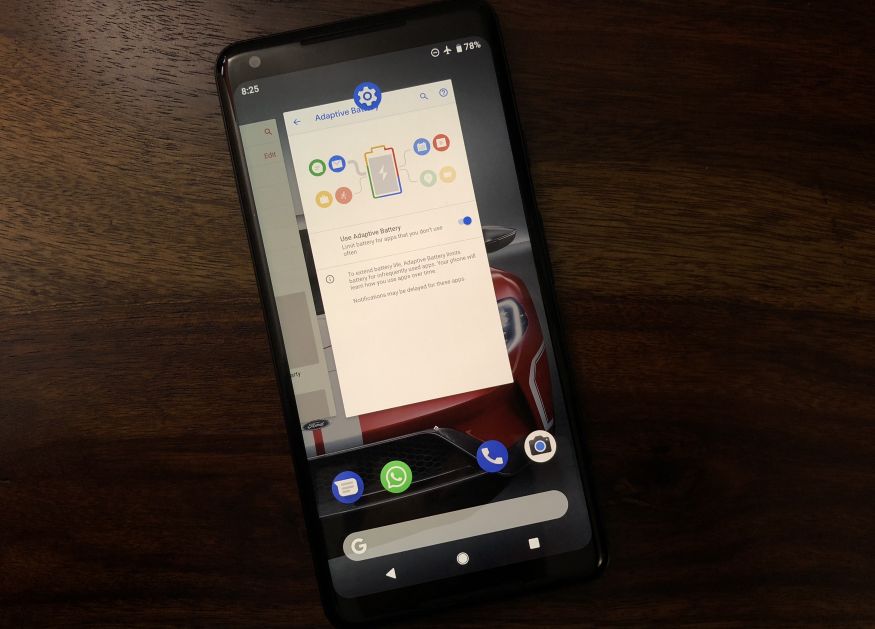 The notification bar and the quick control toggles have been given a visual tweak as well. The coat of white paint with the blue colour for each toggle could have a positive impact on visual definition. Incidentally, Do Not Disturb toggle now simply does on and off, and doesn't seem to have the choices such as priority modes, alarms only or total silence.
Speaking of which, notifications on the lock screen and the drop down from the bar now look very different. The rounded edges, the white boxes and the new fonts look more functional. They don't have the visual attractiveness from earlier, but text is definitely easier to read while you peek at a notification that has just landed on your phone's lock screen.
Speaking of downgrades, dive deep into the settings menu and get to the Location Services option. Here, the option for the Battery Saving Mode is now gone. That is a tad perplexing, because earlier, the distinctions were very clear earlier. In the Battery Saving mode, the phone would rely on location of the network towers and connected Wi-Fi networks to provide the apps in the phone with a sense of where you are. All this while keeping the battery draining GPS module switched off. The sense now is that this control no longer remains with you, and the GPS module will switch on and off on its own. Could this mean more battery usage? Perhaps, but too early to say.
A lot of Android 9 Pie's functionality relies on Artificial Intelligence. The phone learns a lot of things about you over time and tries to adapt accordingly. Notifications, for instance—swipe away a particular type of notifications and Android 9 Pie will learn and minimize those interruptions for you. The Adaptive Battery Feature will learn how you use your phone and the apps you prefer, so that the other apps can be controlled better to reduce any sort of unnecessary battery drain by limiting their allocation for resources such as the CPU and memory. The Adaptive Brightness feature understands your preferences for how bright you like the screen to be, for instance. In our experience with Android 9 Pie so far, we haven't actually noticed the screen go too bright or too dark at any point.
Artificial Intelligence also powers a feature called App Actions, which will sit in the app drawer. Basically, it factors in the time of the day, your location or simply notices a task that you are doing at that time and adjusts these quick access actions accordingly. For instance, if there is a contact that you call regularly at a specific time of the day, that contact will show up there when you open the app drawer. Since Android 9 Pie will learn this over time, the accuracy or intuitiveness initially might be suspect—but persist.
Another big under-the-hood change is with how Android 9 Pie will restrict apps from accessing the camera or microphone when they are idle in the background. This will significantly clamp down on apps snooping on users.
Google didn't mention much about this privacy feature, but Lockdown could be very handy if you are worried about someone forcing you to give them access to your phone. Head to Settings —> Security & location —> Lock screen preferences. Toggle "Show lockdown option" to On. What this does is it adds a Lockdown option to the power menu when you long press the power key. Tap this, and your phone goes into an ultra-secure mode. Basically, no notifications on the screen either. To unlock and regain access, only the password or PIN work. Else you stay locked out. No amount of tapping on the fingerprint sensor or attempting to use face recognition would work.
One of the big features of Android 9 Pie, expected all this while, was something known as Digital Wellbeing. For some reason, Google didn't fully integrate it in this version of Android, but if you are still interested, you can sign up for the beta and download the trial app from the Play Store. Basically, this app is your digital nanny. It'll tell you how much you have used the phone, and for what exactly. You'll be able to set time limits for each app. We quite like the Wind Down mode, which switches on the Do Not Disturb mode and turns the screen into greyscale as you are about to hit the bed, to reduce the screen stress on the eyes.
Incidentally, Apple is also releasing something similar with the upcoming iOS 12 for the iPhone.
In terms of the performance, everything remains identical as before. We did not notice any slowdowns or sluggishness while opening apps, switching between apps or generally navigating the interface. In fact, the camera opens a tad quicker than before, and the general animations feel slicker too. Battery life seems to be marginally better, perhaps all the artificially intelligent features are working, but it is too early to pronounce any judgements on battery performance specifically.
In a nutshell, Android 9 Pie is definitely an improvement over Android 8 Oreo and its various iterations. While there is no major boost in performance at least on the Pixel devices (they are very powerful anyway), the modern touches with what is happening behind the scenes and also in terms of the visual impact are very apparent.
Also read: The Google Two-Notch Rule For Consistent App Experience in Android Phones is Cool
Get the best of News18 delivered to your inbox - subscribe to News18 Daybreak. Follow News18.com on Twitter, Instagram, Facebook, Telegram, TikTok and on YouTube, and stay in the know with what's happening in the world around you – in real time.
Read full article