Apple CEO Tim Cook Confirms Making Self-Driving Cars: Report
Apple's autonomous project started in 2014, saw the hiring of more than 1,000 engineers and was termed as Project Titan internally.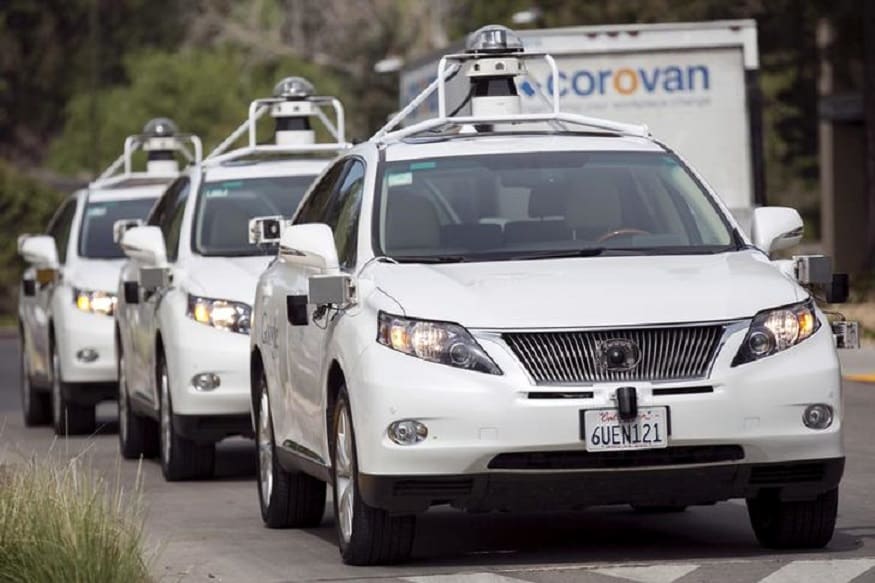 A line of Lexus SUVs equipped with self-driving sensors. Representative Image. (Image: REUTERS/Elijah Nouvelage)
Apple Inc. had been secretly working on Autonomous technology since long. The 'secret' here being the fact that no one from the company had shared any plans or the current on goings of the project. This changed recently when the Apple Inc. CEO Tim Cook elaborated on the company's plan towards the self-driving technology for the very first time.
Speaking in an interview held on June 5 with the Bloomberg Television, Tim Cook confirmed about Apple's Autonomous projects saying – "We're focusing on autonomous systems. It's a core technology that we view as very important." He further stressed upon its importance by calling it the "mother of all AI projects" and "probably one of the most difficult AI projects to work on." The project, started in 2014, saw the hiring of more than 1,000 engineers and was termed as Project Titan internally as reported by Bloomberg News.
The recent public filings by the company also provided glimpses of Apple's work towards the technology. Back in April, Apple had secured a permit to test three autonomous SUVs from the California Department of Motor Vehicles. Pictures of these and several other reports also indicated a number of more self-driving vehicles being tested for over a year, in and around the San Francisco Bay area. Though there was no official confirmation from the Apple spokesperson Tom Neumayr upon this. In 2016, Apple handed the responsibility of the project to its veteran, Bob Mansfield, given the rising cost and headcount for the project.
Also read: Apple Offers $1 Billion Green Bond After Trump's Paris Climate Exit
A letter by Apple's director of product integrity - Steve Kenner, mentioned how the iPhone maker was interested in the autonomous technology and saw its potential for the transportation industry. The letter, addressed to the National Highway Traffic Safety Administration, became public after it got published on a federal website.
Along with autonomous driving, the Apple CEO sees two more parallel disruptions taking place, namely, electric-vehicles and ride-hailing. "You've got kind of three vectors of change happening generally in the same time frame" he mentioned on the Bloomberg Television interview, "There is a major disruption looming there."
Watch: The Tech And Auto Show - Episode 2
Technically, he is right. You don't need to look beyond Tesla Inc. to know what the Apple CEO is saying, is coming to life right at this very moment. The electric car-manufacturer has become the world's fourth-largest carmaker by market capitalization recently.
On the 'ride-hailing' front, Apple's $1 Billion investment in the Chinese ride-hailing service – Didi Chuxing came as a turnaround for the Project Titan. Mansfield decided to create an Autonomous driving system instead of a self-driving car. Meaning, shedding a load of hundreds of engineers and extra investment. The decision is yet to be finalised though by the company.
Most of the Tech giants have collaborated with Automobile companies for the advancement of autonomous technology. Alphabet Inc's Waymo has tied up with Fiat Chrysler Automobiles NV, just as other auto companies look to invest in autonomous technology start-ups.
It will be interesting to note how Apple Inc. will proceed with this. Will it produce its own self-driven cars or push on the Autonomous driving system and let other companies use the platform to make self-driving cars? In either case, the Tech giant will be one major force in the self-driving field.
Also read: Xiaomi Redmi Note 4 to go on Sale Today on Flipkart, Mi.com
Get the best of News18 delivered to your inbox - subscribe to News18 Daybreak. Follow News18.com on Twitter, Instagram, Facebook, Telegram, TikTok and on YouTube, and stay in the know with what's happening in the world around you – in real time.
| Edited by: Sarthak Dogra
Read full article