Apple iPhone 7 With Airtel Offer: Here's How to Get 180GB 'Free' 4G Data
Here is all you need to know about Airtel's iPhone 7 offer.
Here is all you need to know about Airtel's iPhone 7 offer. (Image: Apple)
Telecom major Airtel has rolled out an interesting EMI offer for the latest Apple iPhone 7 and iPhone 7 Plus. At a glance, it might seem that you can own the new iPhone 7 for a minimum down payment of Rs 19,990 and then pay Rs 1,999, Rs 2,499 or Rs 2,999 per month (for 12 months) to avail 5GB, 10GB or 15GB 3G/4G data per month respectively for free and then automatically get upgraded to the next iPhone in September 2017. But is it that simple?
So, if you are interested in getting the free Airtel data with your new iPhone 7, here is all you need to know.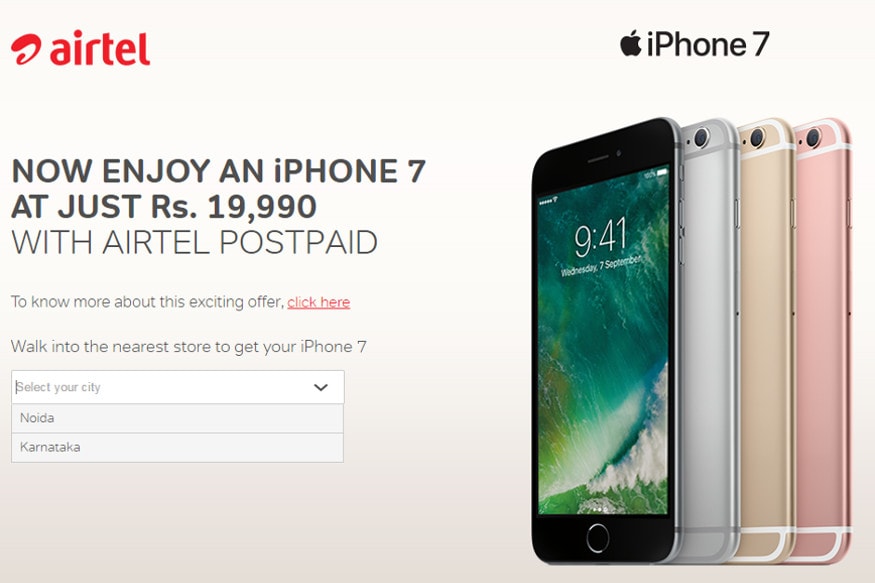 (Image: Airtel)
What is the offer?

You can buy the iPhone 7 for as low as Rs 19,990 with an Airtel postpaid plan for 12 months. The plans on offer are Rs 1,999 per month for 5GB of 3G/4G data, Rs 2,499 per month for 10GB of 3G/4G data and Rs 2,999 per month for 15GB of 3G/4G data. The postpaid plan includes unlimited local and STD calling along with roaming.
So, to buy an iPhone 7 (32GB) that costs Rs 59,998, consumers will have to pay Rs 19,900 upfront as down payment and then choose--Rs 1,999 or Rs 2,499 or Rs 2,999 plan for 12 months-- to avail annual data benefits of 60GB, 120GB and 180GB respectively.
After the validity of 12 months expires, users can either return the iPhone 7 to Airtel to upgrade to the next iPhone, or opt for a lump sum balloon payment to buy it completely.
Note that Airtel will only take back the iPhone 7 after 12 months if the physical condition of the device meets its listed criteria.
You can visit the Airtel website for detailed terms and conditions.
The offer is only available in Noida and Karnataka.
Advantages?
The major advantage of this offer is that you can upgrade to the latest iPhone every year without having to pay the full price of the next iPhone. But then you will have to take extra care of your iPhone 7, because Airtel will not tolerate any damages.
If you wish to exit the offer at any point of time, then you will have to pay the lump sum remaining "balloon price" and settle the EMI deal separately.
Who will finance the EMIs?
Users will have to avail the loan offer from Bajaj Finance. The bundle plan is valid only for retail and Company Owned Individual Paid (COIP) customers.
Pricing details?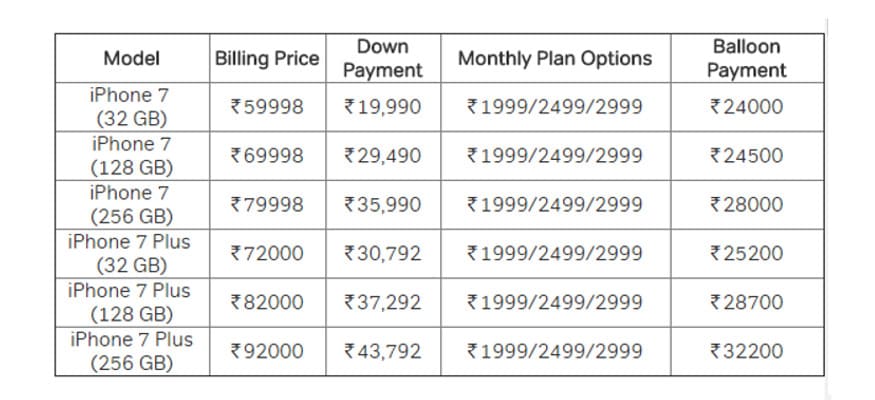 (Image: Airtel)
Got queries? Feel free to ask them at the comment section below.
Also Watch
Read full article