Are You Game for The Future?
Gaming maybe an evergrowing concept in India but it has already taken the world by storm and has been doing so for the past 30 years.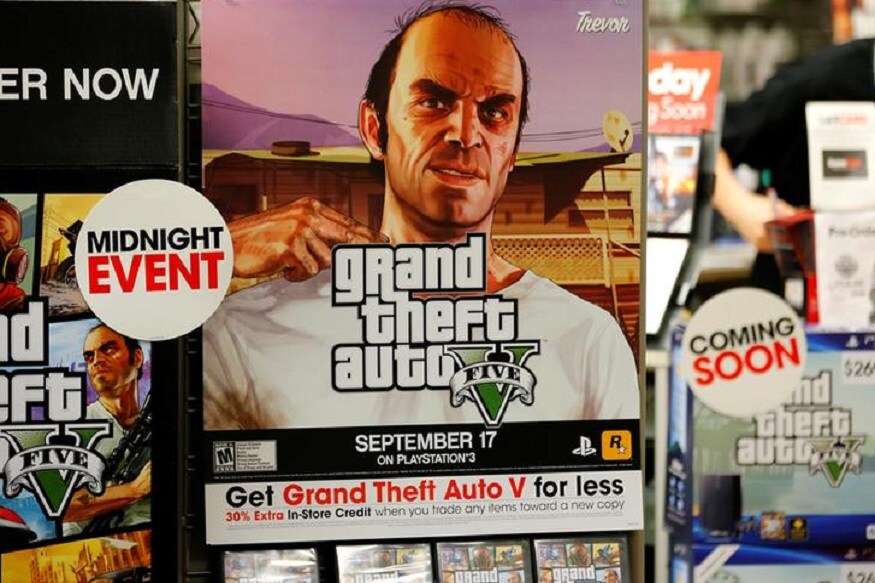 GTA 5. Representative Image: REUTERS/Mike Blake
Imagine a world where you can be a soldier and a gangster on the same day. From the time of the crusades to a time where we might have flying cars (really?). To decide if one dies or lives purely on your whims and fancies. What if one could really be god? I have two words for you. Video games.
I still distinctly remember my parents nagging me about how playing video games all day long would not help in anyway. I think I can successfully say I've had the last laugh in this case. Luckily for me, the world of video games has picked up so rapidly, that films are made on games nowadays. With Steven Spielberg's Ready Player One, however, the stakes are higher than ever before. Let's take a look back to when the future came to light.
The Golden Years
However, the golden period of gaming is said to be in the 1980's. This era brought in improved video game graphics as well as the creation of Electronic Arts (EA, it's in the game!). The 1980s also saw the introduction of 3D games as well as the release of Japan's (EWJ) Nintendo Entertainment System. Legendary games like Tetris and Pac-man owe their existence to this radical decade. The 1990's saw widespread adoption of CD's as an acceptable platform for selling games. Gaming consoles and PCs were just starting to come to people's homes and the 2000's saw the rise of the Playstation, Xbox and Nintendo consoles. Gaming had truly taken on a new form altogether.
Gaming in India
India saw the advent of games at the close of the millennium, when the gaming industry had come into its own worldwide. Nazara and Indiagames were among the first gaming companies in India starting in and around 1999. By the mid-2000s, more companies such as Games2win, Maujmobile, Ace2three, Rummycircle, and Zapak also came into the mix, making gaming a popular 'past time' in India. With companies like Octro, Moonfrog Labs, Playsimple, GuessUp, 99Games bringing out games ranging from Poker to Dhoom 3, the future of Indian gaming is not only bright but it looks more tipped towards the smartphone user.
According to a study by Newszoo, India ranks 2nd in the world for smartphone users and penetration. It also ranks 17th with regard to country wise game revenues. Interestingly, this seems to be the theme the world over, where mobile revenues account for more than 50% of the global games market as it reaches $137.9 Billion in 2018, again according to a study. Also, more than ever before, there are gaming competitions held across India and websites catering to gaming are on the rise. ESL India Premiership and Indian eSports Championship are just some examples of gaming competition taking on new heights.
Back to the Future?
GTA V, the latest edition to the GTA series by Rockstar Games, is one of the most profitable entertainment product of all time with over 90 million sales worldwide, and $6 billion in revenue. However, it still hasn't dethroned the undisputed king of games, Tetris with 170,000,000 sales worldwide. To be honest, it did have a 29 year head start. Nevertheless, with figures like these, the gaming industry has nowhere to go except for up. With amazing developments like Virtual Reality coming into the picture, who knows where up might be (watch your back Hollywood and Bollywood!). Story based games like Last of Us, Bioshock and GTA series have more takes every day and the industry seems to be heading back to its golden age, or rather appears to be building further on it.
Elon Musk, one of the pioneers of technology today with Tesla and SpaceX had this to say about video games – "To make an embarrassing admission, I like video games. That's what got me into software engineering when I was a kid. I wanted to make money so I could buy a better computer to play better video games - nothing like saving the world." Think about it, video games might have led to a Tesla
Roadster being in space today!
Read full article