At CES 2017, ASUS held a press event named Zennovation wherein they
launched a series of products including two new smartphones, laptops and gaming products
.
The latest gaming products come as an addition to the widely renowned gaming series of ASUS named Republic of Gamers (ROG). Gamers across the world have been anxious for the products to be launched at CES this year and here is what ASUS has to offer in this segment:
ROG GX800VH: Gaming Laptop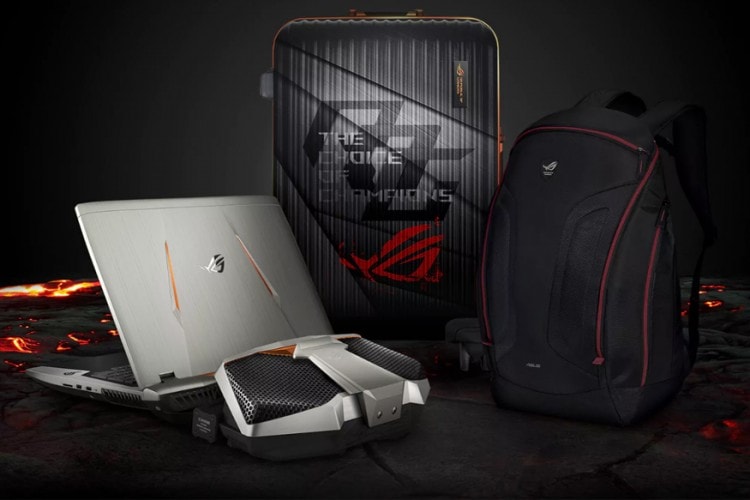 ASUS has revealed a range of products for its 'Republic of Gamers' series at CES 2017.
(Image: ASUS)
ROG GX800VH comes with a Hydro Overclocking liquid-cooling system for extreme overclocking performance, plus NVIDIA GeForce GTX 1080 in 2-way SLI.
ASUS claims that GX800VH is the world's first gaming laptop with an 18-inch panel and NVIDIA G-SYNC technology for real 4K UHD gaming visuals.
It also has the MechTAG mechanical-switch keyboard, which features anti-ghosting with 30-key rollover, and customizable ROG Aura RGB LED effects for each key.
ROG G752: Gaming Laptop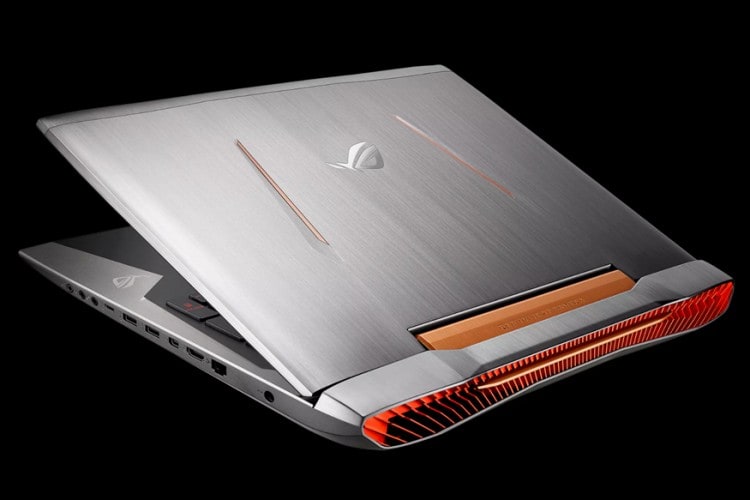 ROG G752 unveiled at CES 2017.
(Image: ASUS)
ROG G752 is driven by an unlocked Intel Core i7 processor and a VR-ready NVIDIA GeForce GTX 1070 GPU.
G752's DDR4 DRAM is overclocked to run at 2800MHz.
It also offers HyperDrive RAID 0 and the latest NVM Express (NVMe) and PCI Express technologies, ROG-exclusive 3D Vapor Chamber and a 120Hz panel with NVIDIA G-SYNC technology for 120Hz of refresh rates on its wide-view panel.
The backlit anti-ghosting keyboard with 30-key rollover is another highlight of G752.
ROG Maximus IX Extreme: Motherboard dedicated to Gaming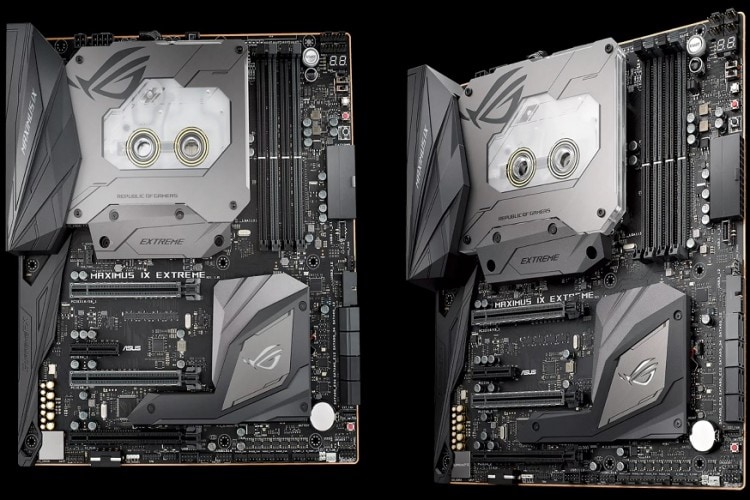 ROG Maximus IX Extreme unveiled at CES 2017.
(Image: ASUS)
Maximus IX Extreme is the world's first motherboard with an integrated monoblock as claimed by ASUS and is manufactured by Bitspower.
The monoblock detects the flow rate of the water coolant and has dedicated circuitry to detect both the inlet and outlet temperatures as well as leakage.
The monoblock also integrates the neighbouring M.2 heatsink for heat dissipation to eliminate throttling.
To showcase the design and performance of Maximus IX Extreme, case modder Stephane Beauliu "Snef" from Quebec built the White Shadow case mod.
This case highlights the motherboard's Aura Sync RGB lighting, performance, and water-cooling features with a design featuring touchscreen controls and white-pastel coolant that glows in the same colours as the RGB lights.
ROG Gladius II: Gaming Mouse
ROG Gladius II Gaming Mouse.
(Image: ASUS)
ROG Gladius II is an optical gaming mouse optimised for FPS games, with customizable Aura Sync RGB lighting and 50-million click Omron switches.
Featuring the exclusive easy-swap switch socket design, ROG Gladius II gives gamers the freedom to customise click-resistance and extend the lifespan of the mouse.
Gladius II also has a DPI button to toggle sensitivity and a DPI target thumb button for short bursts of instant precision.
ROG GR8 II: Gaming PC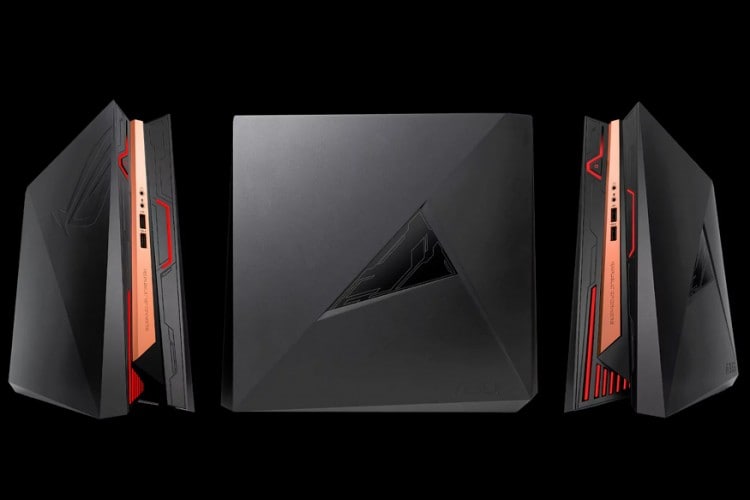 ROG GR8 II revealed at CES 2017.
(Image ASUS)
ROG GR8 II is the smallest gaming PC built for VR, and offers complete performance with a desktop-grade ASUS-customized NVIDIA GeForce 1060 GPU, 7th Generation Intel Core i7 processor, and 32GB DDR4 memory.
The PC is housed in a tiny 4-liter chassis and includes Aura Sync for RGB light shows that can be synchronised with a variety of ROG peripherals, and with 10 different effects.
GR8 II can be specified with M.2 PCIe SSDs and a 2.5-inch SSD/HDD storage for both increasing game boot-up speeds and hosting a large game library.
Two VR-friendly HDMI ports enable simultaneous connection of both a VR headset and a gaming display.
ROG GR8 II has a specially-tuned cooling system with copper heat pipes and dual fans to purge heat from the system.
Vents and dedicated chambers for the processor and graphics card ensure the right amount of airflow to each component.
Its audio performance is powered by ROG SupremeFX, Sonic Studio III, and Sonic Radar III.
In addition, GameFirst IV and Intel Gigabit Ethernet provide gamers enhanced gaming experiences.
ROG GT51CH: Gaming Desktop
ROG GT5 1CH revealed at CES 2017.
(Image: ASUS)
ROG GT51CH is a gaming desktop PC featuring an overclocked 4.8GHz Intel Core i7-7700K processor, NVIDIA GeForce GTX 1080 2-way SLI graphics, and 64GB of DDR4 2800MHz memory for 4K UHD visuals.
Aegis III three-way overclocking technology enables easy and safe CPU, GPU, and memory overclocking and provides the ability to monitor system stats in real-time.
ROG GT51CH features ASUS Aura lighting effects for its central air intake and motherboard-mounted LEDs.
Gamers can customise Aura with different lighting colours and effects to reflect the feel of the game that is currently being played, or to show their own unique style.
ROG Rapture GT-AC5300: Gaming Router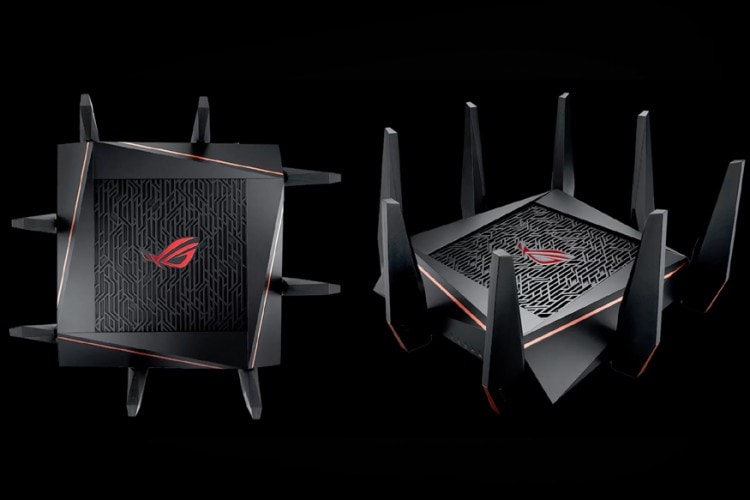 ROG Rapture GT-AC5300 Gaming Router revealed at CES 2017.
(Image: ASUS)
ROG Rapture GT-AC5300 is the first ROG router, designed specifically for gaming and featuring tri-band Wi-Fi, eight-port gigabit-LAN, and its own PC-grade, 1.8GHz 64-bit quad-core CPU to enable responsive network gaming.
GT-AC5300 also includes two USB 3.0 ports.
It has the Gaming Center for an instant overview of the gaming network, Game Boost to prioritise gaming traffic and Game Intrusion Prevention System (Game IPS) to offer integrated security based on Trend Micro technology.
ROG Strix Magnus: Gaming Microphone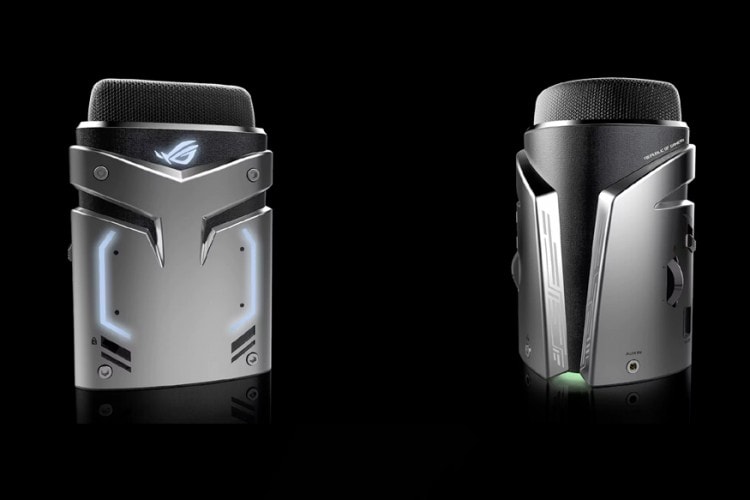 ROG Strix Magnus gaming microphone unveiled at CES 2017.
(Image: ASUS)
ROG Strix Magnus is a gaming microphone with three condenser capsules and is the very first mic from ROG.
Designed for live-streamers and avid gamers, the company claims that the Strix Magnus is the industry's first gaming microphone to offer both environmental noise cancellation (ENC) and customizable Aura RGB lighting effects.
The new gaming mic has an auxiliary port for recording audio from a musical instrument or smartphone and comes with an external USB hub for connecting additional devices.
Also read:
:
CES 2017: Acer Launches Gaming Laptop 'Predator 21 X' With Curved Screen