AT&T Falls Short on Quarterly Revenue; Blames Low Equipment Sales, Unlimited Data Plans
It said it lost 191,000 postpaid subscribers, who pay bills monthly, in the United States on a net basis in the first quarter ended March 31.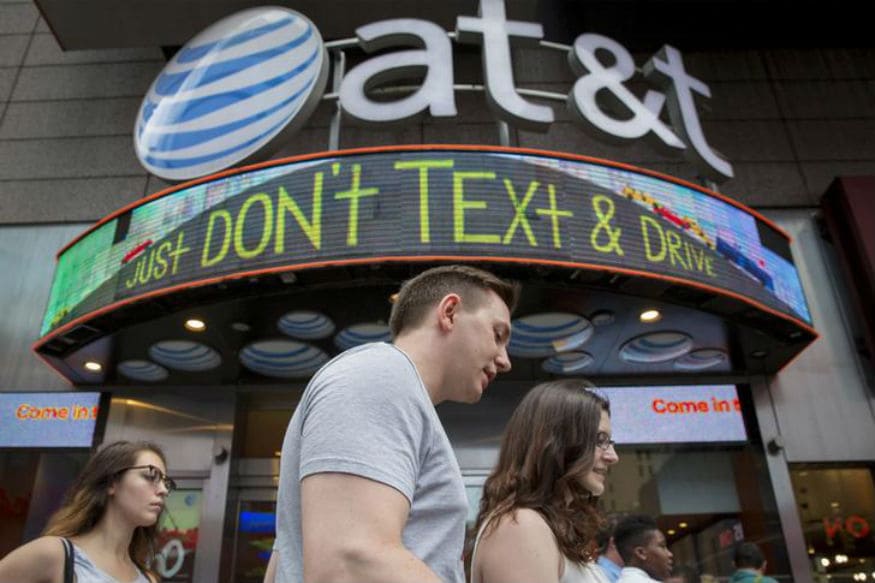 AT&T Logo. Representative Image. (Image: REUTERS/Brendan McDermid)
AT&T Inc's quarterly revenue missed estimates due to lower equipment sales as customers held onto phones longer and rival wireless carriers offered new promotions on unlimited data plans, the No. 2 U.S. wireless carrier said on Tuesday.
It said it lost 191,000 postpaid subscribers, who pay bills monthly, in the United States on a net basis in the first quarter ended March 31.
AT&T and industry leader Verizon Communications Inc are battling Sprint Corp and T-Mobile US Inc for market share in a mature U.S. wireless market where most U.S. consumers already have cellphones. Verizon on Thursday reported its first-ever quarterly loss of subscribers.
Also read: Spectrum Auction Only in Late-2018, Early Next Year: COAI
Unlimited data plans are among the latest industry incentives. In February, Verizon joined other carriers in offering an unlimited data plan for the first time in over five years.
T-Mobile US Inc and Sprint Corp also offered new unlimited promotions, and AT&T cut the price on its own plan.
"Obviously, this has made an already competitive market even more so, and our response to the unlimited data plans was probably a little slow," Chief Executive Randall Stephenson said on the company's post-earnings conference call. He said the Dallas-based company had lost market share in the quarter.
AT&T and Verizon have also been buying up assets that they need for a next-generation, or 5G network, with faster downloads and applications that would enable self-driving cars.
Verizon has made an offer for Straight Path Communications Inc, a source told Reuters, topping an earlier bid from AT&T in a move that started a bidding war for a company holding spectrum used in 5G technology.
On the call, AT&T reiterated that it had five business days to match or exceed the bid and that it would make a decision in that timeframe.
Also read: Alibaba's Jack Ma Champions UN E-commerce Drive for Development
AT&T is trying to diversify by buying Time Warner Inc in a $85.4 billion deal that would give it control of cable channels like HBO and CNN as well as film studio Warner Bros. AT&T has said the deal would close by the end of the year.
AT&T also acquired DirecTV for $48.5 billion in 2015, making it the largest U.S. pay-TV operator. In November, it introduced a streaming service called DirecTV Now for consumers looking for a cheaper alternative to bigger cable bundles. For the quarter, AT&T said that new DirecTV Now customers helped offset declines in linear television subscribers, which fell by 233,000.
AT&T's total operating revenue fell nearly 3 percent to $39.37 billion, mainly due to record-low sales of wireless handset sales.
Net income attributable to AT&T was $3.47 billion, or 56 cents a share, down from $3.80 billion, or 61 cents a share, in the year-ago period.
Excluding items, earnings per share matched analysts' consensus estimate of 74 cents according to Thomson Reuters I/B/E/S. Revenue was expected at $40.53 billion.
AT&T also said it would no longer give a full-year revenue forecast due to the unpredictability of wireless handset sales.
Also read: Uber May Soar With Flying Taxis by 2020
| Edited by: Sarthak Dogra
Read full article