BlackBerry DTEK60 Review: There is a Reason Why Barack Obama Uses it
Here is the review of Blackberry's flagship device: Blackberry DTEK60. Read to find how the device stands tall on its security features.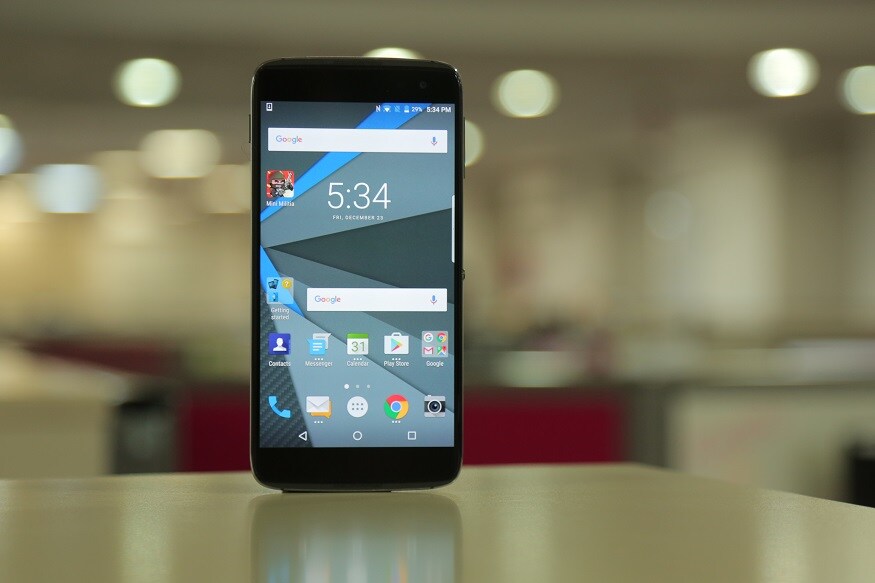 Blackberry DTEK 60 Smartphone - The presidential smartphone. (Image: News18.com)
Though most of us today are not aware of what the smartphone giant - Blackberry - is up to, the company is making conscious efforts to come back into the game of producing smartphones for its target market.
This being said, Blackberry recently came up with two new smartphones by the name of Blackberry DTEK 50 and DTEK 60. Both of these handsets compete in different price ranges with the likes of Samsung and Apple to some extent. In a bid to mark, or rather retain its signature image, Blackberry designed these smartphones with its unique features being the pillar to ensure these smartphones' success.
What are these features and are they capable enough to bring the dying company back from its grave? Let's find out.
Blackberry DTEK 60 Smartphone - The presidential smartphone.
(Image: News18.com)
What's Cool
Blackberry DTEK 60 comes as the flagship smartphone of the company and competes with the likes of Samsung Galaxy S7 Edge and iPhone 6s with its price of Rs46,990. Now facing competition like that certainly puts a lot of expectations from a phone.
To some extent, the phone does not disappoint with its premium glass finish and a 5.5 inch AMOLED display working at 534 PPI. In a lay man's term, the phone has a crisp display with the right amount of colours and contrast.
The phone sports a capacitive touchscreen that is quite responsive and ensures smooth functioning.
Blackberry DTEK comes with a 4GB RAM and 32GB of internal storage which is expandable up to a good 256GB using an external memory card. As a result, it is hard to experience any lags in the phone, making it a perfect fit for multitasking. It runs on an Android Marshmallow 6.0 and is powered by Snapdragon 820 processor.
Blackberry apparently played a smart move by outsourcing its hardware to TCL and the company has certainly impressed the Blackberry fanatics. The Blackberry DTEK 60 dons a neat design with no physical home button present. The silver strip across its frame sports a power button on the left and a convenience key and a power key on the right. Top bezel area contains the front camera placed right next to the selfie flash. The speakers are conveniently placed above these, in the front.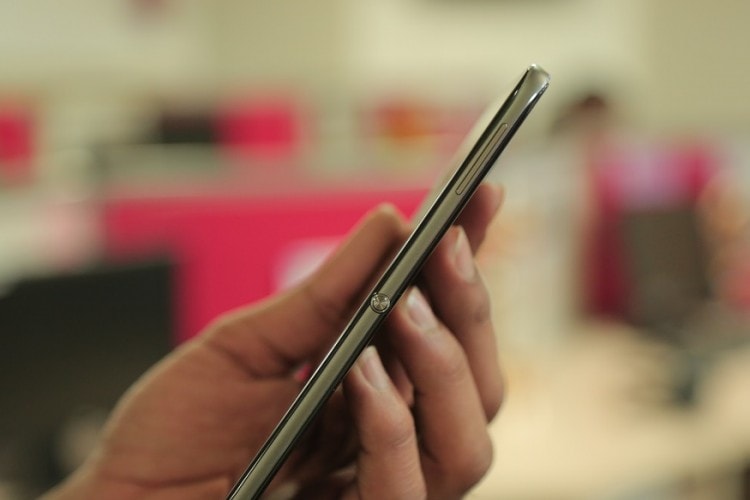 Blackberry DTEK 60 Smartphone - Convenience Key.
(Image: News18.com)
The smartphone is powered by a 3000 mAh battery which easily lasts through a day of decent usage. The USB type C in the phone supports Fast charging and ensures a minimum of 10% charging within 10 minutes.
For Blackberry, the game revolves around Security. The smartphones are named as they are because of an inbuilt security mechanism that keeps track of overall security conditions of the smartphone.
The 'DTEK' is designed to make the user aware of how secure their device is. It shows all the app permission granted to various apps in the phone in a very user-friendly manner. In bullet points, the app will show you how the phone ranks in security and the reasons behind it. In case the phone lags in any of these parameters, one can simply do what is mentioned in the app and ensure the security of the device.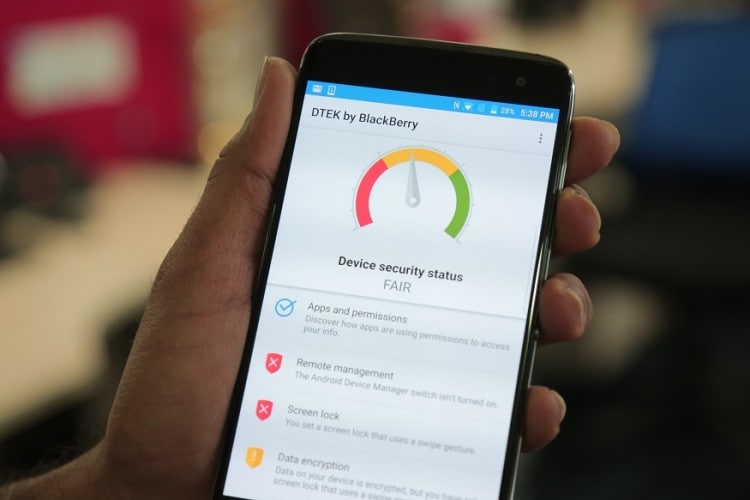 Blackberry DTEK 60 Smartphone - DTEK.
(Image: News18.com)
The convenience key is another attempt by Blackberry to enhance the user experience but since the key can be used to launch any on app at a time, some users might not find it entirely useful.
Blackberry DTEK 60 includes 'Blackberry Hub' which is a collective notification panel for all the emails, text, social media, calendar events, phone and BBM. This combined with the convenience key and an edge tab just like the Samsung Galaxy S7 edge, ensures complete user convenience.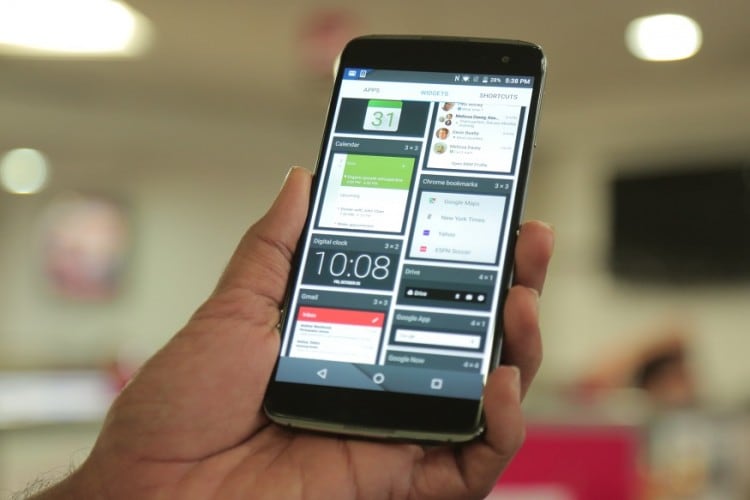 Blackberry DTEK 60 Smartphone - Widgets.
(Image: News18.com)
One thing to admire about Blackberry is that it never compromises on user experience and this is the reason why it is a preferred phone for the working class. E.g. its adaptive keyboard keeps learning as the phone is used. It then keeps on suggesting text to the user just by hovering a finger over any key making it real easy to type.
Also, a swipe from right to left anywhere on the keyboard will make the previous word disappear and a swipe from top to bottom can toggle between alphabets, numbers and special characters on the keyboard.
What's not so cool?
The smartphone sports a 21-megapixel camera with features like face detection, enhanced video stabilisation and an option to select the photo quality. However, the camera comes as an utter disappointment after having a look at the image quality. Comparing it to its competitors, the phone stands nowhere close in its camera specs. The same goes for its front camera with selfie flash.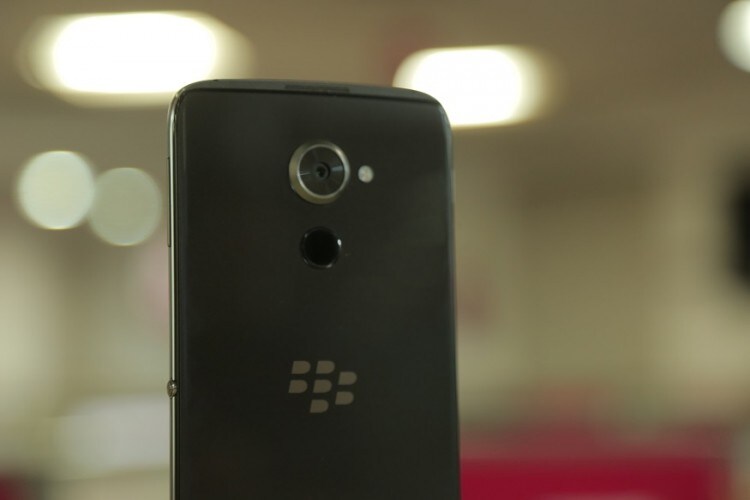 Blackberry DTEK 60 Smartphone - Rear Camera.
(Image: News18.com)
Also, the rear camera bump is unnaturally enlarged. This again increases the risk of it getting scratched over a period of prolonged usage.
The fingerprint scanner in the phone is placed right below the rear camera and is, without any questions, quick to respond. Yet, locating it with your finger is a bit of task. The phone in itself is quiet slippery to hold and considering this, one might have to struggle to unlock the phone using the scanner at the back.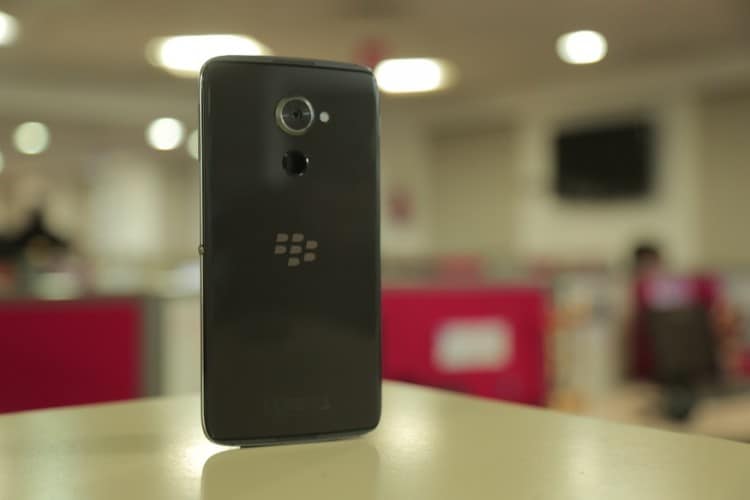 Blackberry DTEK 60 Smartphone - Rear panel.
(Image: News18.com)
Verdict
Blackberry has targeted a niche and signature user base since the very beginning. Blackberry DTEK 60 is no exception to this as the phone excels in security features and is considered to be the most secure android device available. Yet it is beaten by miles by its competitors in many features which are relevant to a general smartphone user.
Keeping this in mind, this Rs 46,990 is recommended for a high-profile individual who would want a completely encrypted device and complete security of his or her data. After all, there is a reason why the US President Barack Obama still uses this device.
Other than that, the device does not have much to promise to the general audience.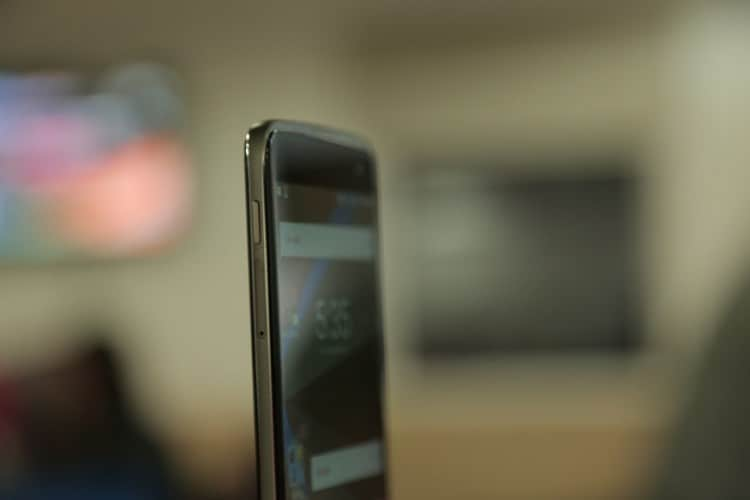 Blackberry DTEK 60 Smartphone - The presidential smartphone.
(Image: News18.com)
Also Watch
| Edited by: Sarthak Dogra
Read full article