Christmas 2018 | Fitness is now plays a major role in the lives of many. There is renewed focus on staying fit, and a lot of people take to running regularly as a means to achieving that mission. But as with most things, you can't simply get up, lace on any shoes and go running. Well you can, but neither will you be able to run to your ability and also may find the feet facing discomfort. Running shoes are specifically designed to balance the requirements of comfort, responsiveness and stability. If you are a runner or have a friend or family member who is obsessed with running daily, here are some running shoes to consider splurging on this Christmas.
Asics Gel Quantum Infinity
Around Rs16,999
The Gel Quantum Infinity shoe is the first ever to have a full-length GEL cushioning. This means the same type of mid-sole runs uninterrupted from the heel to toe—this is great, for uniform impact cushioning, feedback and comfort. This GEL mid-sole is created from inert polymers to derive silicone. This was then enhanced in the laboratory to get the balance between cushioning and responsiveness. The GEL under your forefoot absorbs impacts as you make forward movement. The same technology at the back reduces the impacts on the heel every time your foot strikes down. Considering now it is the same material all through, the consistency of response would help runners. These are also some of the most visually appealing shoes from Asics in a long time. Yes, it retains a family resemblance—and you'll know the brand from a mile away. But the use of the seamless upper is exactly what you expect from a premium running shoe. This is a single piece fabric designed as the upper without any sewing required. Asics calls this vacuum no sew material execution. Truly a revolution in the running shoe space.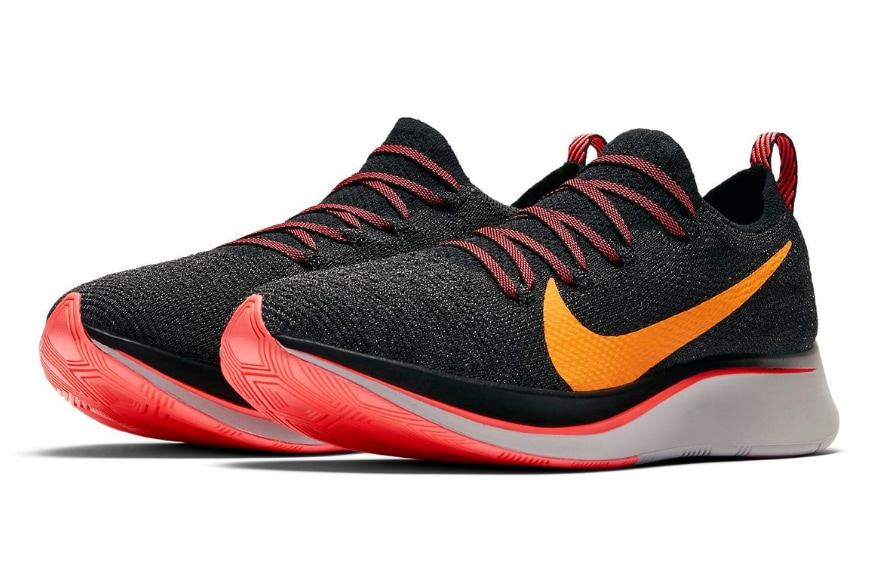 Nike Zoom Fly Flyknit
Around Rs15,995
The learnings from Nike's Breaking2 Project still stream in, and the Zoom Fly Flyknit is the latest to take advantage of the marathon clock-beating project. This succeeds last year's Zoom Fly, and instead takes inspiration from the elusive and more expensive Vaporfly 4%. This has a full-length carbon fiber plate beneath your foot along with Nike's excellent React foam. This means that it is a tad more rigid than the React Flyknit shoe, which makes this ideal for the feedback that some runners prefer. The knit upper available in Black/Orange Peel/Moon Particle/Flash Crimson and Pure Platinum/Diffused Blue/Football Grey/Blue Void colourways, allows for great ventilation. This is the best running shoe you can buy right now, and it does well to maintain the balance between performance and comfort.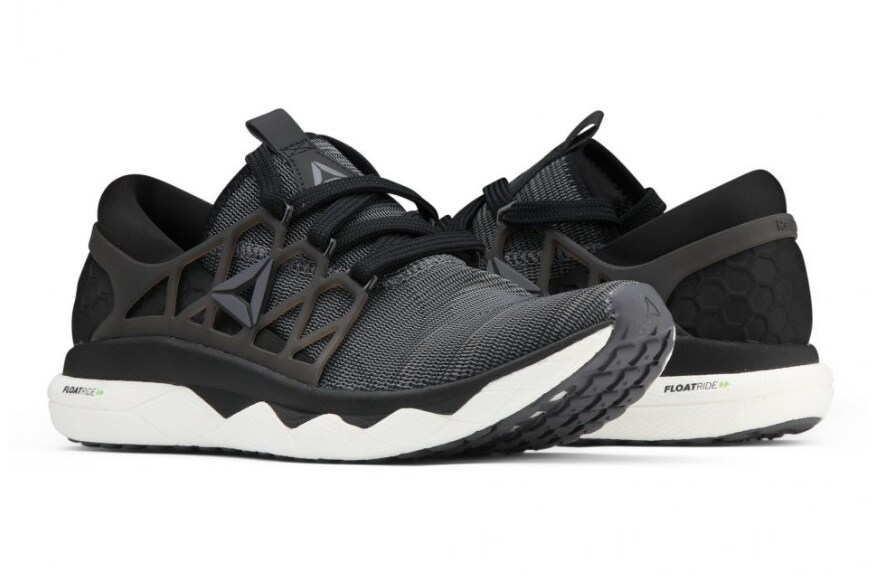 Reebok Floatride Run Flexweave
Around Rs15,999
Reebok threw the design rulebook out of the window for the Floatride shoes, and is now carrying forward on the same path. The Floatride Run Ultraknit has now been succeeded by the Floatride Run Flexweave. As the name suggests, the Ultraknit makes way for Flexweave. Reebok's Flexweave upper is made of strands of fiber which are weaved together in a figure-8 formation. Slip your foot in, and this instantly feels a tad stiffer than a lot of sock-like uppers common in running shoes these days—and that is actually a good thing. From our experience with a similar upper in the Fast Flexweave shoe, this upper certainly looks like it will hold up better in the long run and tends to be more resilient to rough use. beneath your feet is a mid-sole which Reebok calls Floatride foam. We had noticed with the Fast Flexweave shoe that this is a midsole that offers great balance of cushioning and feedback—and retains that over time and none of those elements fade or dampen. That means the Floatride Run Flexweave is on solid ground as a running shoe worth its price. A good amount of response filters through with each foot strike, which is quite assuring for a runner. Safe to say that Reebok has kept what really worked in the very good Floatride Run Ultraknit and has made a mix of big and subtle changes in the Floatride Run Flexweave
Under Armour HOVR CGR Connected
Around Rs9,800
Simply put—this is a connected shoe. The embedded Record Sensor tracks your movement and sends the data to the Record Sensor app (free for Android and iOS) via Bluetooth. Under Armour uses what is known as the Adaptive ColdGear Reactor insulation for the upper, which keeps your feet warm even if the outside temperatures drop really low. This is a technology that has also been used by shoe makers such as Adidas. The upper of the HOVR is designed with materials that repel water, which means drops of water simply flow off and don't block the ventilation or make the shoe soggy. As the name suggests, this shoe uses what is known as the HOVR foam in the mid-sole—and it does well to balance comfort with enough rigidity that will provide some energy feedback as you run along. The rubber outsole is made with the technical expertise provided by tyre manufacturer Michelin.
Puma Hybrid Runner Unrest
Around Rs7,999
We had noted during our review of the Puma Hybrid Runner Unrest that when two different and distinct personalities are melded together, that entire exercise can result in something completely brilliant, or painfully atrocious. Mercifully, it is the former, in Puma's case. Slip your foot in, and the very soft EvoKNIT upper fabric feels extremely comfortable. The shoe isn't the lightest on the weighing scales (weighs around 314grams), but feels deceptively lightweight when you wear it. Puma have blend of two distinct materials—their proprietary Ignite foam and something called the NRGY beads. These beads are made of cushioned polyurethane foam, run the full length of the shoe, and provide extra cushioning. You'll really notice the difference these make on a hard surface, as compared with just Ignite mid-sole Puma shoes. The black and red colourway is our favorite.
Nike Zoom Pegasus Turbo
Around Rs15,995
This is a running shoe that makes it intent very clear—it has a racing stripe running down its length, and that can only mean speed. The midsole that consists of the ZoomX foam, made from what Nike says is the PEBA foam, and not the standard EVA foam lining that is common in running shoes. PEBA is a closed cell foam with a cross-linked architecture, and is based on a thermoplastic elastomer (TPE)—and gives it great bounce-back as you run along. The shoe weighs just 238 grams, and whichever way you look at it, is extremely lightweight. The upper of the Nike Air Zoom Pegasus Turbo is actually a two layer construction, consisting of a very breathable fabric a very fine mesh wrapped around it. It is a very close call between the Nike Zoom Fly Flyknit and this, with your personal preference probably casting the deciding vote.