Donald Trump Wants to Rein in Google, Facebook And Twitter, But What Could This Mean?
The White House has readied a Draft Executive Order, for stricter enforcement and investigations on big tech companies.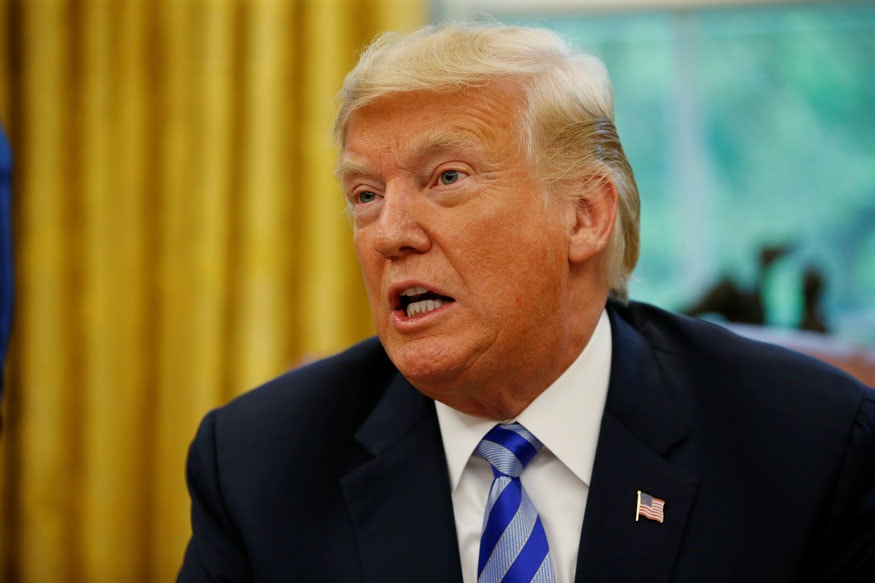 File photo of US President Donald Trump. (Image: Reuters)
The draft text of a proposed executive order which could be signed by US President Donald Trump, is ready. All it needs is a signature from President Trump. And in the line of fire are the 'Big Tech' companies, including Google, Facebook and Twitter. The Executive Order will push federal antitrust as well as law enforcement agencies to investigate the business practices of the big tech companies, in an effort to 'regulate' them.
It is believed that this is a two-part draft. The first is a policy statement, and the draft says that "platforms are central to the flow of information and commerce and need to be held accountable through competition". The draft subsequently goes on to direct government agencies to enforce laws against anticompetitive conduct or report instances to the Federal Trade Commission (FTC) or the Department of Justice (DOJ).
If this indeed does get a go-ahead, it would perhaps be the culmination of a long feud that the Republican Party as well as President Trump have had with various news and social media platforms over the past few months. The allegations about biased reporting, censoring search results favourable to them and political manipulation have been levelled multiple times. President Trump last month tweeted that Google had, in its search results about him, prioritized stories from network CNN and other "National Left-Wing Media" over more conservative news outlets, which are believed to be "anti-Trump". Senator Orrin Hatch (Republican – Utah) has, for instance, urged the Federal Trade Commission
(FTC) to investigate Google over antitrust concerns. Last month, President Trump had tweeted, ""Social Media is totally discriminating against Republican/Conservative voices. Speaking loudly and clearly for the Trump Administration, we won't let that happen. They are closing down the opinions of many people on the RIGHT, while at the same time doing nothing to others".
At the time, Google responded to the allegation. The official statement read, "On January 30 2018, we highlighted the livestream of President Trump's State of the Union on the http://google.com homepage. We have historically not promoted the first address to Congress by a new President, which is technically not a State of the Union address. As a result, we didn't include a promotion on http://google.com for this address in either 2009 or 2017."
The reasoning that revolves around regulating the big tech companies, is at best flawed. Even within the current ambit of laws, no tech company (as any other company, operating under the same umbrella of laws) can commit any sort of fraud, be involved in any illegal transactions or trading and there are repercussions for misusing people's information (as Facebook is discovering), among other checks and balances. For sure, there is no proof yet of any bias, but that's not to say there isn't. It perhaps depends on how one sees the current regulation.
In August this year, Facebook removed American radio show host and a controversial conspiracy theorist Alex Jones' pages from the social media platform, citing repeated violations-the pages include the Alex Jones Channel Page, the Alex Jones Page, the Infowars Page, and the Infowars Nightly News Page. The page has over a million followers, at the time of the purge. "As a result of reports we received, last week, we removed four videos on four Facebook Pages for violating our hate speech and bullying policies," said Facebook at the time. In July, Facebook was asked at the House Judiciary Committee hearing as to why the InfoWars pages were still up and not yet banned for spreading conspiracy theories. Subsequently, Spotify removed podcast content posted by Jones on their streaming service, and Apple removed the Alex Jones' podcasts from the iTunes platform.
Later in August, Google, Facebook and Twitter blocked social media and online accounts linked to Iran, and the disinformation campaign pushed during the US Elections, that is believed to have been backed by the state. Google took down 39 YouTube channels linked to the Islamic Republic of Iran Broadcasting, as well as 6 blog accounts and 13 Google+ accounts. Facebook disabled about 650 Pages and Groups, flagged for propaganda and misinformation. Twitter also disabled as many as 284 accounts linked with the Iran disinformation campaign online.
Microsoft had also confirmed in August that Russian hackers had tried to steal data from conservative political organisations including the International Republican Institute and the Hudson Institute, and also found websites which were clones of the US government websites. Unsuspecting users were secretly redirected to web pages created by the hackers, in an attempt to steal passwords and get access to other credentials. While the company's security sleuths were able to take control of the spoofed web domains, the company says this is the just the latest in the 84 false websites they have shut down over the past two years.
Big tech companies, in many ways, are the carriers of the information we see online. The information pushed via these channels spreads information, builds opinion and has a huge bearing on the society, culture and trends in general. While Silicon Valley has never been seen as an active participant in the political space, they do have the tech prowess and the ability to promote or hide content—though absolutely not to say that they do. But as Facebook, Twitter and Google are discovering in the Congressional hearings, there is significant regulation on them anyway, which takes away the urge to be reckless.
Also Read | Facebook and Twitter Come to Terms With Their Importance in Politics
Also Read | The InfoWars Purge Shows Tech Companies Can no Longer be Outwitted With Content
Get the best of News18 delivered to your inbox - subscribe to News18 Daybreak. Follow News18.com on Twitter, Instagram, Facebook, TikTok and on YouTube, and stay in the know with what's happening in the world around you – in real time.
Subscribe to Moneycontrol Pro and gain access to curated markets data, trading recommendations, equity analysis, investment ideas, insights from market gurus and much more. Get Moneycontrol PRO for 1 year at price of 3 months. Use code FREEDOM.
Read full article