GoPro Hero 5 Review: The King Of Action Cameras
GoPro Hero 5 is a complete action camera for those who seek adventure and even believe in making good quality videos. In India the GoPro Hero 5 is expensive at Rs 38,000, but worth every penny spent.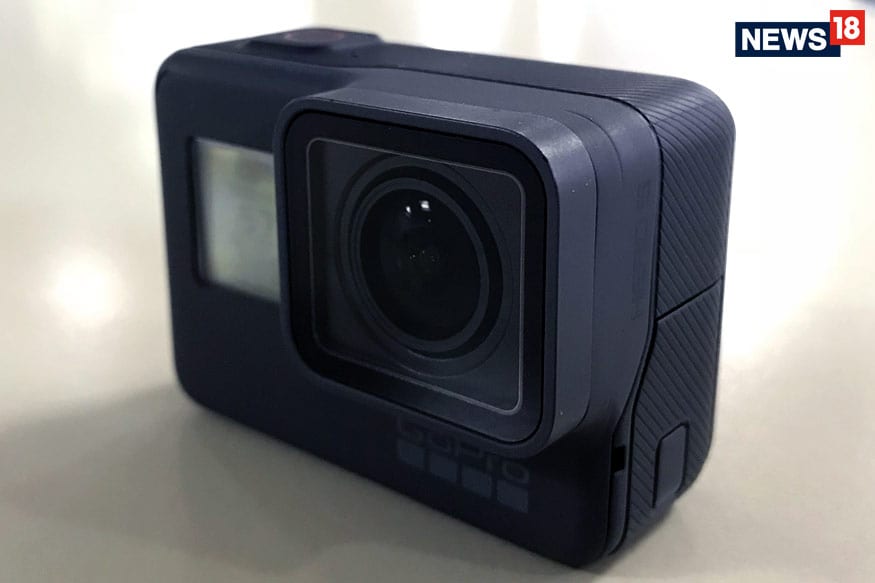 GoPro Hero 5 is priced at Rs 38,000. (Image: News18.com)
We at
News18.com
started doing native videos in the year 2016. The journey for getting equipment for these video production was a tough one. We knew that we needed one of those big DSLR's that could record 1080p HD videos was a must so that was sorted, but what we needed in the age of mobile journalism was something that was handier. Thanks to Apple for launching the iPhone 7 Plus in India, our prayers were answered. We were filming a lot of videos on the iPhone 7 Plus for our
Cars18.in
and
News18 Tech
. In fact, we still do, and even the stories that you see on the
Tech And Auto Show
that airs on CNN-News18 every Saturday at 7:30 PM are mostly shot on an iPhone 7 Plus. What we now needed was an action camera for shooting our car and bike videos. Honest confession here, filming car and bike videos are way more fun and creatively challenging than doing tech videos. We had many options for an action camera. In India, we even had an option of going for the older GoPro Hero 4 or 3+. But what we chose was the latest GoPro Hero 5. We were certain that this camera would give us some quality content for our video edits and so we got one. Did it help? Let's find out.
Don't forget to
subscribe
to our latest YouTube Channel.
Watch: Vivo V7+ Review
In terms of looks, the GoPro Hero 5 looked very soft and fragile as compared to its previous generation. But as we started using it, we were amazed at how GoPro managed to make something look beautiful as well as sturdy. It has fallen off our hands and even from our cars during filming a lot of times and yet managed to make it. It also has a nice rubberish feel to it as well that makes it easier to grip. Now, most of the people using action cameras use it with a cover or a rig. So did we and GoPro has many options for you to choose from. You can get monopods, selfie sticks, chest mounts, desk-pods, suction mounts and so on with this camera.
And yes they are all at additional costs, but you need to figure out your use case scenario for your videos and choose your accessories carefully. Because believe it or not, you'll be tempted to buy them all once you know what the GoPro Hero 5 is capable of. Our temptation is still fixed on the Karma Grip for the GoPro Hero 5. Another interesting thing with the GoPro Hero 5 is that they have also changed the base for mounts for the ecosystem, so it's a bit difficult to use your old GoPro mounts with it. This is also a full design change over the Hero 4 so it's an altogether new action camera from GoPro. What we didn't like the design bit of the Hero 5 is that though this one is waterproof up to 10 metres without the housing, its USB Type-c and micro-USB port door comes off easily when you try to open it. That we found to be a little flimsy. Apart from that, the 6.2 x 4.4 x 3.2 cm dimensions are just perfect for an action camera and it weighs also just 116 grams.
The GoPro Hero 5 comes with a 1.95-inch touchscreen display at the back and there is also a lithium ion battery on the device that lasts up to 2 hours if you use it continuously. We also recommend that if you go for the Hero 5 buy an extra battery pack with it. To charge the battery on the GoPro Hero 5 all you need is a USB Type-c connector that comes with the box, and plug it into a power point or your PC. Powerpoint charging is quicker than a desktop or laptop charging. The 1.95-inch touch screen is bright enough and works as a viewfinder as well as to choose settings on the device. This is a good thing as you no longer have to buy an additional screen to use as a viewfinder with your GoPro. The Hero 5 also pairs with your smartphone through the GoPro app and you can even use your phone as a viewfinder to set the frame for video or photo capture.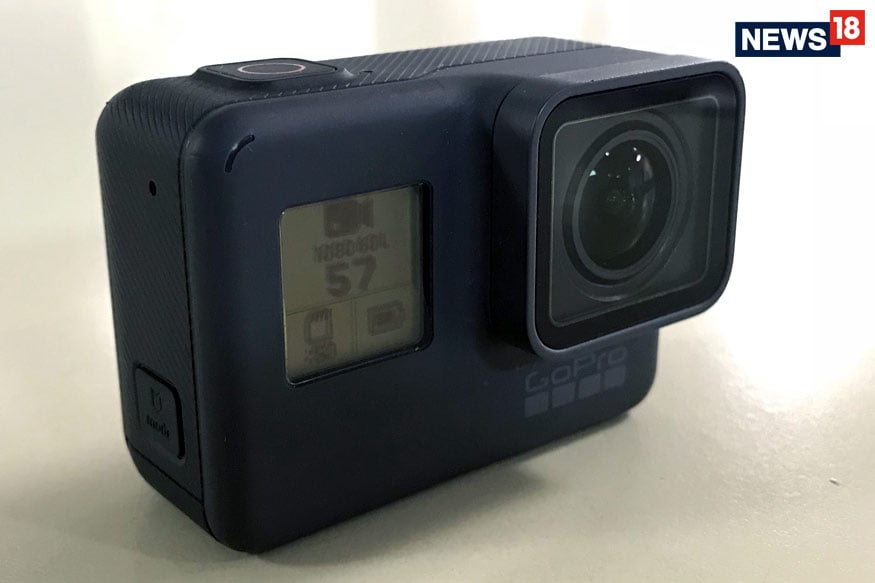 The GoPro Hero 5 is a capable action camera that can shoot videos at 4K at 30fps and 1080p at 120fps. Few more features like image stabilization which a lot of professional video creators seek is a value add with this camera. The Hero5 is also the first GoPro with GPS built in, which is great if you are shooting at multiple locations and want to find the clip fast for post production. Another big change between the Hero4 and Hero5 is the that it now comes with voice commands. You can tell the Hero5 to start and stop recording, which is useful if you are engaged with playing a sport or trying to get an action shot which requires your concentration on the activity rather than the shot. There is also a hidden easter egg feature of instantly bookmarking choice moments in your video when you shout "oh shit". These bookmarked moments can be used only when you're editing with the GoPro editing suite. Other editing software will not show you these bookmarks.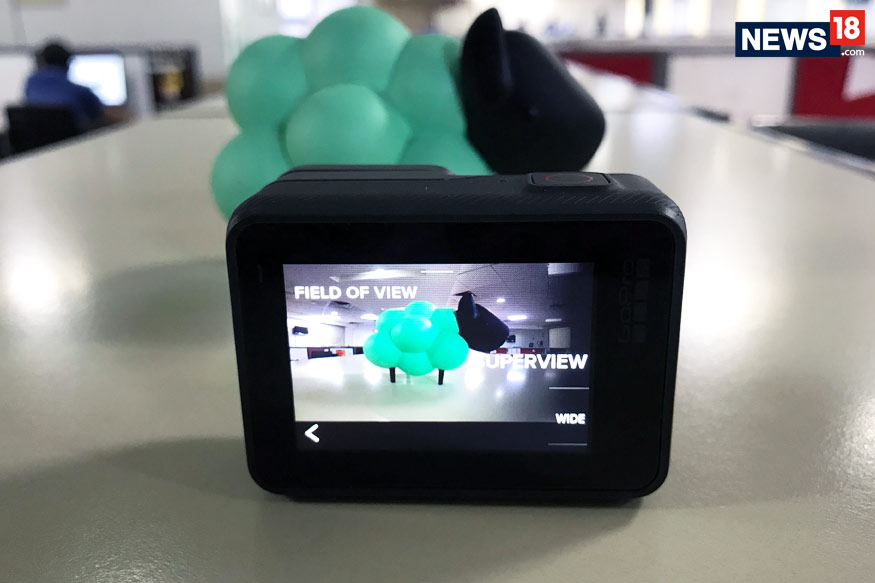 The 12-megapixel camera on the GoPro Hero 5 is something of a delight. It gives you options of normal view, wide view and even superwide views to record a video. The audio quality is also amazing on the Hero 5 as compared to its predecessor. The device is also capable of automatically uploading footage to your GoPro Plus cloud account to provide easy access on your phone.
You can create videos automatically as well with QuikTM and the GoPro editing app. The Hero 5 also comes with Auto Low Light that automatically lowers the frame rate in dim lighting for better detailing in videos. The manual audio control also switches between stereo and wind reduction modes for optimal sound recording. You also now have capture modes like the time lapse video, time lapse photos and even a night lapse photo on the Hero 5.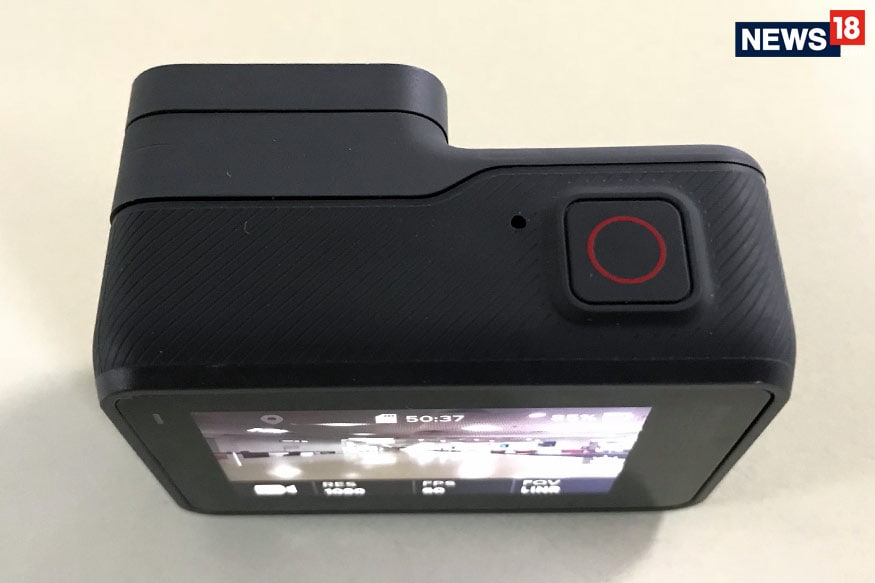 Overall, the GoPro Hero 5 is an action camera that has it all for capturing your adrenaline chase moments. At a price point of Rs 38,000, the Hero 5 sure is not a budget proposition like some Chinese action cameras that you'll find in the market, but the fact is that it is the undisputed king of action camera around the world.
Don't forget to
subscribe
to our latest YouTube Channel.
Watch: LG Q6 Review | High on Looks, Low on Performance
Also Watch
| Edited by: Siddhartha Sharma
Read full article