HTC a Taiwanese company just celebrated 20 years of its existence and also launched their flagship smartphone for 2017, the HTC U11. This is a smartphone that competes with the likes of Samsung Galaxy S8 and even the iPhone 7 for a price of Rs 51,999. We got our hands on the HTC U11 and here's what we think about this smartphone.
What's Cool?
HTC U11 carries forward the liquid surface design that was seen on HTC U smartphones on the U11 as well. The phone has a glass and metal finish and the exoskeleton is mostly made up of glass on this device. This makes it a very beautiful and classy looking phone. The colour options on the HTC U11 are out of this world and you might not get a phone as unique as this one in terms of design. There is just one flipside to it, due to the use of glass this phone attracts a lot of fingerprint smudges and it's impossible to have it with its clean look all the time. You will be forced to have a transparent back cover to make it appear clean all the time.
Watch: HTC U11 Review
Don't forget to follow our new channel on YouTube, click here.
The HTC U11's major USP is the way HTC designers have used the sensors on this device. You can literally squeeze this device to make it dance to your tunes. A single squeeze can be used to open the camera app and also click a photo or a selfie. Users can do a long squeeze option also lets you open Google assistant. The squeeze function can be customised to launch any app of your liking. This makes this phone an intuitive device where you really don't need two hands to operate small functions. This is HTC's first IP67 dust and water resistant phone as well. Moreover, the squeeze can also be used to pick up a call even if you have a glove on your hand.
HTC has also bundled this smartphone with a U-Sonic headphones that are noise cancelling. You hardly get phones with good headphones bundled inside the box, but the U-Sonic headphone is an added bonus with the U11. Another interesting thing here to note is that the HTC U11 lacks the 3.5mm audio jack and the U-Sonic headphones use the USB Type-C for power. HTC has been considerate enough and they also bundle a USB Type-C to 3.5 mm adapter with the device if you still wish to use your own headphones.
The HTC U11 is powered by the latest Qualcomm Snapdragon 835 processor that's backed by 4GB RAM. Now that's more than enough firepower for this smartphone to perform daily tasks. India version of the HTC U11 will get 6GB RAM and 128GB ROM on it so expect an even more powerful device in India. Performance wise the HTC U11 did not disapoint us at all. And with Samsung selling the S8 with their own Exynos processor, the HTC U11 has a clear advantage with the latest Qualcomm chipset.
The camera on the HTC U11 is also way advanced than what you get on its competition. Interestingly the camera does not have a laser autofocus but an altogether new technology for HTC. It's called Ultra Speed Auto Focus and works similar to the dual-Pixel technology. There are also bigger pixels on the HTC U11's camera.
It's called Ultra Speed Auto Focus and works similar to the dual-Pixel technology. There are also bigger pixels on the play with the primary camera of the HTC U11 and the images that we clicked and saw were quite impressive.
The camera app also has an HDR Boost mode. This is an always on HDR mode on the camera. This basically gives you a brighter image with less noise and better colour when you are clicking low light images.
For video the four mics on the phone work for sound production as the phone also uses something called acoustic focus. So, when you zoom into the video the mic focus on the protagonist that you were about to shoot. It works more like a directional mic.
The rear camera of the HTC 11 has a 12 million Ultrapixel camera and a large pixel size of 1.4Qm and f 1.7 aperture, an Ultra Speed AF sensor, OIS and EIS. This device has a 6-lens system on it. There is also a high-resolution front camera. It has a 16MP, Ultra pixel low light performance camera that's also capable of clicking 150-degree wide angle selfies. It's also has a fixed focus on it. F2.0.
There is a 3000 mAh battery on the HTC U11 that comes with fast charging support. The battery lasts easily a day and the battery management system on the U11 works good enough for 2017. The device runs on the latest Android 7.0 Nougat operating system from Google and the HTC skin on top is light and intuitive. The RAM management system on the U11 is also very efficient.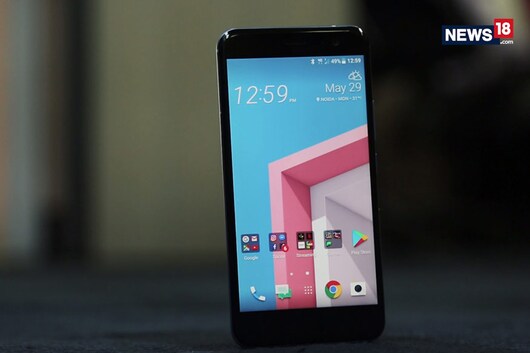 What's Not So Cool?
What we didn't like on the HTC U11 is the display on it. Yes, it comes with a 3D Glass on it and also comes with Corning Gorilla Glass 5 protection. But, the 5.5-inch display on the HTC U11 is highly reflective and the viewing angles on the device are not that great. It does have a pixel density of 534 ppi but it's only good enough for detailing if you look at the display from head on.
Verdict
The HTC U11 is a phone that's made to squeeze and enjoyed by its user. It is one of the best looking devices to come out yet in 2017 and we even like it more than the Samsung Galaxy S8 and LG G6. If HTC will price this device sweetly in India, they have the potential to be that brand that can challenge Samsung's loyal base.