Intex Aqua 5.5 VR Review: Promises to Give You a Taste of Virtual Reality in a Budget
The phone supports Virtual Reality technology and comes with a Virtual Reality Headset.
Intex recently launched its budget smartphone Aqua 5.5 VR with Virtual Reality Technology. (Image: News18.com)
Intex recently launched its Aqua 5.5 VR in a bid to acquire the low-ranged smartphone market. Users might get an amazing 'value for money' feeling while unboxing the phone, but is it really the case? Read on to find out.
Intex Aqua 5.5 VR smartphone.
(Image: News18.com)
What's so cool?
As the name suggests, the phone supports Virtual Reality technology and comes with a Virtual Reality Headset. Now you might not want to get your hopes up as the headset is just a cardboard set which is made by using the phone's box. It's similar to the Google Cardboard project.
While it is not as fancy as any other headset in the market, it certainly solves the purpose brilliantly.
The phone is accompanied with most of the accessories that you might need for it, including a screen guard and a body cover. Hence, the 'value for money' part.
With a 2800mAh Battery, the phone is easily able to glide through a day's work, provided you are a basic smartphone user.
With a 5.5 Inch HD IPS Display, Aqua 5.5 VR certainly measures up to the mark in terms of display. The big 5.5-inch display is quite clear and bright and can easily be a favourite for movie buffs.
The phone has a basic and sturdy design which is good to look at with three touch buttons on the bezel, the volume keys and power button on the right and a toggle switch on the left for putting the phone on silent.
It is one of the most affordable phones with 4G VoLTE support and with the launch of Reliance Jio, this is a feature that everyone would require on their phones.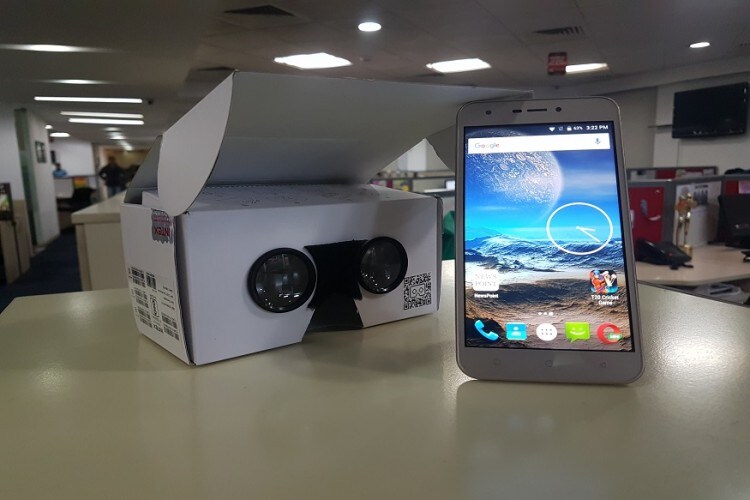 Intex Aqua 5.5 VR along with VR headset.
(Image: News18.com)
What's not so cool?
Its performance. The phone is not recommended for anyone who requires much out of their smartphone.
While the phone is quite smooth for simple tasks or singular apps, it is certainly a disappointment for multitaskers. With 1GB RAM and 1.2GHz Quad-Core Processor, the phone starts lagging if more than 5 apps are running in the background.
Even the inbuilt games on the phone do not run smooth and this is the 'demo' version of the games that we are talking about.
The phone has 8GB internal storage which leaves you with very little option for storage. While the storage is expandable up to 32 GB using a MicroSD, the 4.07 GB of internal storage is really a disappointment for an average smartphone user.
Intex Aqua 5.5 VR takes a lot of time to charge as compared to any other phone in the market. The phone can hardly cross 50 percent of charging in an entire hour.
The 5 Megapixel front and rear camera of the phone are not the ideal ones which a smartphone user would want.
Reason being the blurry and pixelated photos that are captured using these. The clarity is not too good even in the daytime and gets to worst as the lighting is reduced.
Intex Aqua 5.5 VR Camera.
(Image: News18.com)
Verdict
Priced at Rs 5,099, the phone is certainly a good buy for people who want a budget smartphone with 4G connectivity, dual-SIM and an entry point to virtual reality.
The accessories provided with the phone are certainly a big add-on at this price range and can easily attract a basic android user.
The Intex Aqua 5.5 VR is a device that promises to give users a taste of virtual reality in budget.
Also Watch
Read full article