Kerala Floods: Technology Can Help During Natural Disasters And The Devastation Left in Their Wake
The Kerala floods and the toll on life and property has again emphasized the need for technology to come to the rescue.
Last Updated: August 17, 2018, 13:37 IST
FOLLOW US ON:
The state of Kerala is in the midst of dealing with the worst floods ever after relentless rains, and the toll on human life as well as property has been tremendous. At last count, 147 human lives had been lost in seven days. This just seems to be the newest chapter in what seems to be a constantly unfolding steam of natural disasters, both in India and around the world. As the human element grapples for survival, there is a tendency for chaos, incorrect information and sometimes even complete information blackout having a detrimental effect on the rush for safety as well as the subsequent rescue and relief process. That is where technology can play a huge role, including the smartphone in our hand.
Perhaps the most powerful, and perhaps the most accessible tool in these times, are the social media platforms. Facebook posts, Twitter updates and WhatsApp groups can be used to get information across quickly and to a large demographic. From Kerala, we saw numerous tweets from people who were stuck in homes and schools, calling out for help, by sharing their location and coordinates. Rescue teams, who may be monitoring particular keywords and hashtags at that time, would be able to pin-point the location quickly. The same goes for Facebook too. With WhatsApp, it is more of the community, the people you may know or the people who may be in your locality, coming together to help, inform and support.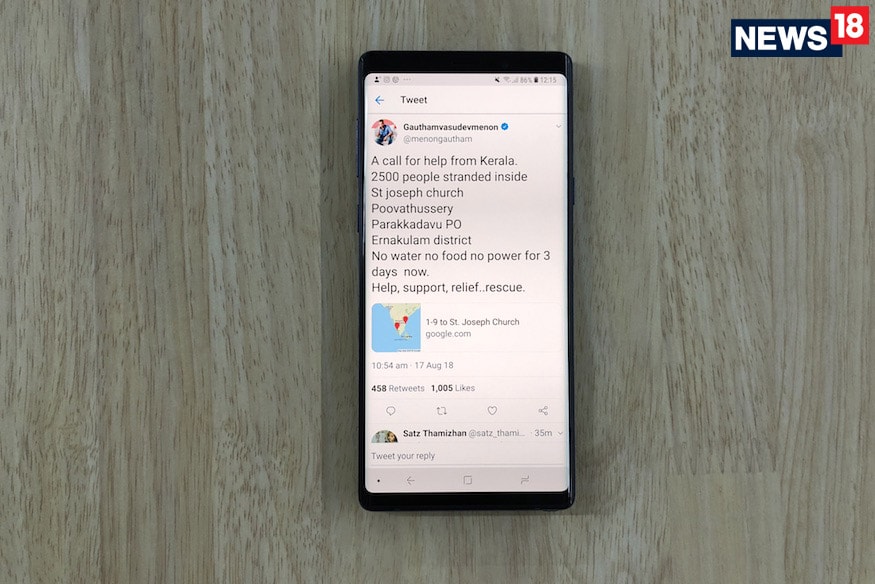 Google has activated the Person Finder tool for Kerala, which can be very useful if you need to find a loved one who you are unable to connect with at this time or report any information you may have about a missing person. The Google Person Finder page is currently activated for the Kerala floods and the Japan rains. The page also suggests that Person Finder is tracking around 14,800 records, at the time of writing this.
Kozikhode-based Qkopy is a social networking app released earlier this summer. Qkopy is playing a very critical role in getting information out to people stranded in the still flooded parts of Kerala, or attempting to know about the current status of flooding, waterlogging and traffic movements, for instance. You need to save the Kozhikode City Traffic Police phone number (9497975656) in your phone, and the Qkopy app will send you instant updates as shared by the police. These are one-way communications alerting users about the areas that are safe to visit and areas that should still be avoided. The app is available for Android and iOS devices and is free to download and use.
Despite allowing people to call out for help, technology does face significant challenges as we speak. Power failures post a natural disaster means that your medium of getting your message out to the world will last as long as its battery will allow. And you may not necessarily be able to charge your phone, for instance, for quite some time once it dies out. Then there is the issue of last mile connectivity. In the case of floods, mobile network towers as well as internet service lines also go silent once their battery packs run out, or the power supply to them stops. In many cases, the network infrastructure itself can get severely damaged during the natural disasters.
According to data released by the World Economic Forum in January, more than 700,000 people died as a result of disasters between the years of 2005 and 2014, and 1.7 billion people were impacted globally. China suffered the most disasters (286), followed by the US (212), Philippines (181) and India (167).
Globally, a lot more technology is being deployed in times of natural disasters, not just to identify the vastness of the impact, but also for rescue and relied and subsequently for the clean-up and redevelopment.
California based OneConcern is building what it calls a disaster-intelligence platform. This relies significantly on artificial intelligence (AI) and can help emergency management teams understand the impact of disasters such as floods and seismic activities, to help them plan and prepare better. The key to this is the advanced modelling of the city's infrastructure, which then provides real-time impact updates, cascading effects of every hazard and possible recourse. The detailing of the human element is extremely fine too, including how many people are estimated to have visual impairment, how many are senior citizens, how many are from a low-income group and more. OneConcern's solutions are being used by the cities of Los Angeles and San Francisco. The modelling includes man-made elements such as infrastructure and buildings, natural environments including local geology, climate and vegetation as well as live data including weather and on-ground monitoring.
While OneConcern's solution may require smarter infrastructure and demographic data which may not be available everywhere, unmanned aerial vehicles can come to the rescue instead. These flying machines, also known popularly as drones, can be used to map terrain more effectively particularly in inaccessible areas, allow authorities to assess damage in real time or monitor a rescue mission, provide greater feedback with mapping and imagery and the more powerful drones can even be used to move items from one point to another. These cost lesser than a traditional helicopter mission, can be deployed in terrains which may not necessarily be the most usable and can be automated to do certain tasks as well. If infrared cameras and advanced listening systems are mounted on drones, they can be used to hunt for hints of survivors from beneath tonnes of rubble.
Technology can really be useful when it comes to getting all the help necessary. The result of all this would be simple—more human lives saved. That perhaps makes all the investment in the new tech, completely worthwhile.
Also read: DeepMind AI Can Detect Over 50 Eye Diseases as Well as Your Doctor Can
Next Story