Motorola Moto Z and Moto Z Play Now Available: Review, Moto Mods, Video And More
Moto Z and Moto Z Play. (Image: News18.com)
Moto Z and Moto Z Play will finally go on sale tonight (October 17) at 11:59pm on Flipkart and Amazon.in at a price of Rs 39,999 and Rs 24,999 respectively.
Last Updated: October 18, 2016, 10:41 IST
Edited by: Debashis Sarkar
FOLLOW US ON:
Moto Z and Moto Z Play is now available on Flipkart and Amazon.in at a price of Rs 39,999 and Rs 24,999 respectively. The much awaited Moto Mods too will be available. Here is everything you need to know.
Moto Z Review: The Next Level For Smartphones
Moto Z vs Moto Z Play
Moto Z and Moto Z are completely different in design. Motorola has ensured that the flagship Moto Z looks premium. The Moto Z is the slimmest flagship smartphone at just 5.19 mm and weighs just 136 grams. It features a full metal body. The frame is made out of aircraft-grade aluminum and the rear boasts stainless steel.
On the other hand, the Moto Z Play is a bit heavier at 165 grams and is as thick as any other Moto phones at 6.99mm. While Motorola has retained the same aluminum frame, the back of the device is made of glass.Both run stock Android Marshmallow.
Read more: Moto Z vs Moto Z Play: Is Cheaper Better?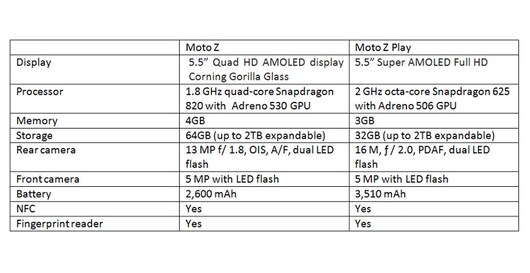 Colour options?
There is only one colour option for the Moto Z- Black with Lunar Grey trim. On the other hand, the cheaper Moto Z Play will be available in Black, Silver, Black Slate, White, Fine Gold and Sugar White colour options.
Also read: Moto Z: The Best of Motorola, Powered by Moto Mods
Any launch offers?
One Wooden Moto Style Shell (rear cover) worth Rs 1,099 for free. Exchange offers of up to Rs 25,500. Cash back of up to 10% on select credit and debit cards.No cost EMI starting at Rs 2,084 for the Moto Z Play and Rs 3,334 for the Moto Z. Also, Moto Mods will be available at a discounted bundled price.
Moto Mods
There are four Moto Mods available with both the Moto Z and Moto Z Play - Insta-Share Projector, JBL SoundBoost, Incipio OffGrid PowerPack and Hasselblad True Zoom Mod. Motorola is also offering a couple of back covers.
The JBL SoundBoost is basically additional JBL speakers attached at the back. This is good enough to replace any Bluetooth speaker. Also, there is a stand, which can be pulled out to make the device stand while you are watching movies.
The Incipio OffGrid PowerPack is an additional power bank that can be attached to smartphone. The Hasselblad True Zoom Mod is a digicam made by Hasselblad that attaches to the rear of the Moto Z. It offers 10X optical zoom and uses the smartphone's display as the viewfinder. The device comes with water-repellent coating and can withstand spills.
Both Moto Z and Moto Z Play are fully compatible with all the Moto Mods. The flagship Moto Z is powered by a Qualcomm Snapdragon 820 SoC with 4GB of RAM and 64GB of ROM while the Moto Z Play runs Snapdragon 625 with 3GB of RAM and 32GB of ROM. But when it comes to the performance of Moto Mods, both offer the same experience. The cheaper Moto Z Play doesn't stutter at all when Mods are connected.
Moto Mods Prices?
First Published: October 17, 2016, 19:41 IST
Next Story