Motorola Moto Z vs Moto Z Play: Which One Should You Buy?
Both Moto Z and Moto Z Play offer a similar modular experience. So, is the cheaper Moto Z Play a better buy?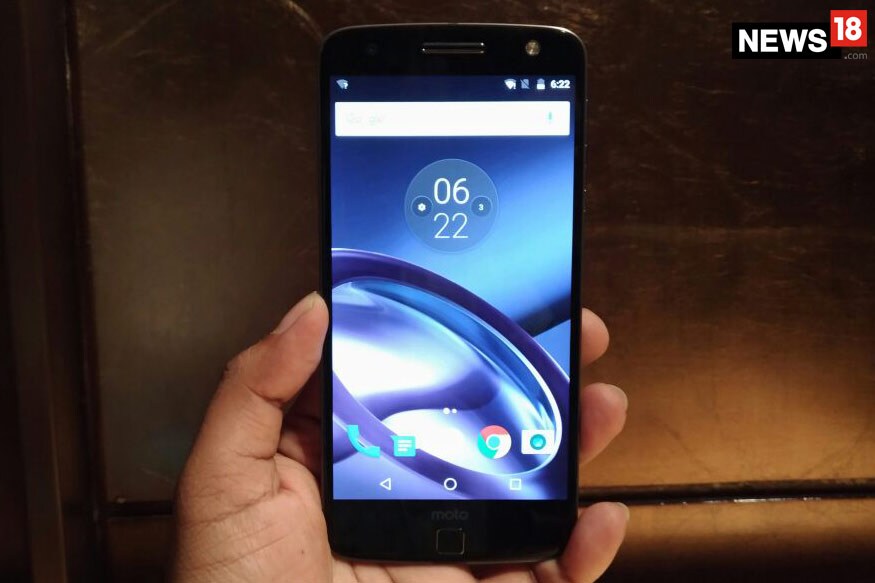 The Moto Z. (Image: Debashis Sarkar/ News18.com)
The first true modular smartphones have arrived in India in the form of Moto Z and Moto Z Play. While Lenovo-owned Motorola has priced the flagship Moto Z at Rs 39,999, the Moto Z Play costs Rs 24,999. Now, both the smartphones offer a similar modular experience. So, is the cheaper Moto Z Play a better buy? Here is all you need to know.
Watch video:
Design
Moto Z and Moto Z are completely different in design. Motorola has ensured that the flagship Moto Z looks premium. The Moto Z is the slimmest flagship smartphone at just 5.19 mm and weighs just 136 grams. It features a full metal body. The frame is made out of aircraft-grade aluminum and the rear boasts stainless steel. There is only one colour option- Black with Lunar Grey trim. The Moto Z feels solid and looks classy.
On the other hand, the Moto Z Play is a bit heavier at 165 grams and is as thick as any other Moto phones at 6.99mm. While Motorola has retained the same aluminum frame, the back of the device is made of glass. It will be available in Black, Silver, Black Slate, White, Fine Gold and Sugar White colour options.
Display
Both the phones feature a 5.5-inch AMOLED display. While the flagship Moto Z flaunts 1440p Quad HD resolution with a pixel density of 535 ppi and Corning Gorilla Glass 4 protection, the cheaper Moto Z Play offers 1080p Full HD at 403 ppi.
Battery Life
This is one crucial aspect which might influence consumers to buy the cheaper variant. As the flagship Moto Z is razor thin at just 5.19 mm, it could manage to pack in only a 2,600mAh battery. The company claims a mixed usage battery life of up to 24 hours.
The cheaper Moto Z Play, on the other hand, comes with a massive 3,510 mAh battery. It claims to offer a mixed usage battery time of up to 45 hours. It also comes with Quick Charge which can offer up to 7 hours of battery life in 15 minutes of charge.
Moto Mods compatibility
Both Moto Z and Moto Z Play are fully compatible with all the Moto Mods. The flagship Moto Z is powered by a Qualcomm Snapdragon 820 SoC with 4GB of RAM and 64GB of ROM while the Moto Z Play runs Snapdragon 625 with 3GB of RAM and 32GB of ROM. But when it comes to the performance of Moto Mods, both offer the same experience. The cheaper Moto Z Play doesn't stutter at all when Mods are connected.
3.5mm Headphone Jack
Due to slimness of Moto Z, the 3.5 mm audio jack had to be dropped. However, Motorola is kind enough to offer a complimentary USB Type-C/3.5mm adapter along with standard earphones with the Moto Z. So, you can continue to use your favorite headphones with the Moto Z. The Moto Z Play comes with regular 3.5mm headphone jack.
Water Protection
Both the devices come with water repellent nano-coating inside out. Note this doesn't make them waterproof.
Availability
Moto Z and Moto Z Play will be available on Amazon.in and Flipkart starting 11:59 pm, October 17, at Rs 39,999 and Rs 24,999 respectively. Both the phones will come with a complimentary Style Shell (rear cover).
Specs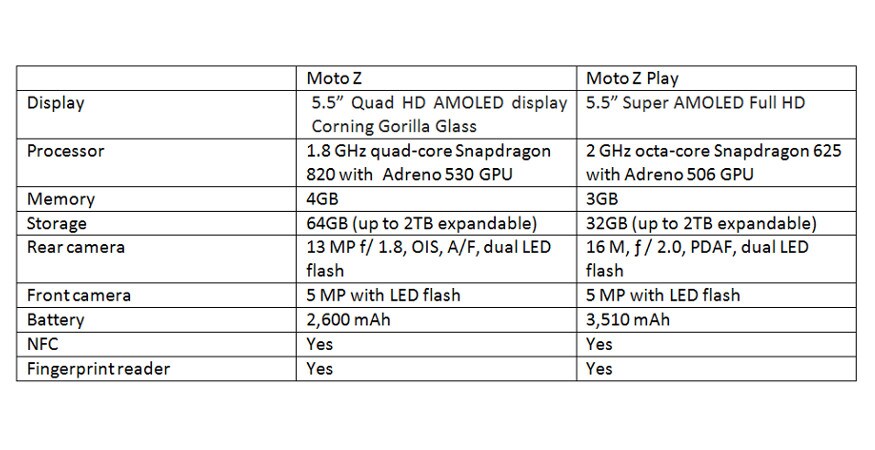 Also Watch
| Edited by: Debashis Sarkar
Read full article