MSI GF63 8RD Review: A No-Compromise Gaming Laptop, With a Seriously Cool Price Tag
The fact that the GF83 8RD works well in scenarios apart from gaming, adds value to the money you will spend on this laptop.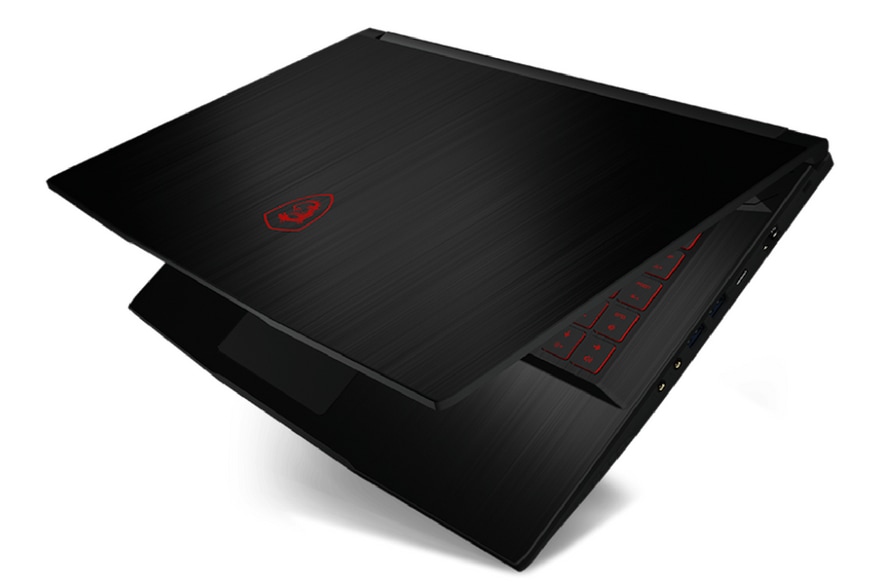 The fact that the GF83 8RD works well in scenarios apart from gaming, adds value to the money you will spend on this laptop.
We have been noticing this rather pleasant trend which sees gaming laptops becoming slimmer, yet more powerful at the same time. The HP Omen 15, the Dell G3 and the Asus ROG Zephyrus M are all slimmer than the gaming laptops of the previous few years. No other laptop perhaps personifies this change better than the MSI GF63 8RD, however. This is the top variant among MSI's latest gaming laptops that will be arriving in India in September, and is priced at Rs99,990.
In terms of a first appearance, we are pretty sure you will be pleasantly surprised by the rather compact footprint, for a laptop that as a large 15.6-inch display and packs in the sort of hardware that can only be categorized as top-notch. That has been followed up with a brushed finish on the lid and the matte colour finish. If no one told you about the MSI GF63 8RD's gaming credentials, you would perhaps be lulled into thinking that this laptop looks great for using in office too. This understated and sophisticated look is something most gaming laptops cannot manage, and full marks to MSI for that. No shouty design inserts, no bright LED lights to go with that and no large stickers adorn the laptop. The GF63 8RD weighs just 1.86kg and is just 21.7mm thick—that is the height of about three iPhone X stacked on top of the other. The slimness hasn't compromised build quality, and this machine feels well put together.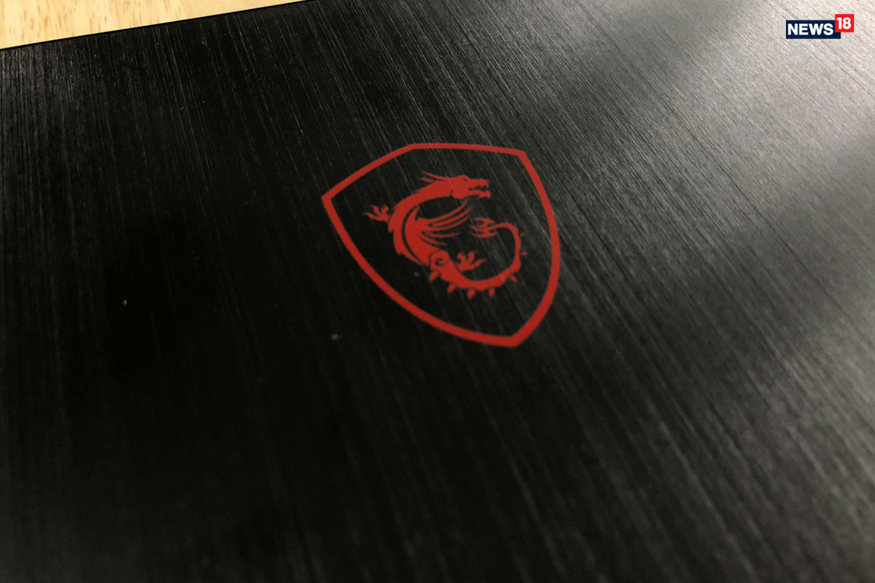 What you get here is a 15.6-inch Full HD IPS screen. The advantages of an in-plane switching (IPS) panel are that you see great colours, experience good viewing angles and contrast that makes the visuals look great. This is one of the few laptops we have seen in the recent past that doesn't have a reflective screen, and that makes viewing this even more comfortable even if there are irritating overhead lighting fixtures that would otherwise reflect back into your eyes off the screen. There might be the question that a 4K screen would have been better in a gaming laptop. For viewing 4K content such as movies, sure. But then again, you'll probably not be buying a MSI GF63 8RD to stream Netflix or Amazon Video in 4K. Therefore, the choice of the Full HD screen for gaming is ideal, since the performance is better. Simply put, the more pixels in a 4K screen put more load on the graphics card and that negatively impacts gaming performance. What is the point of a 4K screen if you have to turn down the resolution and special effects settings in the games you play?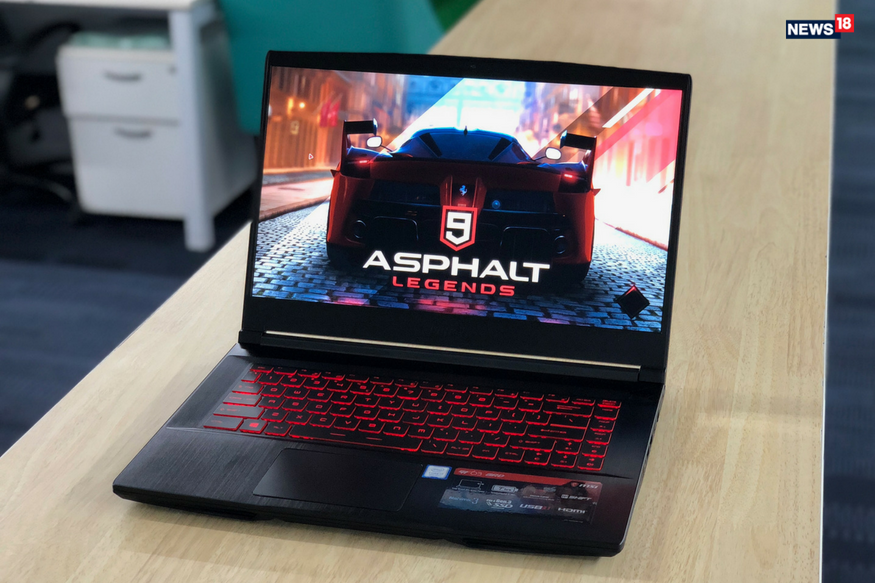 Under the hood is the sort of hardware that makes the investment in this laptop all the more worthwhile. It runs the newest generation Intel Core i7 processor, paired with 8GB RAM. While we can perhaps say that this variant (this is the highest spec variant among the troika including two options of the GF63 8RC) could have really pressed home the advantage with the newest Intel Core i9 processor, which would have really helped grab the headlines too. However, considering the price tag, we would perhaps not hold it against MSI for trying to keep costs in check. Nevertheless, the Core i7 processor, the 8750H to be precise, is a top-notch processor in terms of performance. There really is no task that will slow it down.
MSI has also packed in the Nvidia GeForce 1050Ti (4GB RAM) graphics. This graphics card could have struggled had it been required to work with a 4K screen, but here and now, this is absolutely spot on for the newest titles in a variety of genres. Be it first person shooter games which need absolutely lag-free visuals and racing games which demand a very rapid change of visual elements, the 1050Ti did the job effortlessly.
For a rather slim gaming laptop, one would assume that heating might be an issue as dissipation would be compromised. However, at no point while gaming did we notice the MSI GF63 8RD become uncomfortably warm. The fans do kick up a notch or two to improve the cooling speed when additional heat is generated during gaming, but they never become uncomfortably noisy. Again, full marks for the fine details that MSI has focused on.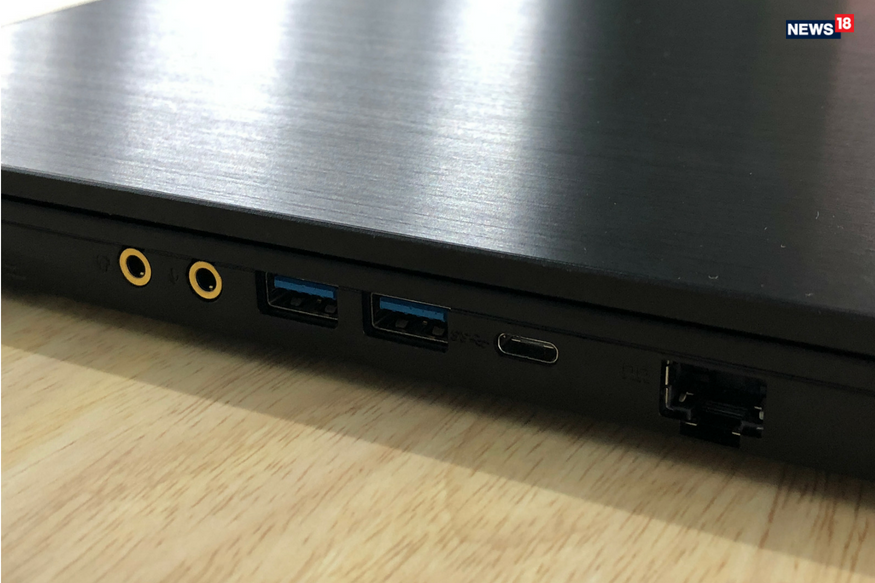 To help performance further, the MSI GF63 8RD has a very fast 128GB solid state drive for the Windows installation—this really improves app load times. There is 1TB hard drive to go with that, for all your data storage needs.
It is often noticed that battery life isn't always the best in gaming laptops. The combination of very powerful specifications, a large screen and sometimes unoptimized cooling have a negative impact on the battery life. However, the MSI GF63 bucks that trend in very impressive fashion, returning close to 7 hours of usage backup on a single charge when used for non-gaming tasks and set in Eco mode (the app called Dragon Center offers a wide variety of information overlays and options) . If you are careful with the display brightness while at it, the same battery can even last a tad longer than 7 hours, which brings it very close to the sort of battery life benchmarks set by the Apple MacBook Pro devices.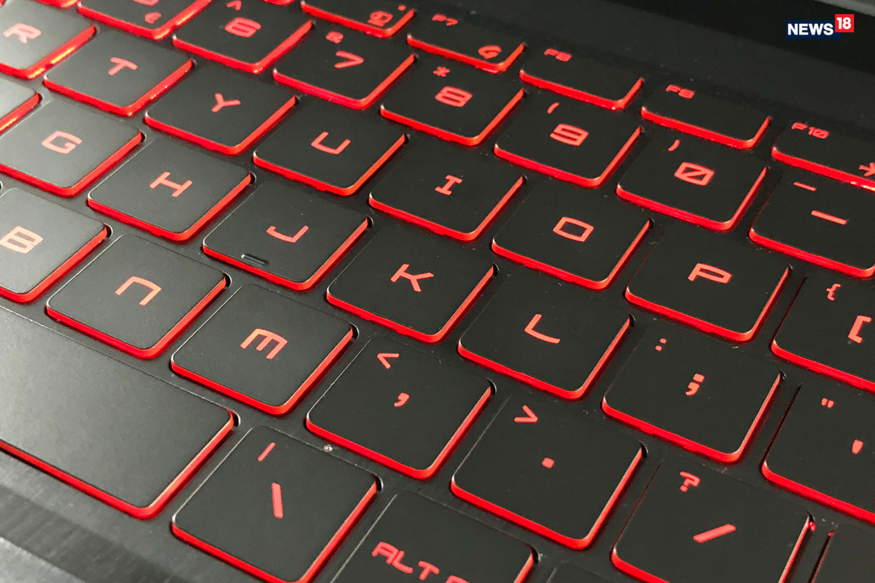 The keyboard itself is well laid out, but for some reason, the layout doesn't immediately become a habit and it'll take a day or two of regularly typing on this to get completely used to it. The key travel is just about perfect, and the response is accurate.
The fact that this impressive gaming laptop costs less than Rs1,00,000 is in itself is a big win over most of its rivals, and MSI is clearly back with a bang. Performance is excellent, the sophisticated design adds to versatility of use and the excellent display make this worth considering over the more expensive gaming laptop options that you may have been eyeing. The battery life, when not using this for gaming, is perhaps the proverbial cherry on the versatility cake for the MSI GF63 8RD. As things stand, its competition comes from the HP Omen 15-dc0082tx running the same graphics hardware and an Intel Core i7 processor, and is priced higher at Rs1,10,828.
Also read: Asus ROG Zephyrus M GM501GS Review: Gaming Credentials, But With a Stiff Price Tag
Get the best of News18 delivered to your inbox - subscribe to News18 Daybreak. Follow News18.com on Twitter, Instagram, Facebook, Telegram, TikTok and on YouTube, and stay in the know with what's happening in the world around you – in real time.
Read full article