Nokia CEO Rajeev Suri Aims to Enable 5G in India by 2020
The Delhi-born Suri is excited about the potential of 5G. After the US launch, Suri, said the technology will penetrate markets like China and finally reach India by 2020.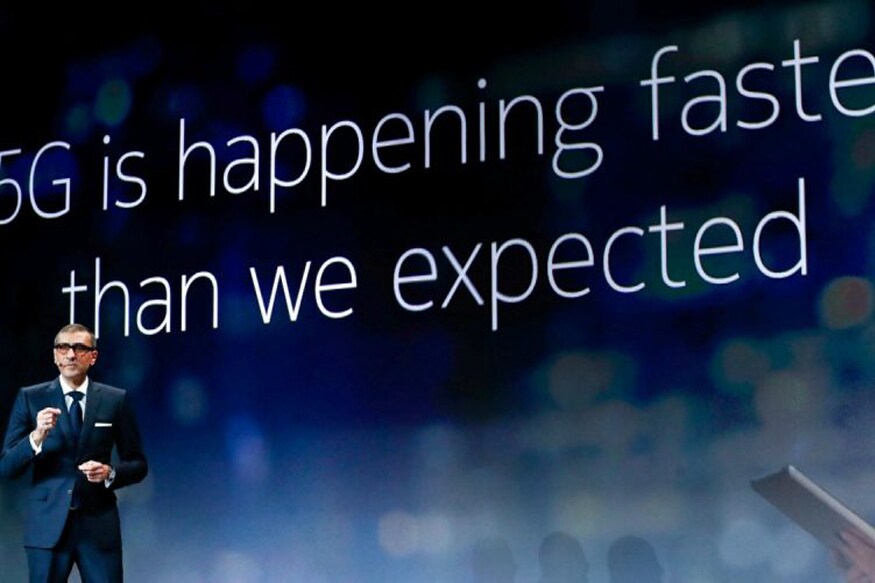 Nokia Global CEO Suri Bullish on India; Aims to Enable 5G by 2020
The next big opportunity for Nokia globally and in India is 5G, the wireless technology that will not just connect phones but also hook up any device from vehicles to household items that has an internet connection at superfast speeds, said president and CEO Rajeev Suri.
The Delhi-born Suri is excited about the potential of 5G. After the US launch, Suri, said the technology will penetrate markets like China and finally reach India by 2020.
In an exclusive interview with Kritika Saxena of CNBC-TV18, his first to an Indian media company, Suri lays down his vision for the company and how he remains bullish about India. Below is the full transcript.
Q:
Can you give me an idea on how much the revenue growth has been, 20-25 percent plus?
A:
Not as much, I think under 20 percent but still above 10 percent.
Q:
What are the growth drivers for you?
A:
For us it was a lot of 4G networks.
Q:
You were one of the players to tap into 4G maximum in the last 5 years?
A:
That's, right. We again took market share globally in 4G last year. We are very strong in 4G. I would say mobile and 4G but not just that, also enterprise, software and we are end to end, this is not just a mobile company like we used to be in 2014, so transport equipment, IP routing and every adjacency that goes with it.
Q:
You have said that by the end of this year to the beginning of next year we are going to see the beginning of 5G playout. By when will it come to India given the fact that 3G, 4G came almost 7 years late?
A:
I would say it starts with US this year and I am talking commercial roll out of real 5G new radio technology and then will be China, Japan, South Korea, Nordics, India will be I would say 2020 which is again bit sooner than most would have expected.
Q:
Keeping the bottlenecks in mind and I am talking about bandwidth. Bandwidth issue is real, we haven't been able to successfully holistically integrate 4G with our day to day systems, how will we handle 5G in that case?
A:
India has one of the most loaded networks in the world. Loaded networks come from the fact that either the spectrum is not enough or simply the data consumption is much stronger and the number of sites might not be enough to cater to that demand. Clearly we have got some work to do but the underlying issue here is that we do need more spectrum especially when we start thinking about 5G. We will need enough new spectrum in the right bands. India is moving forward fortunately to consider the right bands, what we call 3.4 Ghz to 3.6 Ghz which is sort of the mid band for 5G but we will need to make sure that there is enough spectrum available per operator so that we can roll this out.
Q:
Would you realistically agree that India isn't yet prepared?
A:
The drivers are there but it is more prepared than you might think.
Q:
When you look at your expansion where do you think we stand compared to the other emerging geographies and I am not counting China and Japan here?
A:
It is the strongest. It is really the strongest among many of the other emerging geographies. The data consumption, I would predict that India per user per month will become one of the top three consumers of data in mobile around the world.
Q:
I want to understand your R&D plans, I believe India is the second largest R&D centre for Nokia?
A:
Bangalore is a huge centre for us and has 6000 people overall in R&D.
Q:
What is the kind of growth that would be required given the amount of investment and infrastructure growth that is required here, how much more can you scale up your R&D presence?
A:
We do all major things here. We do the Cloud, the Core Networks, we do Internet of Things, 5G, we are doing R&D for 5G here. We have some hugely disruptive digital cloud solutions that we are doing from here that serves the enterprise as well. It is a microcosm of what we do globally. So, great work and we will continue to scale in terms of whatever the needs are. We do manufacturing here in Chennai as well. It is a world class facility.
Q:
In terms of Make in India, I have heard some talks from the government how Nokia is contributing but help us understand how. From a Make in India perspective what more is going to be done in terms of manufacturing over here?
A: We have been manufacturing here since 2008. It is a real hi-tech facility and it is very complex. It is not like just producing mobile phones, it is far more complex, radio frequency tuning is very nuanced when it comes to manufacturing in base stations, it is pretty complex and they routinely win quality awards in the company. We have well over a 1000 people doing manufacturing.
Q:
How much more can you scale that?
A:
With the volume, it is not just for India, it is serving 30 countries, 50 percent of it is exported, 50 percent is here. You will be surprised to know that the new air scale 5G ready base stations are being manufactured here as well. I don't have accurate numbers in terms of how it will scale but both R&D we will scale with success and so will manufacturing over time.
Q:
Would you want to setup more plants based on the capacity?
A:
We have capacity in the same plant that we will just try to drive. It is such a good plant, we are so happy with it, we just have to sort of expand it based on number of equipment's we can come out with. In 2015 we hit the 2 million unit production mark and in 2018 we double that to 4 million.
Q:
How much more can you scale that by 2020?
A:
It depends on how much 5G takes off. 5G really takes off by 2020 then hopefully we will continue that scaling. I can't predict a number, I want to be surprised positively that the number would be higher.
Q:
Could you double that as well given the kind of opportunity that you have?
A:
Potentially if 5G takes off because it is not just in India, it is also globally.
Q:
If you look at brand Nokia from a consumer perspective, it is more attached to nostalgia than an active business proposition. Do you feel that, that has led to the image of brand Nokia suffering in India, not being very clear over here?
A:
India is where our brand is probably loved the most. We as Nokia in terms of smartphones and overall feature phones are doing very well. It was the first year of operations for HMD Global last year and they said that they did 70 million phones, a large part of it is still feature phones but also emerging very strongly in smartphones. Look at the number of phones we launched during both last year and 2016.
The fact is that the majority of the buyers are youth, people under 35 years of age. You would have thought maybe Nokia exited at first so maybe it has lost the cool factor but not so much. Millennials are buying it.
Q:
Samsung, if not Samsung then One Plus and Xiaomi's of the world, the low cost phones of the world are taking over to an extent. I want to understand how that has changed the brand proposition over here?
A:
It has strengthened the brand proposition because it is catering to a lot of the youth, not just here but also around the world. Our brand according to Brand Finance now is the 188th, most powerful brand in the world. A year prior to that it was 350th, a couple of years prior it wasn't even in the top 500, so it is back and of course it helps us in the B2B market.
Q:
The market share is going to grow now and given the licensing revenue that you get, that is going to contribute to revenue share now?
A:
For us our role is that we license our brand and we get royalty for both the brand as well as the intellectual property. Of course we work closely with in terms of user experience and devices and so on. I am very pleased with HMD's first year and a lot more good is yet to come.
Q:
India is going to be an important market from a consumer perspective as well?
A:
Absolutely. This year it is about scaling globally and doing more and going deeper.
Q:
Any interesting start-up acquisition opportunities over here?
A:
There might be. If there are places for us to acquire companies in the area of Internet of Things, automation of industries, we might look at it. We do it all the time, last year we bought handful of companies, so there are potentially here as well. We find new clients here like web-scale players and enterprises that we continue to do.
Also Watch: Nokia 6 (2018) Review: A Smooth Performer in a Striking New Design
| Edited by: ---
Read full article