Ola Outstation Review: Perfect Ride For Last Minute Weekend Plans
After taking two Ola Outstation rides—Kasol and Nahan, both in Himachal Pradesh-- from South Delhi, here is what we think of Ola Outstation. Read the review.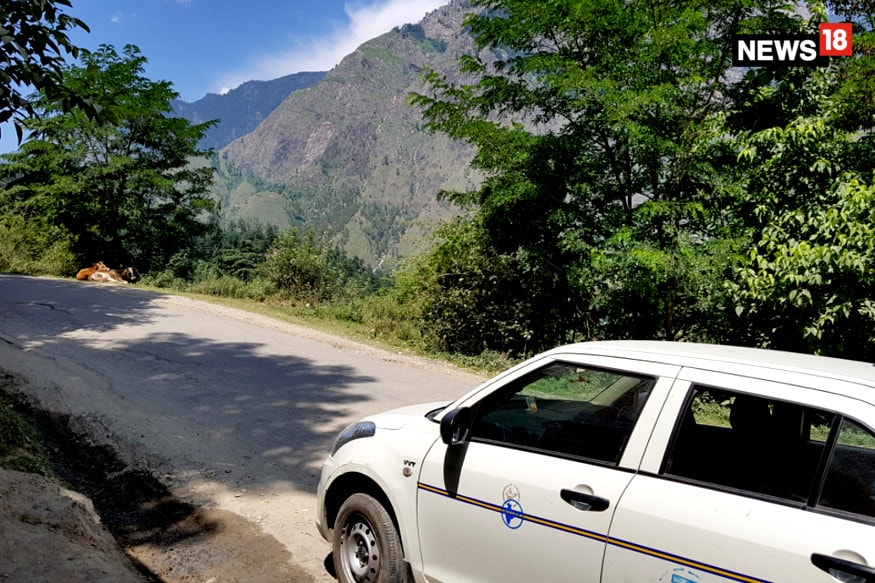 The Ola app shares an estimated trip cost with you even before you book the ride. If you tend to stick to the planned trip and then fare is very close to the estimate. (Image: Debashis Sarkar/ News18.com)
It's Thursday and you suddenly realise that it's a long weekend. While planning a short trip nearby is easy but getting a ride might be quite a task for many. If you don't own a car or simply do not want to drive then a cab ride becomes an obvious choice considering you do not want to opt for public transport. Ola has been providing outstation cab rides for quite some time and what's more interesting is that the fares are very competitive when compared to car rental providers like Zoomcar or private tourist cabs.
After taking two Ola Outstation rides—Kasol and Nahan, both in Himachal Pradesh-- from South Delhi, here is what we think of Ola Outstation. While there is nothing really to worry about Ola Outstation rides, this review is aimed at clarifying the real deal when you take your maiden ride.
Also read: Ola Launches 'Ola Play' For a Connected In-Car Experience
NOTE:
The service of Ola Outstation might differ from city to city and may not be available in your area. Also, you can opt for one-way travel. This review is only considering two Ola outstation trips from New Delhi that the author has personally taken.
What's cool?
The best part about Ola Outstation is that you can book an outstation ride almost instantly. Whether you book a day or an hour ahead, the trip is confirmed and driver details are sent on your registered mobile number only 45 minutes before the scheduled journey begins.
WATCH VIDEO: HP Spectre X360 Review | Is it Worth Rs 1.57 Lakh?
How to book?
1) Tap Outstation on the Ola app.
2) Select pickup point and hit continue.
3) Enter drop location. You may provide the nearest possible name of the town or city if the exact location is not shown.
4) Select whether you want the cab for One Way or Round trip. Note one-way trip is not available on all drop locations.
5) Set the pickup date and time and also the return date. The duration is considered on a 24-hours basis. So, if you choose to start on Monday at 10 AM, for a 2-days round trip, your trip end time will be set to Wednesday 10 AM. If the trip doesn't end before that scheduled end time then you will have to pay extra including driver allowance.
6) Select the type of cab: Mini is the cheapest while SUV and Lux are the most expensive. Apart from the per km fare (lowest Rs 9/km for Mini to Rs 14/km for Prime SUV), the rest of the charges including driver allowance remains the same.
7) Hit confirm and book. The driver details would be shared 45 minutes before the scheduled trip start time.
Also read: Ola And YuppTV Join Hands to Bring Live tv to Ola Play
What about the fare?
The Ola app shares an estimated trip cost with you even before you book the ride. If you tend to stick to the planned trip and then fare is very close to the estimate. One of the trips that I had taken to Nahan followed the exact estimated fare.
Ola charges 250 km per 24 hours. This means the estimated fare includes fare for traveling 250 KM in 24 hours only. Any extra travel would mean paying extra per KM according to vehicle type. Thankfully, Ola considers rest days as well. So, if the total up and down distance is less than the total estimated trip distance for the booking period, the free kilometres can be used for free local sightseeing.
For example, if your total up and down trip distance is 500 KM and you have booked the Ola cab for 3 days, this means you have a bandwidth of travelling 750 KM (250km X 3 days) to stay within the estimated fare range. By this logic you can use the free 250 KM for local sightseeing without any additional charge.
Anyways, the driver will never say no to local sightseeing and will never do these maths before starting the cab. You just need to guide him with the route of local sightseeing. Use Google Maps! Also, one of the major advantages of Ola Outstation is that local sightseeing costs almost nothing when compared to taxi rates at tourist destinations.
Also read: Now Book Ola Cabs From Zomato App
Ola Outstation accepts Ola Money. This means if you are not keen on paying cash or running out of it during the end of trip, you can simply use your credit or debit card or net banking to recharge your Ola Money with the estimated trip fare. The exact trip fare will be debited automatically whenever the driver pens down the end trip OTP.
Ola Outstation drivers are a bit patient and they generally shouldn't mind if you get a bit late in starting your trip. Of course, there are no late-coming fines! But there are additional charges (set by Ola, see on app) for late trip end time.
What to choose: Mini, Prime Sedan, Prime Play, Prime SUV or Lux?
This totally depends on the ride comfort you want and number of travellers. If you are on a budget, you can opt for a Mini (likes of Ritz, India and Micra) and then expect Ola to surprise you with Maruti Suzuki Dzire in the Prime Sedan category. This hack is totally on your luck. Thankfully, it worked out for me on both my trips with Dzire being the most common cab in Delhi.
Tips:
1) There are two OTPs. One to start trip and another one to end the trip. Provide the same only when the Ola driver's app asks for it. Save a screenshot of the ride details including the OTPs.
2)
Always note down the exact odometer KM reading of the car before the start of the trip.
You can even click a picture of the odometer readings. Do this even when the driver has activated the trip meter. Also, always keep a tab on the kilometres whenever you get down the car and board it again, especially for overnight trips.
3)
Keep a smartphone with at least 3G mobile internet for navigation and other usage handy.
Do not forget to share your driver and trip details with your family members. And don't forget to
keep a fully-charged power bank with you during the trip
.
4) There are no fixed routes to travel as such and there is no official word from Ola as well on this. You are free to decide the route. Also, feel free to take as many breaks as you want during the ride. Use the cab as if it's your own driver but with due respect and obey general rules set by Ola.
5) As a responsible customer, you will have to pay the bill shown on the Ola app at the end of trip. As per Ola, there could be issues but those need to be clarified with the Ola customer support after payment.
6) Download the offline map of the trip route on Google Maps. This is extremely important because internet connectivity could be patchy on the way.

Also read: How Microsoft Helped Boost Renault Sport F1 Team's Prowess
What about taxes and tolls?
All tolls and state taxes are to be paid in cash by the customer additionally. Always save the receipt for any future reference. For instance, apart from regular tolls while entering Himachal Pradesh cabs are required to pay a tourist permit entry tax, which is around Rs 610.
What about driver allowance and night stay?
Ola charges Rs 250 per day from your to take care of the needs of the driver who is going to stay with you. You are not responsible for his/her food or stay. It is totally up to you if you wish to treat him or not.
What's not cool?
It seems Ola needs to provide drivers with better handsets and mobile internet plan. On both the trips that I had taken, the driver requested for navigation help from my smartphone as Google Maps stopped working on the driver's smartphone provided by Ola. During night trips, it is always advisable to stay awake and keep a tab on the direction. This is essential because you are paying per KM for the trip and any wrong route taken by driver means waste of your money and precious vacation time.
During my trip to Kasol, my Ola driver took a wrong route towards the opposite direction while I slept the entire night only to realise that I was reaching Dharamsala and not Kasol in the morning. The driver apologised for taking a 'wrong cut' as his GPS was not working but I ended up paying extra for at least 100 km and wasted at least 3 hours.
While there is the option to book Prime Play but there could literally be nothing for entertainment in a Mini, Sedan or SUV. Also with patchy internet connectivity, Prime Play may not be helpful to keep you entertained during your ride. Always keep a portable speaker, a power bank and some downloaded music or movies for your entertainment needs.
Also read: Microsoft HoloLens: Renault Sport CIO Shares How Formula One Can Use it
Both the drivers that I had travelled with preferred cash payment at the end of the trip. In fact one of them had announced in the beginning of the trip itself that he would not be accept Ola Money. This is something Ola needs to rectify.
Verdict
Ola Outstation could be a great experience if you do the maths right and keep in mind some of the things mentioned above. The fares are competitive and you do not feel like you are paying more (unless for exceptions).
Feel free to share your opinion in the comment section below.
Don't miss: Apple iPhone 8, iPhone 8 Plus, iPhone X | First Look | Most Advanced iPhone

Catch the biggest newsmakers and the biggest newsbreaks on CNN-News18, the only news destination. Keep watching CNN-News18 at just 50 paise per month. Contact your cable/DTH operator now!

*Rental/capacity fee of Rs. 130/- as charged by cable/DTH operator may apply. **GST extra.
| Edited by: Debashis Sarkar
Read full article
Countdown To
Elections Results
To Assembly Elections 2018 Results