In a big surprise for consumers as well as OnePlus founder Carl Pei, Flipkart had recently announced a massive discount of Rs 9,000 for the flagship OnePlus 3 unofficially. It goes without saying that the product went out of stock very soon.
While OnePlus has partnered exclusively with arch-rival Amazon.in to sell the OnePlus 3 in India for Rs 27,999, the 'Flipkart Assured' sale now raises questions on warranty and after sales support.
OnePlus in a statement said, "We have an exclusive partnership with Amazon in India. We advice customers to purchase OnePlus products only through official channels as we cannot guarantee the authenticity of the products sold elsewhere."
For consumers, getting the flagship killer OnePlus 3 for a price of just Rs 18,999 is a great deal and it really doesn't matter for them whether they are buying something from Flipkart or Amazon.in.
However, when it comes to after sales support, the OnePlus statement clearly said, "We cannot guarantee the authenticity of the products sold elsewhere." In other words, OnePlus is not responsible for the sale and they are technically not liable to provide any support for the same.
"The OnePlus 3 sale conducted by Flipkart for Rs 18,999 could be for refurbished or used units or even units bought from the grey market. The company can only assure the quality and offer a warranty when the product is purchased from the official partner, which is Amazon.in this case," explained a highly placed source in OnePlus India.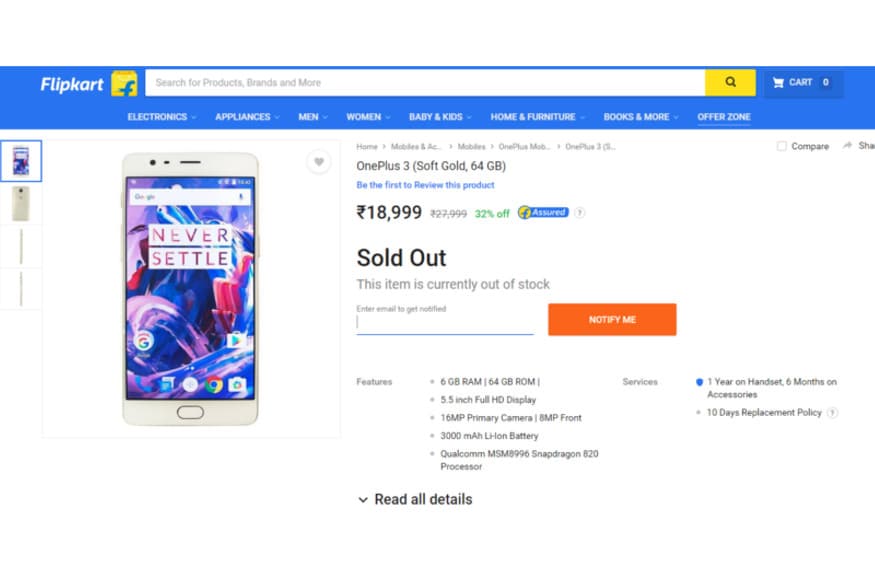 (Screenshot of the OnePlus 3 sale page on Flipkart. Image: Flipkart.com)
What about the OnePlus 3 sale being 'F-Assured'?

The OnePlus 3 sale was not officially approved by OnePlus, yet Flipkart gave it the badge of 'Flipkart Assured'. According to the information provided by Flipkart, "Customers who buy a 'Flipkart Assured' product will enjoy the assurance of stringent seller and product quality checks, transit safe packaging and fast & free delivery (on all orders above Rs 500) from our best sellers."
Note that nothing specific is mentioned about 'warranty and after sales support' in the Flipkart Assured web page as well. For sales, Flipkart categorically states that discounts and prices are "decided by the participating sellers and brands." In this case, the seller is not OnePlus.
Interestingly, the OnePlus 3 sale on Flipkart lasted for a few minutes before it went out of stock and Flipkart has not revealed the actual OnePlus 3 sales figures.