OnePlus 6 was a smartphone that everyone was waiting for and now that the company has finally unveiled the device at their launch event in London, we are all set to tell you about our first impressions of this device. We have a confession first, we did have the device with us under an embargo and were quite excited to talk about it, also the leaks were quite bang-on when it came to information of the device. We could just not wait for May 16 so that we could tell you all about this super fast Android smartphone. This is a smartphone that many other companies also fear would make their devices redundant in 2018 and an example of that was Honor trying to sabotage the OnePlus 6 launch event in London with an event of their own and that too just a day earlier. But when you have a good phone launching, everything else is just white noise. So without any further delay, let's get you our first impressions of the new OnePlus 6.
The OnePlus 6 is the company's first all-glass finish smartphone that if you don't notice carefully will not appear to be a smartphone that's made of a glass back and front. OnePlus 6 is all the phone that their fans and community ever demanded and the company has not disappointed at all. This will also be the first smartphone in India that will feature a Qualcomm Snapdragon 845 SoC officially. OnePlus has stuck to their mantra of Never Settle and the OnePlus 6 is something that upholds that for the company in 2018.
If you are on a OnePlus 6 device this year you will not be settling at all, at least on the basic front.
Watch: OnePlus 6 First Impressions Review: All You Might Need in 2018
Design and Display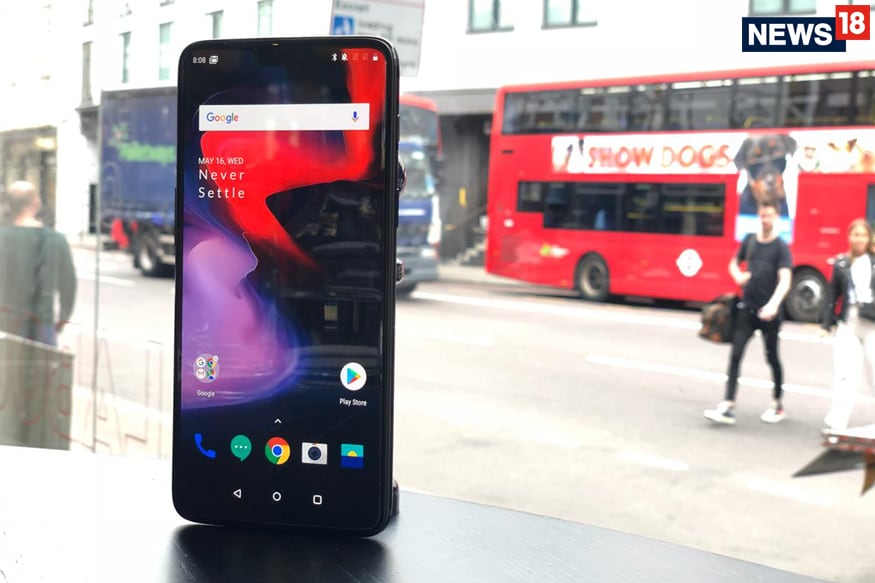 Image: Siddhartha Sharma/ News18.com
The all-glass design that features Corning Gorilla Glass 5. Upfront you get a display that has a notch on the top and measures at 6.28-inches. This is also a Full Optic AMOLED display with a 19:9 aspect ratio. The best part of the design on the OnePlus 6 is that it does not feel glass like at all, that is also confidence boosting for users and the midnight black finish of the OnePlus 6 also has a very nice matte finish to it. The Silk White, in reality, uses actual pearl powder coating on the back and is one of the best white phones you'll see in 2018. The mirror black device that we were using was just too shiny. The thing that we didn't like on it was its ability to attract so many fingerprint smudges that we had to keep a cleaning cloth for it when not using in a case. OnePlus also has some amazing cases for the OnePlus 6 and our personal favourite was the Red Silicone case of the OnePlus 6.
OnePlus 6 Red Cover. (Image: Siddhartha Sharma/ News18.com)
There is also OnePlus' signature Alert Slider on the device but the position of this alert slider that switches the phone between silent, vibrate and ring mode has moved from the left edge of the device to the right on the OnePlus 6. The OnePlus 6 will be available in three colour options of Midnight Black, Mirror Black and Silk White. OnePlus has not got any Ip rating for the OnePlus 6 but the company does claim that they have made it water resistant for everyday use case like rain, drop in a puddle etc. This means that you can still not swim with this device. The display is as crisp as it gets with good viewing angles and a screen to body ratio of 84% gives the OnePlus 6 a near bezel-less appeal. The OnePlus 6 weighs 177 grams and measures at 155.7 X 75.4 X 7.75 mm.
Specs and Performance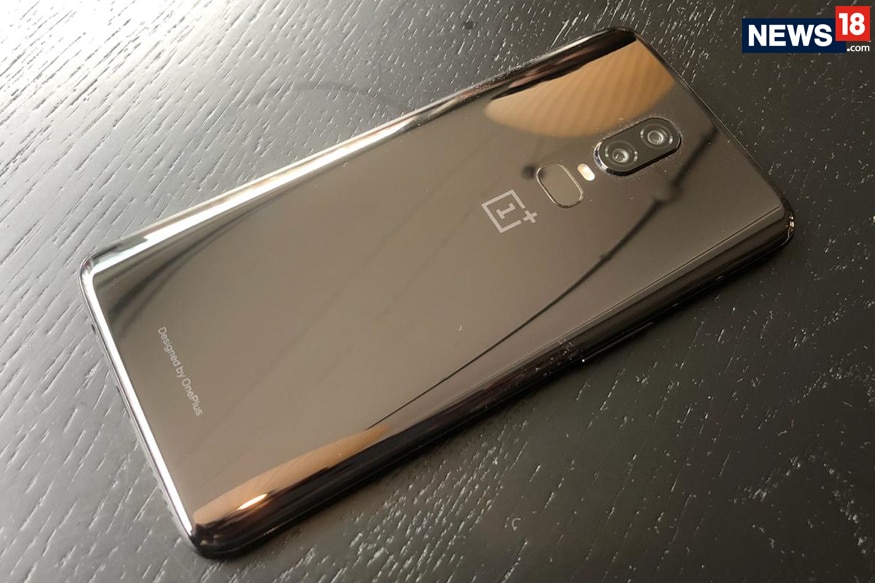 Image: Siddhartha Sharma/ News18.com
The OnePlus 6 is the first official smartphone in India to get the latest Qualcomm Snapdragon 845 SoC that has a maximum clock speed of 2.8 GHz. This is what makes the OnePlus 6 a super fast smartphone as well. Along with the flagship Qualcomm processor, the OnePlus 6 comes backed its two RAM options of 6GB and 8GB and storage variants of 64GB, 128GB and 256 GB. This combination depends on the variant that you will choose. The one that we had was an 8GB RAM and 128GB ROM midnight black edition for this First Impressions review. The performance was just lightning fast and this was a phone that never had any hang-ups or hiccups. In fact, on some occasions, we thought that we were a bit slow for this smartphone.
The OnePlus 6 runs on OxygenOS based Android 8.1. The OxygenOS offers some neat and very practical tweaks that are not to heavy on the regular functioning of the device as well. There is also an option to turn off the notch in which the device looks like it does not have a notch. Gestures like swipe up from the bottom of the display to go to home or swipe from left to right from the bottom of the display to go back just make things on Oreo OS a little more intuitive. The new Gaming Mode also clever with automatically lowering the amount of data assigned to background apps while gaming just boosts that fast gaming experience. There is also a Gaming DND mode that stops displaying notifications while gaming. You can also take calls on the speaker of the device without exiting the game as well.
These are some of the things that makes the OnePlus 6 quite an experience to use. OnePlus 6 does retain the Face Unlock feature and the fingerprint sensor of the OnePlus 5T and a similar 3300 mAh battery with DASH charging support. Sadly despite the all-glass design, the OnePlus 6 lacks wireless charging support that many of its rivals in that price point do have. The OnePlus 6 is also a dual-SIM smartphone that also comes with Bluetooth 5.0.
Camera Capabilities
On the optics front the OnePlus 6 sports a dual-camera module as its primary camera with one sensor of 16-megapixel with f/1.7 aperture and a supported camera module of 20-megapixel. The 16-megapixel camera now comes with Optical Image Stabilisation and EIS. The camera is also now capable of shooting 4K videos at 60 FPS. There is, of course, a portrait mode on the OnePlus 6 with advanced HDR capabilities as well. The front camera of the OnePlus 6 is also a 16-megapixel camera with a f/2.0 aperture and EIS enabled for stable selfies.
With the OnePlus 6 for the first time, OnePlus has also introduced super slow motion video recording in high definition at up to 480 frames per second. The OnePlus 6 also comes with an in-device video editor through which you can trim and put some filters and music on the video that you have shot. There are also additional loop and reverse effects on the video editor for you to play with.
The images that OnePlus 6 is capable of clicking are quite sharp and deliver true colours. There is no unnecessary saturation or overexposure on the capture. While it does offer a 19% larger sensor, the low light or dim light imaging on the OnePlus 6 is still very grainy and with noise. There is also Portrait Mode for Bokeh effect capture which is now way better than what we saw on the OnePlus 5T. The new AI Algorithm works exceptionally well to get the edges right while clicking portrait images. Also, the low light performance on portrait mode was also impressive when compared to the OnePlus 5T.
What's More?
There is also one more special edition variant in partnership with Avengers Infinity War of the OnePlus 6 that will come in only a 256GB storage and 8GB RAM variant for India. Watch this space for more on that as well.
Verdict
The OnePlus 6 is all the phone that one can ask for in 2018. It has a powerful performance oriented SoC along with an amazing Oxygen OS user experience. Delivers on the camera front for all intensive purposes. Looks beautiful with a glass design that classy and not too much on your face. Offers water resistance and face unlock for security.
This is a smartphone that will have many competitors in the coming months. This is also the phone that shows the overall maturity that OnePlus has shown in their short period of existence. It's now set to enter the big league of a true flagship smartphone make and not be that value for money flagship, with the OnePlus 6.
Our experience with the OnePlus 6 so far has been exceptional. For now, if you were waiting to get your next phone and wanted to see how OnePlus 6 would pan out, we'll say you made the right decision. Because with the OnePlus 6 you'll not be settling at all.
Price and Availability
The OnePlus 6 will be available globally starting May 22. The OnePlus 6 India launch event takes place on May 17 and the device is already up for order on Amazon India.
OnePlus 6 Price
OnePlus 6 (6GB RAM & 64GB ROM): USD 529
OnePlus 6 (8GB RAM & 128GB ROM): USD 579
OnePlus 6 Avengers Edition (8GB RAM & 265GB ROM): USD 629