Polaroid Insta-Share Printer MotoMod Video: Now Print Photos From Your Phone
The Polaroid Insta-Share Printer MotoMod supports Zero-Ink (ZINK) paper and you need not worry about smudges.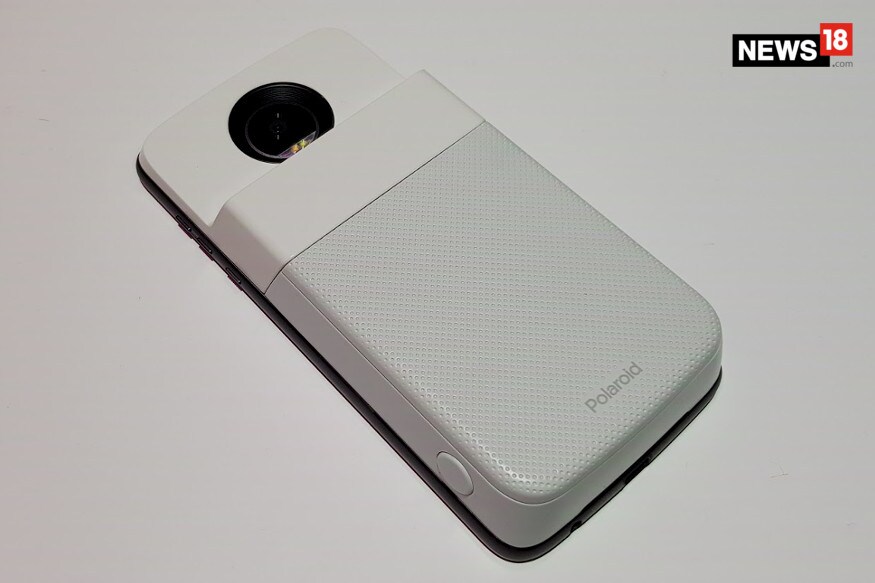 The Polaroid Insta-Share Printer Moto Mod was recently launched in the US for a price of $200. There is no official word from Motorola as to when it will be launched in India. (Image: Debashis Sarkar/News18.com)
We click a lot of pictures and selfies on our smartphone but we hardly go back to see each of them. And of course, we have stopped printing the images that we click on our phones. Having said that, 'Polaroid' cameras are trying to make a comeback, thanks to brands like Fujifilm. But carrying a separate 'Polaroid' camera to a party to click memories is a hassle in itself. Motorola has introduced a new MotoMod which prints small pictures instantly from your phone. Motorola had earlier launched the Insta-Share Projector, JBL SoundBoost, Incipio OffGrid PowerPack and Hasselblad True Zoom Mod. Now, the company has added the Polaroid Insta-Share Printer Moto Mod. So, what exactly does it do?
The new printer Moto Mod allows you to print small (2x3-inches) photos on a Zero-Ink paper. You can also print photos directly from your smartphone's camera as well as social media sites including Facebook, Twitter and Instagram. If you want, you can even do some basic photo-editing before printing any image. Just click an image or select any photo from your Moto Z series smartphone, open the Polaroid app, edit the image and print it. It usually takes around three minutes to get a print of an image.
WATCH VIDEO: Motorola Polaroid Insta-Share Printer Moto Mod | First Look
Get the best of News18 delivered to your inbox - subscribe to News18 Daybreak. Follow News18.com on Twitter, Instagram, Facebook, Telegram, TikTok and on YouTube, and stay in the know with what's happening in the world around you – in real time.
| Edited by: Debashis Sarkar
Read full article