Samsung Could Feature Wear OS For 'Galaxy Watch' or 'Gear S3'
An industry leakster has sparked questions about the upcoming smartwatch from Samsung -- will it come with Wear OS or stick to Tizen OS? The device is also rumoured to include new health features.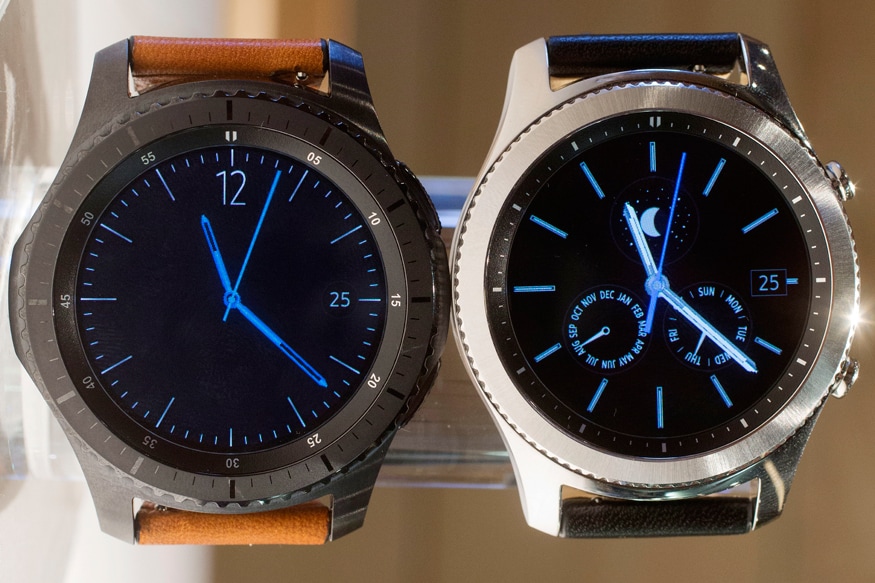 There two variants of the Gear S3 – Classic and Frontier. (Image: AP Photo/Mark Lennihan)
It's been two years since the Samsung Gear S3 was announced, so a successor is hotly anticipated and tech enthusiasts have been piecing together possible clues for a while now. One question that has come up in recent days is whether it'll ship with Wear OS or stick with Tizen OS. A tweet from tech leakster @UniverseIce spurred on a new debate about which operating system Samsung will choose to go with for what could be called Gear S4 or, according to the tweet -- more likely -- Galaxy Watch, a name that was patented earlier this year.
Also read:
Amazon Prime Day Sale Starts July 16: Here Are The Details
With Ice universe's post including the description "Based on Android Wear," it may mean that the Korean tech giant will opt for Wear OS or it could be that it'll keep Tizen OS and adopt a few Android-like features. If the latest tip-off is true, the smartwatch could also come with blood pressure measuring, a feature that seems to be making its way to new wearables. Last month, Asus introduced the VivoWatch BP, a device designed to provide medical-grade monitoring.
Other possible new specs include a 470mAh battery, PLP package, as well as new UX interaction. In other words, possibly a smaller and cheaper chip, coupled with a few fresh 'user experience' features, for example, turning the bezel could trigger a new action.
Unless more is leaked in the next couple of weeks, it looks as though Samsung fans will have to wait until fall to see the latest smartwatch, which may unveil around the same time as the Galaxy Note 9 (August 9) or the Galaxy Tab S4 tablet -- expected around that time too.
Watch: Asus Zenfone 5Z First Impressions | Lookout OnePlus 6!
Read full article
Countdown To
Elections Results
To Assembly Elections 2018 Results