Scientists identify genetic master-switch for obesity and it can be turned off
If future studies are successful, the method could offer a novel way to cure obesity.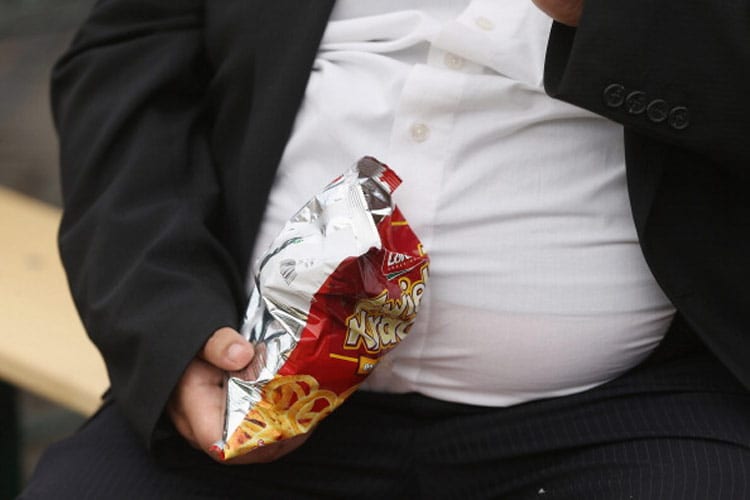 A man with a large belly eats junk food on May 23, 2013 in Leipzig, Germany. (Photo by Sean Gallup/Getty Images)
Miami: Scientists have identified a genetic master-switch that makes some people more prone to obesity than others, and research out Wednesday suggests it can be turned off, possibly leading to weight loss.
So far, researchers have been able to manipulate the genes of mice and human cells in the lab in order to reverse obesity, but the approach has not yet been tested in people.
If future studies are successful, the method could offer a novel way to cure obesity, a major public health problem that experts say affects some 500 million people around the world and can lead to cardiovascular disease, Type 2 diabetes and cancer.
"Obesity has traditionally been seen as the result of an imbalance between the amount of food we eat and how much we exercise, but this view ignores the contribution of genetics to each individual's metabolism," said senior author Manolis Kellis, a professor of computer science at the Massachusetts Institute of Technology (MIT).
The study, co-authored by scientists at MIT and the Harvard University Medical School, appears in the New England Journal of Medicine.
Researchers focused on a gene region known as "FTO," which has been probed widely since it was discovered in 2007 but has remained poorly understood.
Previous research tried to link the FTO region with brain circuits that control appetite, but researchers now believe the action takes place in fat cells and affects how much fat is stored, independently of the brain.
Specifically, the study found that a higher expression of two distant genes, IRX3 and IRX5, meant more fat was stored.
Then, they showed that they could manipulate this new pathway to reverse the signatures of obesity.
Using a DNA editing technology known as CRISPR/Cas9, researchers could switch between lean and obese signatures.
When researchers inhibited the corresponding gene in the fat cells of mice, the animals' metabolism soared and they shed weight without eating less or exercising more.
"The results at the organism level were dramatic," said lead author Melina Claussnitzer, a visiting professor at MIT.
"These mice were 50 per cent thinner than the control mice, and they did not gain any weight on a high-fat diet. Instead they dissipated more energy, even in their sleep, suggesting a dramatic shift in their global metabolism," she added.
"The circuitry underlying the FTO region functions like a master regulatory switch between energy storage and energy dissipation."
Researchers said they are currently forming partnerships with academics and industry to explore therapeutic options - and perhaps a cure - for obesity.
Get the best of News18 delivered to your inbox - subscribe to News18 Daybreak. Follow News18.com on Twitter, Instagram, Facebook, Telegram, TikTok and on YouTube, and stay in the know with what's happening in the world around you – in real time.
Read full article