Sony Bravia OLED A1 Series: TVs With a Sound Producing Screen, Voice Recognition
Sony has announced its flagship series of OLED TVs and has named it the A1 Series. The two different sized variants will come at a starting price of Rs 3,64,900.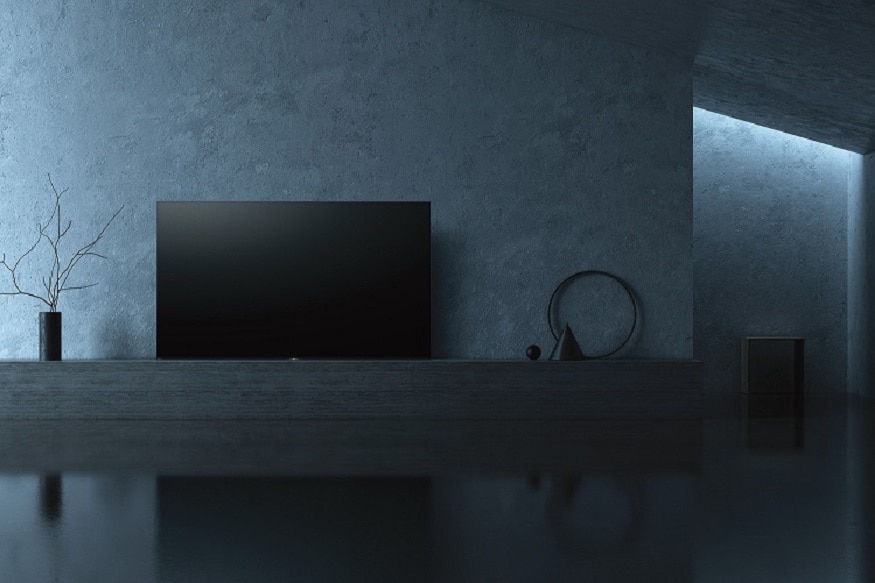 Sony India has announced its new flagship series - the Sony A1 Series in India. (Image: Sony India)
Sony India today announced its flagship lineup of OLED TVs - the new A1 series that offers 4K clarity and is coupled with image processor and display device technologies. A1 series comes with Acoustic Woofers and Sony claims it to be the world's first large screen TV producing sound from the screen itself. The indigenous innovation consists of subwoofers and actuators.
The new Sony A1 Series OLED TVs carry over 8 million self-illuminating, individually controlled OLED pixels. Sony has also developed a new Acoustic Surface Technology which can emanate sound directly from the screen itself. An integrated subwoofer behind the TV provides bass while the two actuators behind the TV vibrate the screen to create sound. This is aimed at allowing a unification of picture and sound unattainable by conventional TVs. The Acoustic Surface Technology allows the design of the A1 series to be different than the conventional speakers usually located around the TV, resulting in a stand-less form factor.
The One Slate concept is an approach that condenses the TV into a single slate and aims to eliminate extraneous elements from the TV design. One Slate mould has the OLED display technology incorporating all the different functions within the screen itself thereby eliminating the need for distinct elements like speakers, a bezel, or a stand.
Sony's 4K HDR claims to incorporate the latest detail enhancement and noise reduction technology. The newly developed 4K HDR Processor X1 Extreme has 40 percent more real-time image processing than the 4K Processor X1. The X1 Extreme precisely controls the number of pixels and extends the capability of OLED to deliver a 4K HDR picture.
Sony A1 OLED TV uses 4K X-Reality PRO with Sony's algorithm of reality creation database for any content, such as TV broadcasts, DVD, Blu-ray Disc, Internet video and digital photos. The new A1 series runs on the latest Android TV version 7.0 (Nougat) with Sony's exclusive user interface. It comes with built-in Chromecast to transfer content from smartphone or tablet to the TV.
The Sony A1 OLED TV offers voice recognition to enable users to interact with the TV in 42 different languages. It displays Sony's exclusive content bar that can be customised by customers by marking channels in their respective genre for easy browsing.
The Sony A1 series also houses a TRILUMINOS Display that claims to have a wider palette of colours and more natural shades and hues. A TRILUMINOS Display aims at reproducing reds, greens and blues – colours that are notoriously difficult for TVs to display accurately. The new A1 series will additionally support Dolby Vision for HDR format and an expandable memory to let users connect an external USB drive to add more space for apps and content.
Sony A1 Series OLED TVs will be available starting August 4, priced at Rs 3,64,900 for 139 cm (55) KD-55A1 variant and Rs 4,64,900 for 164 cm (65) KD-65A1 option. Sony has put up a pre-booking offer on the new Sony OLED TVs that will entitle customers to a Sony PlayStation 4. The offer is valid from August 1 to 15, 2017 from select dealers.
Watch Video: Sony Xperia XZ Premium Review | News18 Tech
Also Watch
Read full article