Stephen Hawking Death: Here's How NASA, WWW Inventor, PM Theresa May, His Children Reacted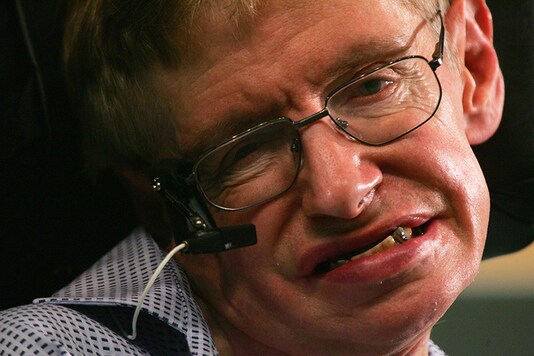 Stephen Hawking Funeral: Friends, Family, Public Pays Last Tribute to British scientist (Image: Reuters)
His theories unlocked a universe of possibilities that we and the world are exploring.
Last Updated: March 14, 2018, 14:44 IST
Edited by: Debashis Sarkar
FOLLOW US ON:
Stephen Hawking, who sought to explain some of the most complicated questions of life while working under the shadow of a likely premature death, has died at 76.
His children Lucy, Robert and Tim:
"He was a great scientist and an extraordinary man whose work and legacy will live on for many years. His courage and persistence with his brilliance and humour inspired people across the world. He once said: 'It would not be much of a universe if it wasn't home to the people you love.' We will miss him forever."
Tim Berners-Lee, the inventor of the World Wide Web:
"We have lost a colossal mind and a wonderful spirit. Rest in peace, Stephen Hawking."
Professor Stephen Toope, Vice-Chancellor of the University of Cambridge:
"Professor Hawking was a unique individual who will be remembered with warmth and affection not only in Cambridge but all over the world. His exceptional contributions to scientific knowledge and the popularisation of science and mathematics have left an indelible legacy. His character was an inspiration to millions. He will be much missed."
Also read: Professor Stephen Hawking Always Treated Artificial Intelligence as Threat to Humanity
Professor Lord Martin Rees, Astronomer Royal, Fellow of Trinity College, and Emeritus Professor of Cosmology and Astrophysics at the University of Cambridge:
"Soon after I enrolled as a graduate student at Cambridge University in 1964, I encountered a fellow student, two years ahead of me in his studies; he was unsteady on his feet and spoke with great difficulty. This was Stephen Hawking. He had recently been diagnosed with a degenerative disease, and it was thought that he might not survive long enough even to finish his PhD. But, amazingly, he lived on to the age of 76.
"Even mere survival would have been a medical marvel, but of course he didn't just survive. He became one of the most famous scientists in the world - acclaimed as a world-leading researcher in mathematical physics, for his best-selling books about space, time and the cosmos, and for his astonishing triumph over adversity.
"Tragedy struck Stephen Hawking when he was only 22. He was diagnosed with a deadly disease, and his expectations dropped to zero. He himself said that everything that happened since then was a bonus. And what a triumph his life has been. His name will live in the annals of science; millions have had their cosmic horizons widened by his best-selling books; and even more, around the world, have been inspired by a unique example of achievement against all the odds – a manifestation of amazing will-power and determination."
NASA
"His theories unlocked a universe of possibilities that we and the world are exploring. May you keep flying like superman in microgravity, as you said to astronauts on @Space_Station in 2014."
Paul Nurse, Chief Executive and Director of the Francis Crick Institute:
"Stephen Hawking was a great physicist, a great public communicator, and a great icon for science and rationalism throughout the world. He will be sorely missed."
Also read: PM Narendra Modi, President Ram Nath Kovind Mourn Stephen Hawking's Demise
Matthew Colless, professor of astronomy & astrophysics at The Australian National University:
"Hawking was a great scientist and an inspirational figure. The universe is better understood and more interesting because he was in it."
British Prime Minister Theresa May:
"Stephen Hawking was a brilliant and extraordinary mind - one of the great scientists of his generation. His courage, humour and determination to get the most from life was an inspiration. His legacy will not be forgotten."
WATCh VIDEO: Google Assistant Powered Home Automation | First Look at MWC 2018
Next Story