Tech And Auto Awards 2018 Winners: Dyson V10 Cyclone Wins The Design of The Year Award
The V10 digital motor does 1,25,000 revolutions per minute. In comparison, the V8 digital motor could do 1,10,000 revolutions per minute. These rpm figures are the sort that Formula 1 car engines can generate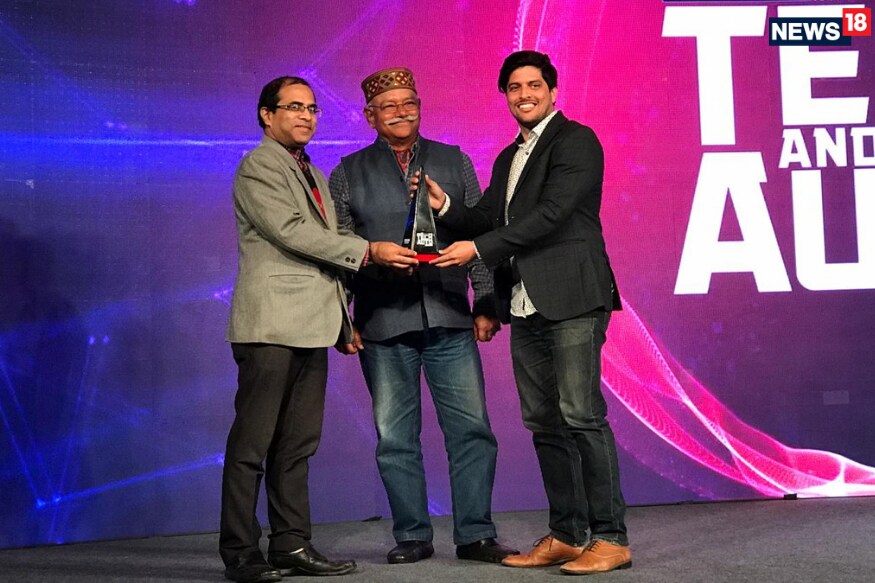 Tutu Dhawan and Prasanto Kumar Roy present the 'Best Design of the Year Award' award to Dyson India V10 Cyclone Vacuum Cleaner during the Tech And Auto Awards 2018.
At the News18 Tech And Auto Awards 2018, the Dyson V10 Cyclone won the award for the best designed gadget of the year. In a category that also had nominations for the Apple Watch Series 4, the sleek Microsoft Surface Laptop, the (PRODUCT)Red edition of the Apple iPhone XR and the Oppo Find X.
The Cyclone V10 has what Dyson calls an in-line configuration. Simply put, the suction tool, the motor, the bins and the cyclones are all in a straight line. This means that the dust being captured or ejected doesn't need to take a turn at any point, and that increases efficiency by as much as 20%. In its predecessor, the V8, the bin was positioned downwards, which meant the dust was dropped into the bin as the air passed through and eventually exited via the filters.
Power has always been a focus for Dyson, and the V8 pretty much proved that. Now, the Cyclone V10 does its share of taking the power game ahead. The V10 digital motor does 1,25,000 revolutions per minute. In comparison, the V8 digital motor could do 1,10,000 revolutions per minute. These rpm figures are the sort that Formula 1 car engines can generate—and consider the size difference between the two, since the V10 and the V8 digital motors can sit on the palm of your outstretched hand. The V10 digital motor is protected by a corrosion resistant coating, the same material that also protects the hardware in satellites sent into space. That is the reason why you hear a rather unique sound as the motor winds to a stop after you release the power trigger.
They may look like some visual element, but the cyclones are critical to get the dust and dirt away from your home. There are 14 of these cyclones, which work together with the motor's suction capabilities to capture microscopic particles such as pollen and fling them into the bin. These combine to generate the force of 79,000G's. The idea is to push the air through these cyclones while the Cyclone V10 is in use, and when the air passes through these narrowing chambers, the resulting acceleration creates enough centrifugal force to capture even the smallest of particles.
The Tech and Auto Awards are India's first and only Technology and Automotive Awards, brought to you by News18.com. Over the years, technology has changed our lives and most importantly our mobility. Thus, at News18, we see Technology and Automobiles as an extension of one another. After a stupendous first edition we returned with the second edition of the awards, which were bigger and covered even more genres of technology, as we salute the best of Technology and Automotive innovations in 2018.
Read full article