Tesla Made a $1500 Surfboard, And it Sold Out in a Day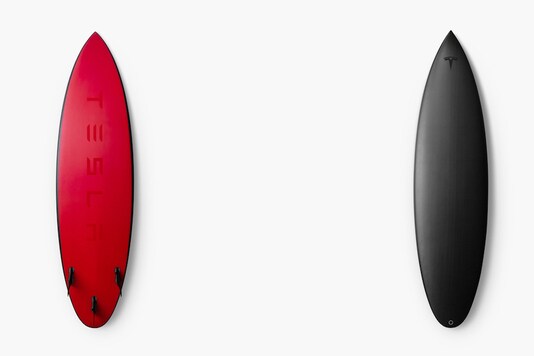 A few of the units from the limited first production run can be found on eBay, being sold for a premium
Last Updated: July 31, 2018, 10:14 IST
FOLLOW US ON:
Popular carmaker Tesla is taking smart merchandise seriously. The newest addition to the giftshop is a surfboard, made in collaboration between Tesla Design Studios and Lost Surfboards, a California based company that makes surfboards. These have been priced at $1500, and this is a limited production run of just 200 units. And as things stand, these 200 units have already been sold out.
These made-to-order surfboards are reinforced with light-weight carbon fiber. This will be available in the dual colour theme—black and red. Tesla says the design is inspired by the interiors of their line-up of cars, and featuring tonal logos in subtle contrast gloss. Interesting to note that if you already own a Model S, X and 3 car, it can comfortably accommodate the Limited Edition Tesla Surfboard either the inside or outside of the vehicle.
These $1500 surfboards will be shipped to those who pre-ordered these, over the next 2-10 weeks, according to Tesla's estimates. It is not entirely clear if there will be a second lot of production once the first lot of 200 units is shipped.
If you still really want one, you'll have to pay a massive premium on eBay.com, where some units are being sold for as high as $5000 per piece. This isn't the first time Elon Musk's company has sold some rather unique Tesla branded merchandise—we still remember the $400 leather jackets
Next Story