This year, lifesize LEGO builds have been on a roll. After the driveable LEGO Bugatti Chiron supercar, we now have a LEGO version of Apple's massive Apple Park campus in Cupertino, California. Designer Spencer R has shared his creation on photo sharing platform Flickr. The craftsman used as many as 85,000 LEGO pieces to make this, and it took 2 years of effort. Spencer's creation has a scale of 1:650 and weighs 77.5 pounds (around 35kg). The overall footprint of the LEGO Apple Park is a massive 6.8 feet x 4.5 feet.
And it is not just the massive spaceship building that Spencer has recreated. He has taken the pains to details the Steve Jobs Theater, the hundred-year-old Glendenning Barn, the garages where employees park their cars, the visitor center as well as the landscaping in the minutest of detail.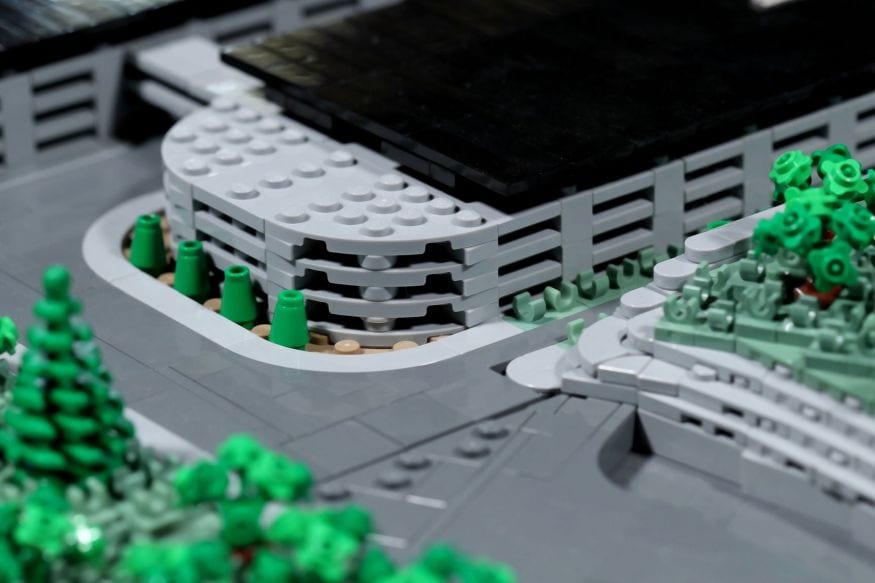 The Apple Park is also known as the Spaceship. The enormous building is nearly a mile in circumference, holding within it around 2.8 million square feet of office space. As many as 12,000 Apple employees work there. Surrounding the building is a sculpted landscape, featuring rolling hills, trees, and grasslands. As much as 80% of the space has a green cover and that includes 9,000 trees.The Apple Park campus design was led by famed architect Norman Foster, and is believed to have cost around $5 billion.
This is not the first time that Spencer has weaved his magic with LEGO bricks. In 2009, he created a replica of New York's Rockefeller Center and in 2012, made a LEGO version of the Eiffel Tower.
The LEGO version of the Apple Park is a one-off at the moment, and you cannot buy one. Unless LEGO decided to put this into production, albeit in smaller scale sizes. We hope they do though.