This US Woman Dropped her iPhone From a 1000 Feet Mid-Air And Then Found it in a Perfect Condition
It is more of a miracle than a test of strength.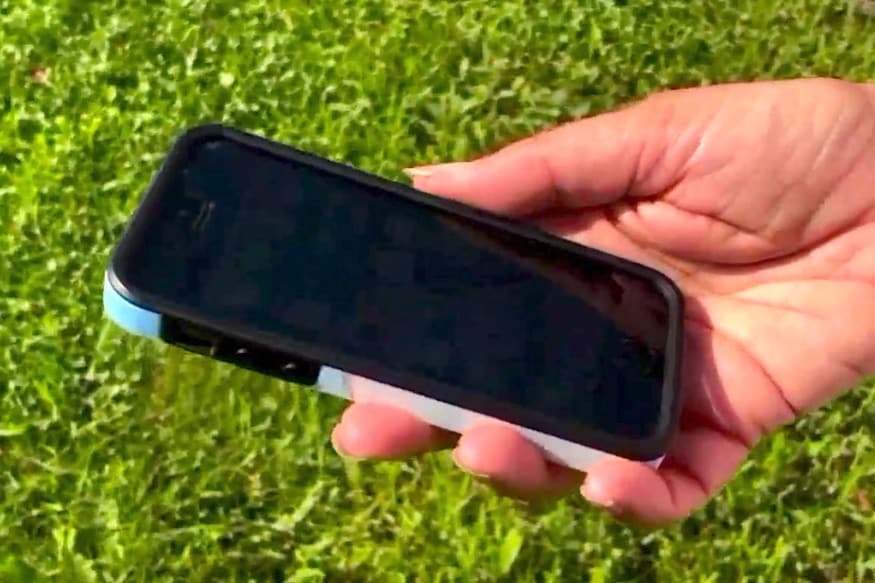 Sarvinder Naberhaus's iPhone. (Image: WHO TV)
While the world hails Nokia for coming up with the strongest of phones, an Apple iPhone has gained the headlines recently for surviving a massive drop from a mid-air flight. As per claims by a lady in the US, her iPhone dropped from a plane that was flying at more than a thousand feet in height. What's more, the woman later found the iPhone in a perfect working condition.
Sarvinder Naberhaus, from Iowa, US, was in a leisure fight while the incident took place. Sitting in the passenger seat of a vintage American plane, she was taking pictures on her iPhone when the smartphone flew off her hand because of the strong wind. "The wind just took it and it was gone. I looked down and there were cornfields below me," Naberhaus was quoted as saying to the Iowa local TV station, WHO TV. Even the pilot had lost faith that the woman will ever see her iPhone again.
Post landing, Naberhaus used the 'Find My iPhone' app with little hopes of finding her iPhone again. After failing for the first time, the app later displayed the location of her iPhone. She then, along with a friend, went looking for the iPhone and found it resting on a patch of grass in a residential area and miraculously without any scratch on it.
While the incident does not really reflect the durability of the iPhone, it certainly puts to light how the 'Find My iPhone' app worked wonders for the US-based woman. "God has a great sense of humour" she joked.
Watch: Samsung Galaxy J6 Review: Competent Performer at a Price of Rs 13,990
Get the best of News18 delivered to your inbox - subscribe to News18 Daybreak. Follow News18.com on Twitter, Instagram, Facebook, Telegram, TikTok and on YouTube, and stay in the know with what's happening in the world around you – in real time.
| Edited by: Sarthak Dogra
Read full article