Vishal Sikka Turned Around Infosys' Fortunes: Investor Fund
Institutional investor Oppenheimer Developing Markets Fund has defended Chief Executive Officer (CEO) Vishal Sikka for turning its fortunes since he joined.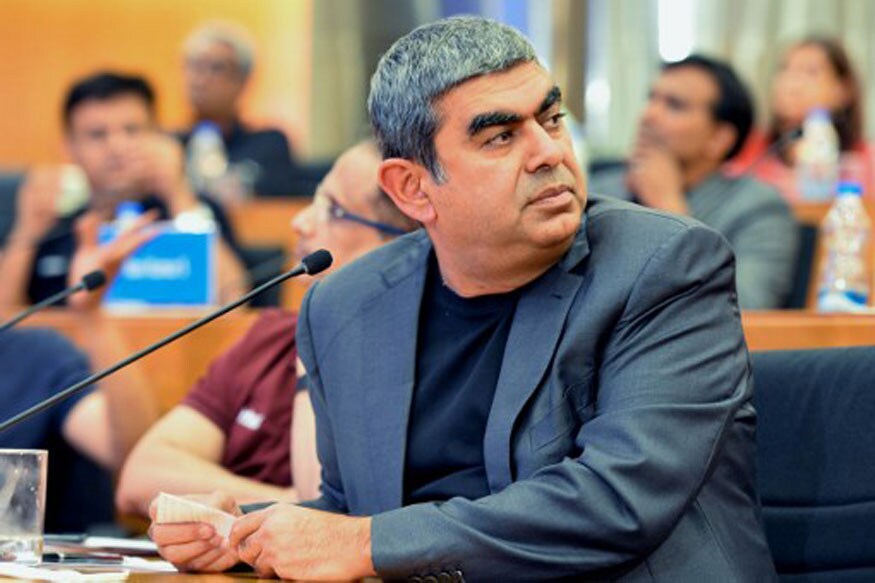 File photo of Infosys CEO Vishal Sikka. (AFP)
As the corporate battle between the Infosys' board and its founders raged over governance issues, leading institutional investor Oppenheimer Developing Markets Fund has defended Chief Executive Officer (CEO) Vishal Sikka for turning its fortunes since he joined in August 2014.
"In our opinion, Sikka has achieved much in his tenure as the first non-founder CEO. After years of internal volatility and competitive underperformance, it is encouraging to see him stabilising the core and articulating a clear strategy to help the company thrive amidst industry disruption," said Fund's Portfolio Manager Justin Leverenz in a letter to the company's board members.
As the software major's third largest institutional investor with 2.7 per cent of the blue chip's stock, valued at $923 million, the US-based Fund advised its Board to restrain divisions and contain inappropriate interventions by the co-founders.
"Let Vishal (Sikka) do what he was hired to do, without distractions. And appraise him on his efforts. We would encourage the Board of Directors to restrain divisions in the firm and contain inappropriate interventions by non-executive founders," asserted Leverenz in the letter.
Sikka, 49, a former top executive of global German software major SAP, steered the company's fortunes, with $9.5 billion revenue and $2.1 billion net profit in the last fiscal (2015-16) from $8.3 billion revenue and $1.8 billion net profit in fiscal 2013-14 before he took over the reins.
Among the co-founders N.R. Narayana Murthy, Nandan Nilekani, S. Gopalakrishnan and S.D. Shibulal led the 35-year-old company as Chief Executives, while another co-founder K Dinesh was a Director till 2014.
The Fund noted that under Sikka's leadership, the firm had improved its financial and operating metrics and customer satisfaction scores by implementing zero distance and design thinking initiatives.
"The company recovered market share, leading to revenue acceleration while attrition rates settled after a period of relative volatility," said the Fund Manger.
Observing that Sikka had articulated a strategic vision to enhance the company's competitive differentiation and prepare it for a highly disruptive phase, Leverenz said the global IT industry was undergoing a structural shift associated with cloud migration, deflationary influences of automation across service lines and broader concerns about levels of saturation, competition and immigration restraints.
"Success over the next few years as the industry transitions will require cultural and organisational changes and steadfast execution. Change is never easy for organisations. But all IT service firms will be required to better align interests with client priorities by promoting automation and by investing in innovation," he said.
Urging the Board to reaffirm its support to Sikka for executing the strategy, the Fund said after many years of organisational chaos, it was time for it to get behind the CEO and let him execute.
"It is the Board's fiduciary responsibility to resolve these tensions. As recent history has shown, rumours cause confusion and distraction among multiple stakeholders, including employees, clients and shareholders of any company. Infosys has barely recovered from a period of high attrition and internal fractions in FY2015, which hurt its financial and operational performance," pointed out the letter.
Acknowledging the enormous contributions of the promoters to the company's phenomenal growth, the Fund said co-founders would have to come to grips with the reality that Infosys was a public (listed) company and no longer their firm.
"As of December 31, 2016, the founders (promoter and promoter group) owned 12.8 per cent of the company's outstanding shares. It was reported that they sold 7.5 million shares in March 2016. The Board needs to clarify their appropriate role," stated the letter.
Admitting that Infosys was one of the first Indian firms to have adopted global best practices in corporate governance, the letter said its entrepreneurial origins and legacy of success have been an inspiration for many generations of talented engineers.
"We encourage the Board to act decisively to ensure the longevity of this reputation -- in the interests of all stakeholders -- customers, shareholders and the nearly 200,000 Infoscions," added the letter.
Get the best of News18 delivered to your inbox - subscribe to News18 Daybreak. Follow News18.com on Twitter, Instagram, Facebook, Telegram, TikTok and on YouTube, and stay in the know with what's happening in the world around you – in real time.
| Edited by: Krishna Sinha Chaudhury
Read full article