Xiaomi Creates World Record to Mark 5 Mn Sales of Redmi Note 4
Xiaomi creates world's largest grain mosaic to celebrate 5 Million Redmi Note 4 sold, At 6000 square feet, the grains from mosaic will be used to feed five lakh hungry people across India and Pakistan on this Independence Day.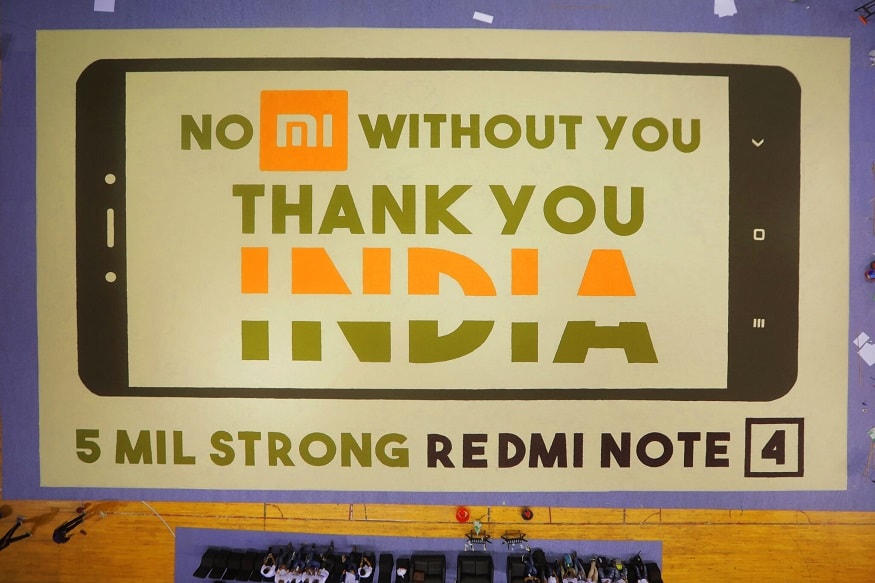 Xiaomi has created a world record by creating world's largest grain mosaic art. (Image: Xiaomi India)
Xiaomi today announced that it has sold 5 million units of its Redmi Note 4 within six months of launch (from January 23 to July 23, 2017). Launched earlier this year, the Xiaomi smartphone has broken records to become the highest shipped smartphone in Q1 and Q2 2017, as per Xiaomi. As per Counterpoint's Market Monitor, Redmi Note 4 had 7.2 percent market share in India's smartphone market, during Q2 2017, meaning 1 in every 4 smartphones sold online was a Redmi Note 4 during these months.
To commemorate this occasion, Xiaomi created world's largest grain mosaic art spread across an area of 6,000 square feet at Thyagraj Stadium, New Delhi. The grain mosaic, measured and certified by Unique Surveyors, was made using 40,000 kilograms of food grains such as pulses, rice etc. Interestingly, the Chinese word 'Xiaomi' in English means millet which is a grain of rice.
Xiaomi has declared that the 40,000 kg of grains used for the mosaic will be used to feed 5 lakh hungry people on this Independence day, as part of company's initiative to give back to the community. These grains were donated to Robin Hood Army, an NGO which has pledged to feed 1 Million people across India and Pakistan during this Independence Day. Xiaomi's mosaic art will reportedly be the biggest contributor to this mission.
In line with the initiative, Xiaomi's attempt at the world record was attended by three special guests- Boman Irani (renowned movie actor), Mithali Raj (Captain of the Indian Women's Cricket Team) and Virender Sehwag (Former Indian Cricket team member) to support the cause. Over 500 people put in work to create this mosaic. A team of 8 artists, led by art director, Taj Naqvi (art director who has been associated with some classic work such as the movie "Byomkesh Bakshi", "War chhodh na yaar" and several brand campaigns) worked on the mosaic installation with the support of 10 students. The video of the entire celebration can be viewed here:
On this occasion, Manu Jain, Vice President, Xiaomi and Managing Director, Xiaomi India. "For the last six and a half years, a Samsung smartphone used to be the best selling smartphone. In the Q1 2017, the Xiaomi Redmi Note 4 dethroned all Samsung smartphones to gain the top spot. To mark the love and support we received for this product, we are celebrating this occasion by giving back to the community. The grains used to create world's largest mosaic will help feed 500,000 underprivileged people on this Independence day."
Get the best of News18 delivered to your inbox - subscribe to News18 Daybreak. Follow News18.com on Twitter, Instagram, Facebook, Telegram, TikTok and on YouTube, and stay in the know with what's happening in the world around you – in real time.
| Edited by: Sarthak Dogra
Read full article