Xiaomi had recently revealed its performance numbers for the second quarter of 2017. As per the
stats
, the company created a new personal benchmark of shipping over 23.16 Million smartphones in this time period. Now, the Chinese smartphone company has again grabbed the headlines by releasing a teaser for what is speculated to be its next smartphone offering. What is more surprising is the fact that the launch date for the device has been kept for July 11, 2018.
On its official Weibo account, Xiaomi released a teaser poster showing a part of a smartphone and mentioning 6GB RAM on it. More followed from the smartphone giant in the form of a video that showed some specifications of a smartphone. The specifications mentioned in the video include a Snapdragon 800 series Processor, UFS storage, DDR4 RAM, 4000 mAh battery and a 22-megapixel camera with 4K video recording capability and a smart beauty mode. The video also reveals that the smartphone comes with a 3D glass body, a large display, full 4G netcom, USB Type-C port with Quick Charge support, NFC and an IR Blaster.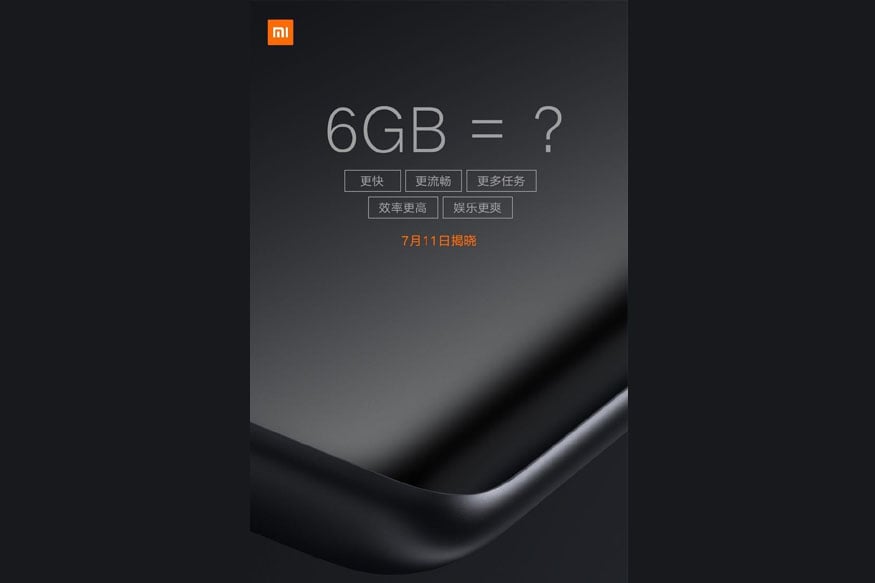 Xiaomi teaser poster hinting at Mi 6 Plus. (Image: Weibo/ Xiaomi)
Though many of Xiaomi smartphones come with a 6GB RAM, a Glass body is a key feature to only one of its offerings, and that is the Xiaomi Mi 6. This leads us to believe that the next-in-line smartphone by Xiaomi will be Xiaomi Mi 6 Plus.
Don't Miss: The Tech And Auto Show – Episode 6