Xiaomi Mi Max 2 First Impressions Review: Is Big Always Better?
Xiaomi Mi Max 2 offers now a bigger battery and a better camera than its predecessor.
Xiaomi Mi Max 2: The device comes with a 12-megapixel primary camera with f/2.2 aperture, PDAF and dual LED flash. On the front, it sports a 5-megapixel selfie camera. (image: News18.com)
Xiaomi is known for making budget Android smartphones in the country that offer great build quality. Last year they played a gamble with a large 6.44-inch device the Mi Max. This year when they announced that there will be a new phone launching in July, we thought that it would be the much awaited Mi 6, but Xiaomi planned otherwise. The launched the second iteration of the Mi Max in India that was launched recently in China. The Xiaomi Mi Max 2 that will be offered in India will sport only a black colour and come with 4GB RAM and 64GB storage as standard. The device is priced at Rs 16,999. We have been playing wound with the device for almost a week now and here are our first impressions of this 6.44-inch smartphone.
For starters, the design of the Mi Max 2 is slightly different than the Xiaomi Mi Max that was launched last year. the device though still comes with a 6.44-inch HD display that has a 2.5D curved glass to it. You can hardly notice the curve on the display of the Mi Max 2 as it subtly integrates with the metal body shell of the device. The black on the Mi Max 2 looks beautiful but at the same time attracts a lot of fingerprint smudges. The rear camera also neatly integrates into the body of the Mi Max 2 with no camera bump and the flat back design really works for such a big smartphone. The in hand feel of the Max 2 is way better than the Mi Max. Xiaomi Mi Max felt a bit chunky and sharp, but the Mi Max 2's curved edges will make you easily use this phone. The Mi Max 2 is slimmer too than the Mi Max.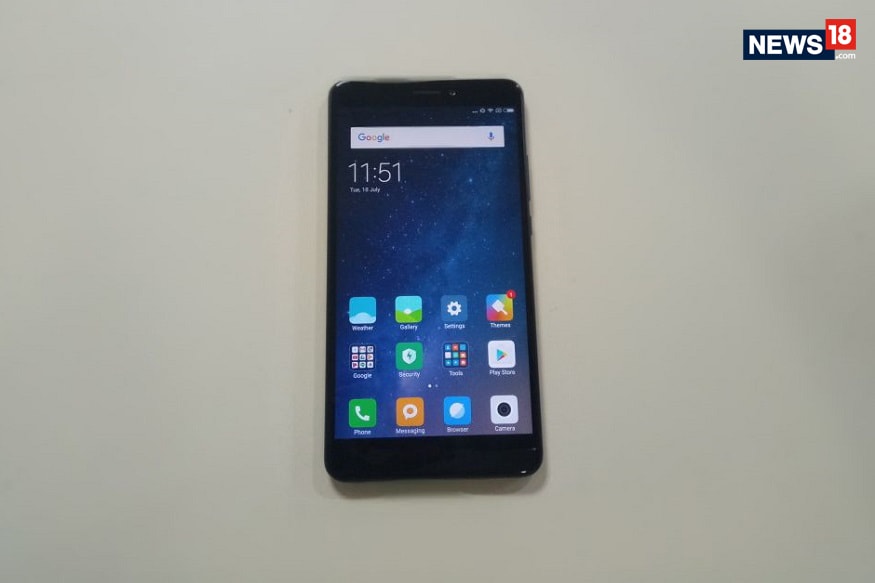 The Xiaomi Mi Max 2 has 500 mAh more battery than its predecessor. The device now comes with a 5300 mAh battery and a UBB Type-C connector. The earlier phone had a 4800 mAh battery and a micro USB connector. Xiaomi still does not bundle any earphones with this phone, especially when they pitch this device for watching and streaming video content and for playing games. That is a bit of a shame. The display of the device is bright but also reflective at the same time. With a big display and a 5300 mAh battery Xiaomi makes tall claims that the battery on the Mi Max 2 is even better than the Nokia 3310, but let's be honest here, for us it did last us for two days easily and not beyond. And all we did was watch Netflix and play games like Mortal Kombat X. So, yes the battery back up is good but not as good as a feature phone but definitely better than the iPhone 7 Plus.
Don't Miss: The Tech And Auto Show Episode 7
The RAM on offer is 4GB with the Mi Max 2, but couple that with Android Nougat and Xiaomi's own MIUI and effectively you get about 2.2GB RAM left for you to play around with. The RAM management system with Xiaomi phones has been a pain-point and you usually don't get what you had bought it for. There is also a fingerprint sensor on the Mi Max 2 that works well with the device and is fast. The Qualcomm Snapdragon 625 octa-core processor that this device comes with is a tried and tested chipset and is optimal for a device of this size. You won't be left wanting for more with the hardware on this device if you plan to use it only for video consumption and playing games.
Xiaomi has also improved the camera on the new Mi Max 2. It now comes with a 12-megapixel rear camera that's decent but the 5-megapixel front camera is still just an ok module.
At Rs 16,999 it's a phone that's sweetly placed between no other competitor. But increase your budget by Rs 1,000 or decrease it and you get plenty of options to choose from. In our opinion, the Mi MAx 2 is not a phone that can be your primary device. As a secondary device to make a hotspot, watch Netflix and play games, the Mi Max 2 will be your perfect companion. The form-factor that this phone offers is not offered in the market by many, but then carrying around a 6.44-inch monster in your pocket at times can just be ridiculous.
Watch this space for the full review of the Xiaomi Mi Max 2.
Get the best of News18 delivered to your inbox - subscribe to News18 Daybreak. Follow News18.com on Twitter, Instagram, Facebook, Telegram, TikTok and on YouTube, and stay in the know with what's happening in the world around you – in real time.
| Edited by: Siddhartha Sharma
Read full article