Unveiled in May 2016 globally, the 6.44-inch monster is finally here in India. The Mi Max is the third Xiaomi phone that has been
launched in India
this year. The phone comes to India in two variants - 32 GB (with Snapdragon 650 and 3 GB RAM) at Rs 14,999, and 128 GB (with Snapdragon 652 and 4 GB RAM) at Rs 19,999. It will go on sale on Mi.com starting July 6. The phone will be available across other online partners from July 13. The highlight of the Mi Max phone is that it is the largest Xiaomi phone produced till date. Having played with the phone for over a week, here's what we liked and what we didn't.
What's cool?
The best thing about the Mi Max is its battery. Packed with a 4850 mAh battery, the Mi Max is one of the rare phones in this price segment to offer almost two days of battery life. Even during heavy usage, the phone easily lasted for around a day-and-a-half. Despite the big battery, it took the Mi Max only two hours to get fully charged.
Also, the phone's battery impressed us during the video playback test. It played 7 movies (with each measuring 2 hours and 15 minutes in length) on a single charge. In other words, the phone can give up to 16 hours of video playback when fully charged.
Coming to its looks, the phone has design elements similar to the Redmi Note 3. So much that it can be said the Mi max is basically the Redmi Note 3 on steroids. Featuring a slim profile and rounded corners, the phone offers a good grip, but the monstrous size of the phone adds to its weight. The unibody metal design of the phones makes it look premium.
In what is its highlight, the display size of the phone is something that is subjective. While I personally don't like my phone to be that big, there are users who look for phones with biggest screens. So, it could be cool for you, but not for me.
Talking about the display quality, the phone has great viewing angles, offers readability under sunlight, and produces excellent colours.
The 16 megapixel rear camera with dual-tone flash on the Mi Max takes great pictures. In bright-light environments, the phone captures ample details and generates true-to-life colours. The details in photos, however, are relatively lower in room-light environments. The front camera also fares well in bright-light conditions.
There were no app crashes or lags. The phone didn't slow down even for once. The speaker, which is located at the bottom of the phone, is not only loud but also has good audio quality.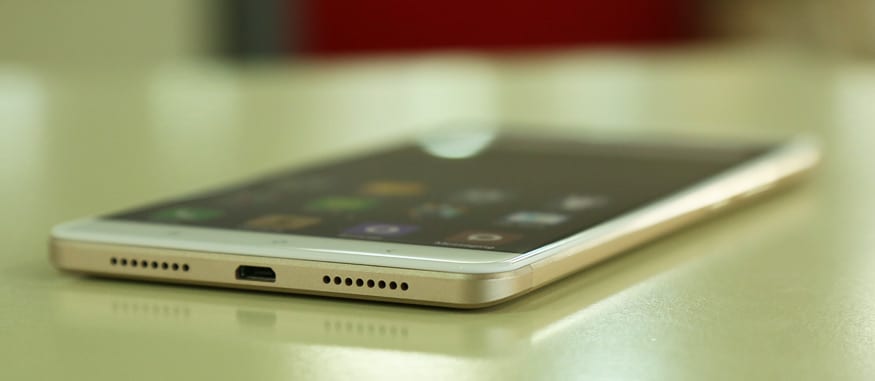 The phone offers a minimum of 32 GB of internal storage with an option to expand memory (up to 128 GB). This means that storage is not going to be a concern for Mi Max users.
What's not so cool?
While the cameras on the Mi Max performs well in bright-light areas, it disappoints a little in low-light environments. Photos taken in low-light areas turn out to be a little grainy. Also despite that the rear camera includes Phase Detection Auto Focus technology, the focusing speed is slow.
Having said that the screen size on the phone is a matter of personal choice, I believe that the 6.44-inch screen on the Mi Max is likely to be uncomfortable for users to operate and navigate. Close to the size of a 7-inch tablet, the phone cannot be handled with one hand. It is neither comfortable to walk around with the Mi Max in your pocket, nor you can be at ease when sitting.
Another downside of this dual-SIM phone is the hybrid SIM tray. This means it will not support two SIM cards and a microSD card at the same time. You can use only two cards at a time.
Verdict
Xiaomi thinks that there is a market for even bigger devices. Micromax with its Doodle has already burnt its hands and so has Sony with the Xperia Z Ultra. Now it's time for Mi Max to try its luck in this segment.
Packed with high-end specs, the Xiaomi Mi Max is a great phone to have only if you can manage with such an odd screen size. But if such a huge screen is what you don't want on your phone, there are other great options with a reasonably big screen available for you in the same price segment including the Moto X Play, Moto G4 Plus, Le 2 and Lenovo Zuk Z1.