Roger Federer: Sampras Vanquisher Is Finally On Top of Summit Wimbledon
Roger Federer cemented his name in history, as he has often done in the past, as he sealed a record eighth Wimbledon title in style.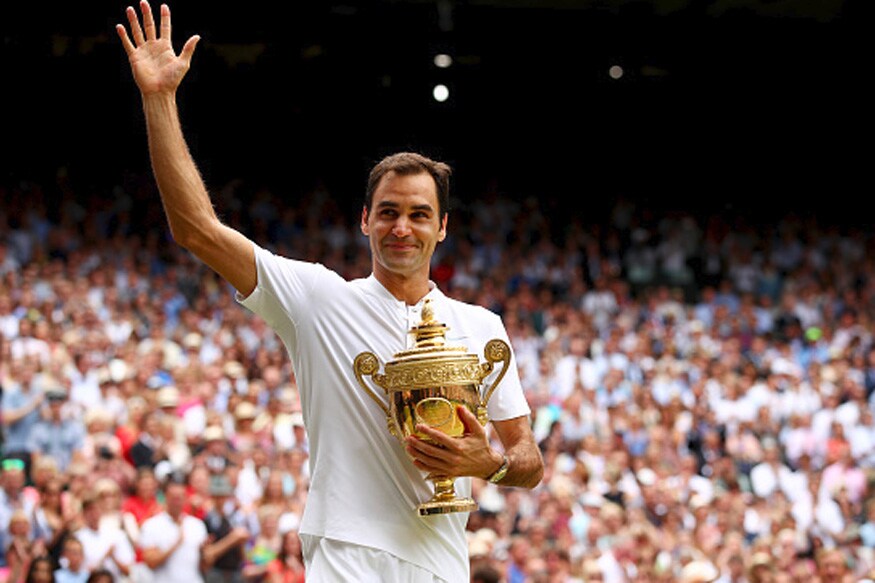 (Getty Images)
For tennis fans growing up in the 1990s, watching Wimbledon on the TV sets was like being on a pilgrimage. The presiding deity was an unassuming American named Pete Sampras, who ruled the centre court at the All England Tennis and Croquet Club.
Sampras' serve and volley style had no match on the grass courts of SW19, as he won 7 men's singles titles in 8 years to leave a legacy that many thought will be difficult to surpass. Had it not been for a galactic conspiracy, as many Sampras fans like me still believe, which featured rain delay and an inspired Dutchman playing perhaps the best tennis of his career, Sampras would have won 8 titles in 8 years.
Apart from that blip against Richard Krajicek, there was no stopping the 'Pistol Pete', as he served and volleyed his way past some of the biggest names in tennis to reach an all new summit at the hallowed turf, considered by many as the benchmark of greatness in the sport.
The year 2001 saw Sampras gunning for his 8th title, and the record equalling fifth straight that would see him match the feat of the great Swede Bjorn Borg. But Sampras' survival instincts weren't good enough to withstand the barrage from a Swiss teenager, by the name Roger Federer. The American's long reign had come to an end, but little did anyone know that his conqueror that day would go on to script his own history on the same court in the years to come.
Roger Federer didn't win the Wimbledon title that year, not even the year after. It took the Swiss Master a few more years to realise his hidden potential. But once he came into his own, he left the competition in his wake.
Fedex made a mockery of his competitors as he won five titles in a row from 2003 to 2007, beating Andy Roddick and Rafael Nadal in two consecutive finals respectively to match Borg. His consistency on all surfaces, soon catapulted him to the top as Federer kept erasing every record and legacy of Sampras.
There were moments when he was made to look like a mortal by the young brigade of Rafael Nadal and Novak Djokovic but Federer kept going and it was at Wimbledon that he completed some of his biggest accomplishments.
First came the world record equalling 14th Grand Slam title in the year 2009 and then the 7th title in 2012, that put him alongside Sampras for the most number of Wimbledon titles won in the Open era.
Post that victory, Federer failed to win a Grand Slam for four long years as the likes of Nadal, Djokovic and Murray started a new era in men's tennis. For many Federer fans, it was a sense of delaying the inevitable. Even the staunchest of Federer fans thought that the Swiss Master would end with 17 Grand Slams and 7 Wimbledon titles.
But the fans were in for a pleasant surprise as the 35-year-old took the court at Melbourne Park at the start of 2017 with renewed vigour and hunger. And then came the final which everyone had thought they would never get to see again. Eternal rivals Federer and Nadal battled their way into the summit clash and it was the Swiss Master who had the last laugh, to win an almost improbable 18th slam.
A sabbatical followed as Federer gave the clay season a miss to prepare for the Wimbledon. The big four were expected to make it to the semis but Nadal, Djokovic and Murray fell by the wayside. Federer though kept his Wimbledon promise and made it to the final.
Young Marin Cilic neither had the game and nor the courage to stop Federer from writing another piece of history as he was blown away by the master in straight sets. There were the customary tears but the often emotional Swiss was a lot more restrained in his expression of joy. Perhaps he knows his achievements and those of his great rival Nadal will leave the sport poorer when they finally call it a day.
But those thoughts are for later, for now it is about celebrating the success of one of professional sports' greatest ever achiever.
| Edited by: Arjit Dabas
Read full article
Next Story
Next Story
Also Watch

IPL 2019: KXIP Vs KKR, Can Russell And Narine Push KKR To Semifinals?