GET Stock

Quotes


'Bigg Boss 9' poll: Prince, Mandana, Rochelle or Rishabh; who will win the show?
From their most positive aspects to the mistakes that could shadow their winning factor, IBNLive discusses with you the highs and lows of all four contestants:
After witnessing never-ending speculations, fights, controversies and discussions, we are just few hours away from the declaration of the winner of 'Bigg Boss 9'. The final weekend is here and there are four finalists in the house giving their all to win maximum votes. Apart from Rishabh, who came in as a wild card entry, Prince, Mandana and Rochelle have survived the pressure from day 1.
With few hours remaining for the finale, let's take a look at our favourite finalists who have made it this far in the house. From their most positive aspects to the mistakes that could shadow their winning factor, IBNLive discusses with you the highs and lows of all four contestants: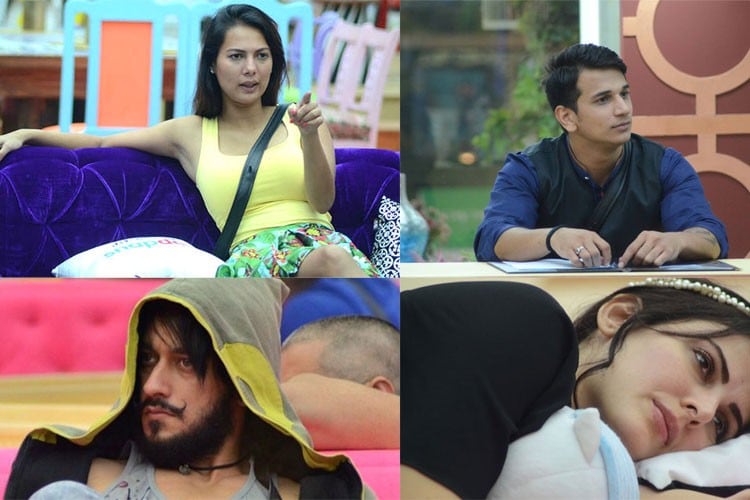 Prince Narula
Positive: Touted as the strongest contestant from the beginning Prince enjoy the status of being a 'Reality Show King' after winning rough shows like 'Roadies' and 'Splitsvilla'. Prince came with a winning mindset and has been able to survive with it. Referred to as the task king, viewers have loved Mr Narula for giving his all to all the tasks thrown at him. He is grounded, energetic and knows how to keep people in the loop. While at the start, no one was interested in having a 'Double Trouble' bond with him, he emerged a team person with his allegiance towards Suyyash and Kishwer throughout the stay.
From heated arguments with fellow housemates, love triangles and a 'kind' guy, Prince has shown it all to the viewers.
Negative: While few loved Prince's portrayal of a 'loyal friend', many accused him of using relationships as a medium to go ahead in the game. Kishwer's eviction reaffirmed their belief that in reality Prince has his mind on the trophy and can do just about anything to win it. His bond with Nora and Yuvika was said to be another attention-seeking gimmick. Prince has also come across as extremely aggressive even after the task and even threatened the inmates. All these factors might just hinder his win.
Mandana Karimi
Positive: Another favourite of the season, Mandana Karimi has been consistent from the start. The Iranian beauty entered the house seeking no relationship and has stuck to her words till the end. The actress enjoys a huge fan base and has till now played the entire game individually. The controversy queen has gained enough attention from the cameras and has gained a huge follow up. Her strategic play and clear cut attitude make her a front runner for the trophy. A complete entertainment package, Mandana has also shown her softer side to people who were good to her.
Negative: Shrewd, cunning and attention seeker are few titles gained by Mandana. Her eccentric behaviour brought her a lot of negative publicity from the housemates as well as audience. Mandana has also come across as a volatile and selfish person who keeps her interest above all. Moreover, the fact that she had a very unreliable relationship with everybody and got criticised for her behaviour, it might prove to be a drawback for her.
Rishabh Sinha
Positive: A wild card entry, Rishabh entered the house after three weeks the show started. His presence spiced up the otherwise sleeping house and he claimed himself to be the devil. Initially a hard nut, the real side of Rishabh turned out to childlike and sweet. His cute smile and acts have entertained the audience in good spirit. Rishabh has had his share of emotional turmoil in the house but has created his own self away from the shadow of any other person. He plays his game on his own but also gives emotional support to housemates time and again.
Negative: Rishabh has been accused of being fake and guarding his real, positive self to get attention. He gets lost too often and changes his mind every other week. Many have claimed him be undeserving to be a finalist because stronger contestants than him has faced eviction. No winning qualities can actually be seen in Rishabh and he emerges more like an entertainer than a winner.
Rochelle Rao
Positive: Another strong female contestant, Rochelle Rao has been a real person inside the house. The former Miss India entered the house with a vision of enjoying every step without compromising herself. The 'angel' in the house, Rochelle has always been in support of her friends and needy. She remained a strong shoulder for Mandana despite latter's ingrate fullness. Rochelle emerged a strong headed, strategic player in the middle of the season after her boyfriend Keith left the house. Rochelle has been a genuine friend and never showed inhibitions while speaking her mind. Her clean, to the point attitude helped her win audience's support.
Negative: Rochelle, like Rishabh, gets lost at every emotional point. She's gullible and can't take criticism easily. Affected by people's comments Rochelle comes across as a pretentious person who fakes a personality to be in the good books of all housemates. Rochelle is scared of playing a game in open and thinks a lot about situations which can easily be ignored. She also got drifted with the 'cool group' tag and lost her real self under Kishwer and Prince for a few weeks. Rochelle has shown her insecure, cry baby attitude more than a tough-fight attitude, thus this could prove to be her drawback in winning the show.
Well, this is our analysis of the four finalists, now it's your turn to vote and make your favourite contestant win.
Also Watch
Read full article