GET Stock

Quotes



I owe my 'Bigg Boss 9' win to Kishwer Merchantt: Prince Narula
The winner of three consecutive reality shows will now be seen in 'Khatron Ke Khiladi' next year.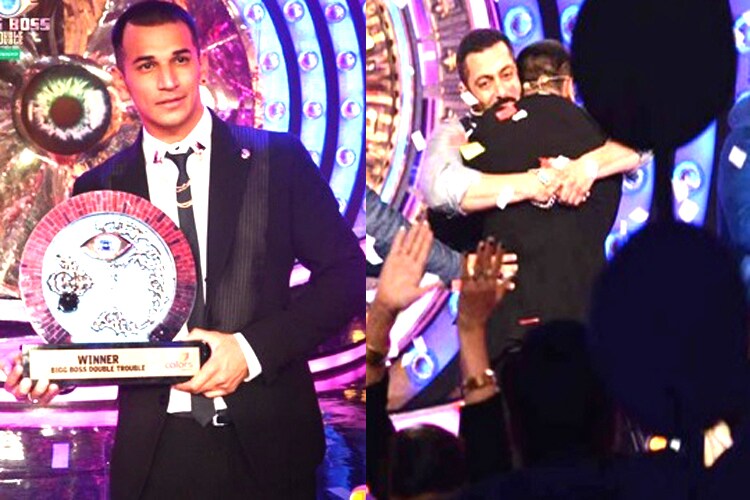 The winner of three consecutive reality shows will now be seen in 'Khatron Ke Khiladi' next year.
The winner of 'Bigg Boss 9' Prince Narula is on cloud these days. The Chandigarh boy completed his hat trick of winning reality shows by lifting the coveted trophy Saturday night. Prince, who is quite elated with his win describes his 104 days stay as a life learning and changing experience. In a quick interview with IBNLive, he says, "My journey in the house was full of ups and downs. I learned how to handle situations without losing my temper, which is a great achievement in itself!"
Prince feels that he's still the same young enthusiastic boy who auditioned for 'Roadies X2' a year back, 'Bigg Boss 9' experience has just refined him a little, for good.
The winner of two MTV reality shows, Prince never expected Rishabh Sinha to reach the Finale. He explains, "I feel Rishabh came into the game in the final week when I lost my track and was made to feel alone because of Kishwer's eviction. He didn't stop entertaining the audience and made his seat into the final two." According to Narula, Mandana or Rochelle deserved to in the final two, more than Rishabh.
According to Prince, the fact that anything can happen in the game hit him hard when he and Kishwer were forced into the 'Ticket to Finale week' task. He adds, "I and Kishwer were two strong contestants for the trophy. Both of us were quite strong and it was unfair to put us in that situation. However, it hit me then that we are in a game with just one winner and 'Bigg Boss' will make sure that only one comes out as a winner."
So, did it ever occur to him that Rishabh might become the winner? Prince quickly answers, "I am a very positive person and until and unless I hear the results, I stay positive for myself. It has happened for the third consecutive time and thus will continue like this. I am winning till the time winner's name is announced. The day I will lose, I will think about what went wrong and how something good is planned even in my defeat."
About all the negativity and fights in the house Prince says, "All the contestants were quite clear from the start that whatever happens in the house stays in the house. It's a game and you are put through situations where you react in a certain way. Every tiff and fight has been buried in the house itself as we had a gala time together after the finale at Salman Sir's farmhouse."
Prince made his in house sister, Kishwer Merchantt, to lift the winner's trophy before himself. Now that he knows he's a winner, will Prince quit the 'Ticket the Finale task' for Kishwer, if given a chance? Prince quips, "If I know she'll be winning instead of me then definitely!" He further adds, "Kishwer has a big hand being my win. No doubt people and my fans have voted for me, but it was Kishwer who took a decision that made me lift the winner's trophy. I owe my win to Kishwer."
Everybody in the house had a nervous breakdown at one point or another. Prince feels his low point came when Kishwer got evicted. He describes, "I felt all alone as there was no one who would understand me. Everybody in and even Salman sir made me feel guilty about the proceedings and blamed me for her eviction. I felt cornered in the house. All this took me to an emotional low point."
Prince has already confirmed his 'relationship' with co- contestant Nora Fatehi. He says, "Both of us decided in the house itself that we'd like to give each other a chance outside the house. We don't want to tagged as 'reality-show couple' because it puts you in a lot of pressure. We're still getting to know each other and hopefully it'll work."
The winner of three consecutive reality shows will now be seen in 'Khatron Ke Khiladi' next year. Prince clarifies, "No more reality shows for an year or so, I'd like to focus on some fiction and get my head cleared.'
So the Reality King is taking a break from his forte and will try to impress his fans through his acting. Let's wait and see how this turns out for him.
Also Watch
Read full article