GET Stock

Quotes


Why Indian Television Is Beyond Bizarre Now
Seems like TRPs is just a game of 'animals' now!
Just when you thought that Indian television can't scoop to a lower level, they did it, out loud. Gone are the days when Indian television was about overtly decked-up ladies crying about their husbands falling in love with the 'other woman' or their mother-in-law's typical sinister behaviour, now it's a whole new jungle out there!
From the leading ladies turning into flies to gorillas to romance the protagonist; they're doing it all. Seems like TRPs is just a game of animals now!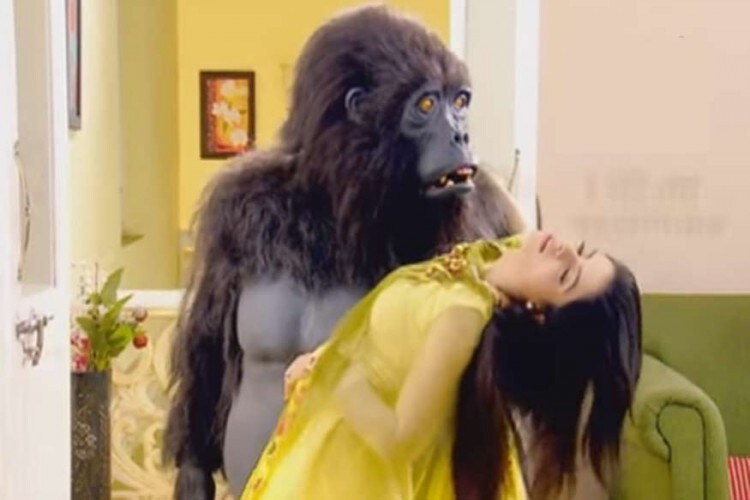 Let's face it, Indian audience might be happy to watch the usual saas-bahu sagas, but offering them naagins, makkhis and gorillas in the name of 'super-natural' is just not done! Not legit at all.
In a recent 'development', the promo of a leading lady turning into a fly not just went viral, but ended up ruling everyone's tea-time gossip sessions as well. How is that even possible, you might want to ask, but wait. She being a fly wasn't the only bizarre thing out there; if you've an eagle eye like we do, you might have noticed that the fly is donning the same shades of colour as the leading lady's sari and worse, the fly actually goes and sits on her framed picture!
Back in 2010, when a short teaser from the popular show 'Saath Nibhana Saathiya' went viral, we really thought it was a gig. The daughter-in-law decides to clean her husband's laptop – by washing it and boom, the TRPs go high.
Soaping, rinsing and drying; she followed the protocol just for the wrong product. These run-of-the-mill projects haven't just carved their niche in the minds of the viewers, but by the looks of it; they are here to stay. Had the creatures' era been in the industry back then, there would have been maybe a chimpanzee instructing her how to clean the laptop.
While we were having too hard a time adjusting with the depictions of naagins on-screen, there's a rumour rife that we're soon going to have a gorilla in a show. Yes, a goddamn-living-gorilla. To top it all, the recent buzz that the gorilla might be romancing the leading lady in 'Thapki Pyaar Ki' has definitely made us go WTH!
Saas-bahu sagas might be gone, but the fact that we're still fed with clichéd-plots can't be denied. It seems the television world is fond of out-of-the-box eras. What started as a medium to entertain the audience is now just a 'idiot-box' in true sense. But you might want to ask yourself, how did we reach here? This bad? Really? There was a time when there was a whole bunch of meaningful shows and then the sagas of saas-bahu's planning plotting topped the charts followed by the reality based shows leading to this; the super-natural 'creatures era'.
We don't want to keep our eyes fixed on Netflix, but the kind of content we're being offered as viewers leave us with no other option. We want to discuss our own shows but not to laugh at them, but just wrack our minds over the plot. We want to go home looking forward to what's going to happen in our favorite TV show only if we had one right now. We just want some sensible shows on our television screens. Is it too much to ask for?
Also Watch
Read full article