7.0 Magnitude Quake Jolts China's Sichuan Province; 7 Killed
The China Earthquake Administration has activated level-I emergency response procedures following the earthquake.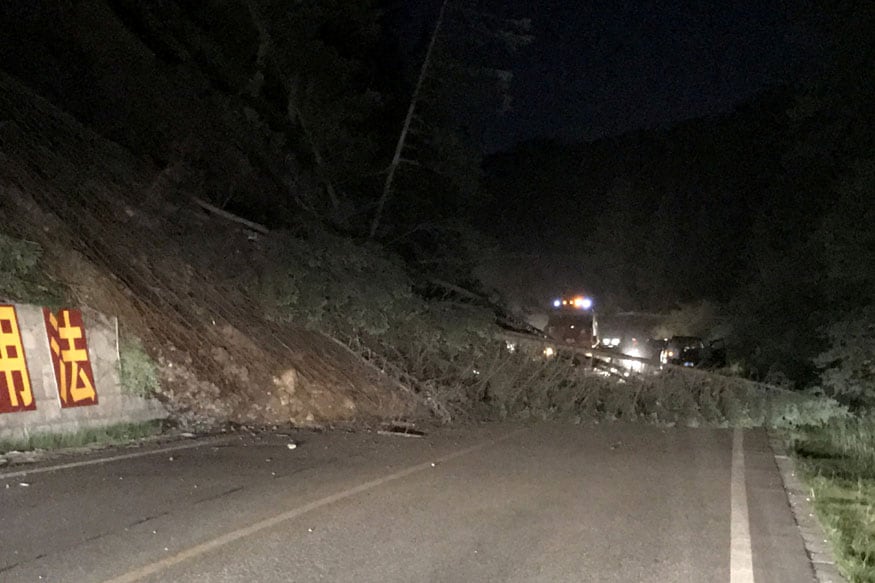 Fallen trees are seen blocking a road after an earthquake in Jiuzhaigou county, Ngawa prefecture, Sichuan province, China August 8, 2017. Image: Reuters
Beijing: An earthquake measuring 6.5 in magnitude struck a remote and mountainous part of the southwestern province of Sichuan on Tuesday, the U.S. Geological Survey said, killing seven people and trapping 100 tourists in a popular scenic spot.
The quake hit a sparsely populated area 200 km (120 miles) west-northwest of the city of Guangyuan at a depth of 10 km (6 miles), the USGS said. It had earlier put the quake at magnitude 6.6 and 32 km deep.
The Sichuan earthquake administration said the epicentre of the tremor was in Ngawa prefecture, largely populated by ethnic Tibetans, many of whom are nomadic herders. It was also close to the Jiuzhaigou nature reserve, a tourist destination.
State television said seven people had been killed and 88 were injured, 21 of them seriously. The official People's Daily said five of the dead were tourists.
Sichuan's government added that 100 tourists had been trapped by a landslide, but that there were no reports of any deaths or injuries amongst them yet.
Sichuan government spokesman Chen Weide said it was unclear at present what had happened to them and whether they had been buried or were just trapped by a blocked road.
The Sichuan fire service said the reception area in a hotel had collapsed, trapping some people, but that 2,800 people had already been safely evacuated from the building.
State television said another tourist had been pulled out alive from rubble in a different part of Jiuzhaigou.
AREA OFTEN HIT
While there was no confirmation of their nationalities, Jiuzhaigou is far more popular with Chinese tourists than foreigners, meaning the dead were likely to be Chinese.
The area is frequently struck by earthquakes.
Pictures on state media-run social media sites showed some damage in Jiuzhaigou, with tiles having fallen from buildings and people gathering outdoors.
State television said electricity had now largely been restored to the affected areas and the military was also sending rescuers to help with relief efforts. Jiuzhaigou airport was operating as normal after the runway was checked for damage, the report added.
A police official told state television that there had been some panic among the tourists when the quake hit.
The Sichuan government said on one of its official social media sites that more than 38,000 tourists were currently visiting Jiuzhaigou.
Shaking was felt in the provincial capital Chengdu and as far away as Xian, home of the famous Terracotta Warrior figures, according to users of Chinese social media.
A quake in Sichuan in May 2008 killed almost 70,000 people.
| Edited by: Ashish Yechury
Read full article
Countdown To
Elections Results
To Assembly Elections 2018 Results