After 'Tweet-Ul-Fissad'
Dawn Leak controversy that caused an implosive situation between Prime Minister Nawaz Sharif's government and the military has been defused by a retreat by the army.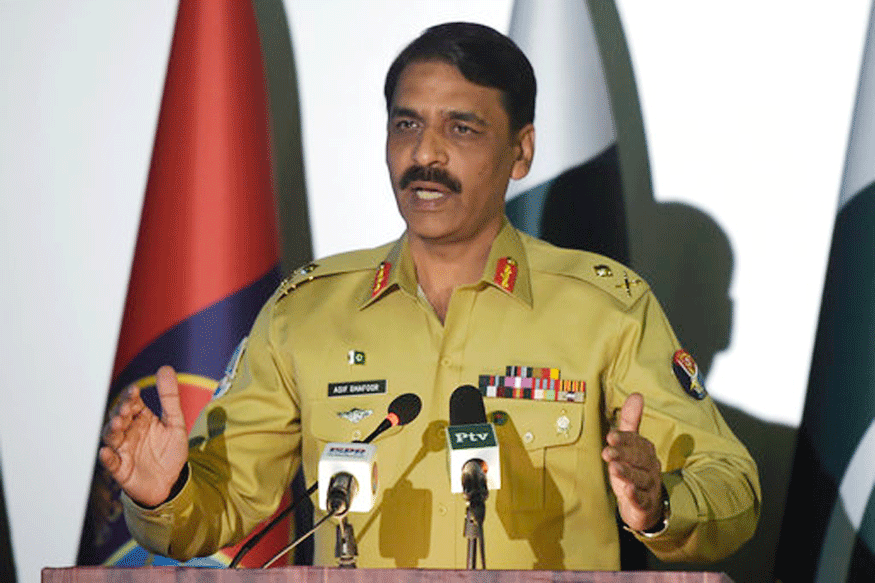 File photo of Pakistan army spokesperson Major General Asif Ghafoor (Image: AP)
All is well that ends well. Dawn Leak controversy that caused an implosive situation between Prime Minister Nawaz Sharif's government and the military has been defused by a retreat by the army.
What had come to be "Tweet-ul-Fissad" has been withdrawn by a glum-faced DG ISPR with an announcement that
Pakistan army
is totally supportive of and subservient to democracy. That's definitely a good news and adds another feather in the cap of our confrontationist Prime Minister who never hesitates to take on the praetorian institution whenever it challenged the civil authority. However, this is for the first time he forced it to retreat.
No doubt an occasion for the civilians to hip beat in joy Prime Minister's success, retrospectively it should be reviewed as to why was there so much hullabaloo. Read this in the light of recent strong worded protest from Iran warning Pakistan that Tehran would hit Sunni Jihadi bases inside Pakistan if the Pakistan government does not control and stop Sunni militants who carry out cross-border attacks as they allegedly did in Iran killing ten Iranian border guards last month.
Head of Iranian army alleged Jaish-al-Adl, a Sunni militant group, had shot its guards, fired from Pakistan in the border area that has been since long festered by unrest from both drug smuggling gangs and separatist militants. "We cannot accept the continuation of this situation," Major General Mohammad Baqeri, the head of the Iranian armed forces was quoted as saying by the news agency IRNA.
"We expect the Pakistani officials to control the borders, arrest the terrorists and shut down their bases. If the terrorist attacks continue, we will hit their safe havens and cells, wherever they are," he warned. Further to this warning Iranian Foreign Minister Mohammad Javad Zarif who visited Pakistan recently had asked Prime Minister Nawaz Sharif to improve the border security and Pakistan assured Iran that it would deploy additional troops along its border.
Much similar to this was the overall perception about Pakistan and its handling of the militants gave birth to the DAWN Leaks that Islamabad faced diplomatic isolation. At the end of the day this diplomatic isolation has ended in a three-front situation. In 2014 Iran had warned that it would send troops to Pakistan to retrieve five Iranian border guards kidnapped by Jaish-al-Adl. Pakistan said at the time that such action would be violation of the international law and warned Iranian forces not to cross the border
.
Jaish-al-Adl is a Sunni militant group that is reputed to have carried out several attacks against Iranian security forces with the aim of highlighting what they say is discrimination against minority Sunni Muslims in Iran, where the majority are Shias. The group claimed responsibility for attacks that killed eight border guards in April 2015 and 14 border guards in October 2013. Pakistan summoned Iranian ambassador in Islamabad to the Foreign Office to lodge a protest against the strong language used by the Iranian army head in warning Pakistan.
On October 6 last year Cyril Almeida of DAWN published his controversial 'leak' and indeed it was exclusive since it was based upon what is supposed to have happened inside a meeting of the top civil and military brass. It stated that the government conveyed to the generals that enough was enough and it was time to correct the ways of operations to avert Pakistan from being declared a rogue state.
There was of course something more than met the eye that the outgoing Army Chief General Raheel Sharif sent his then DG ISI to tour the country and convey the message that both the civilian and military leadership wants to rein in agencies from interfering in action against militant groups in all provinces. It was perhaps just a coincidence that soon after General Qamar Javed Bajwa took over as Army Chief, set in motion transfers and postings of his generals and one of them was DG ISI Lt General Rizwan Akhtar affected by his action.
India was already at it. While accelerating its military operations inside Kashmir against what Delhi calls Pakistan backed revolt by the Kashmiri youth, its diplomats had been put in top gear to malign Pakistan with the objective of seeking its diplomatic isolation.
While the situation had shown no signs of de-escalation, trouble broke out on our western border. On May 5, 2017, Afghan border security forces carried out unprovoked firing across the Chaman border killing 11 Pakistani civilians including one Frontier Corps (FC) soldier and injuring 50 people. This attack took place when national census teams accompanied by FC troops were busy carrying out national population census in two Pakistani villages in Chaman area that Kabul was already informed of. Kabul had given full assurance of cooperation. As if this attack was not enough, Afghan forces continued the offensive across Torkham border. As a consequence Pakistan had to close the Bab-e-Dosti Chaman border gate as well as Torkham gate. The situation continues to be tense.
Naturally Pakistan could not take it lying down. It has responded effectively causing huge loss on the Afghan side among those who had been acting as agent provocateurs. Several border posts were destroyed and around 30 Afghan soldiers killed. Pakistan has reasons to believe that this uncalled provocation from Afghan side had been engineered by NDS-RAW in collusion with drug baron Gen Abdul Razaq Achakzai to undertake a wider disruption plan to destabilise the region.
For the planned attack, light weapons, artillery guns, ammunition and explosives were stored in the houses of the villages opposite the two target villages well before hand. Those houses were used as bunkers from where firing was done and residents were used as human shields to prevent the other side to retaliate with full force. However, Pak forces struck back at Afghan check posts in which the Militia men of Razaq were hiding. To make the situation grimmer, Afghan President Ashraf Ghani has declined to visit Pakistan instead of defusing the rapidly deteriorating vicious atmosphere.
Despite the praise of British generals for Pakistan's successes in war against terrorism and good-goody meetings that our Ambassador Aizaz Choudhry has had recently in Washington, the fact is that one must not be optically eluded and be pragmatic. Pakistan needs to review its foreign policy objectives, take corrective measures internally to have a better and more forceful presentation of the country that has suffered enough for the so-called friends.
With our complex population composition and geo-political situation we cannot afford to look sectarian. Our position has already got compromised by our former Army Chief taking lucrative job of heading what is popularly perceived as a Sunni army raised to counter Shia Iran. Pakistan needs to dispel this lethal perception. It should correct its position since there is a big question mark as to what has been wrong with it that out of its four neighbours, three are hostile to it.

The writer is a former High Commissioner of Pakistan to UK, Advisor to Prime Minister Benazir Bhutto and a veteran journalist
| Edited by: Bijaya Das
Read full article
Countdown To
Elections Results
To Assembly Elections 2018 Results