After US Strikes, Syria Attack Victims Dream of Assad ouster
At least 86 people including 27 children were killed early Tuesday in Khan Sheikhun and dozens more were being treated after they were found convulsing and foaming at the mouth.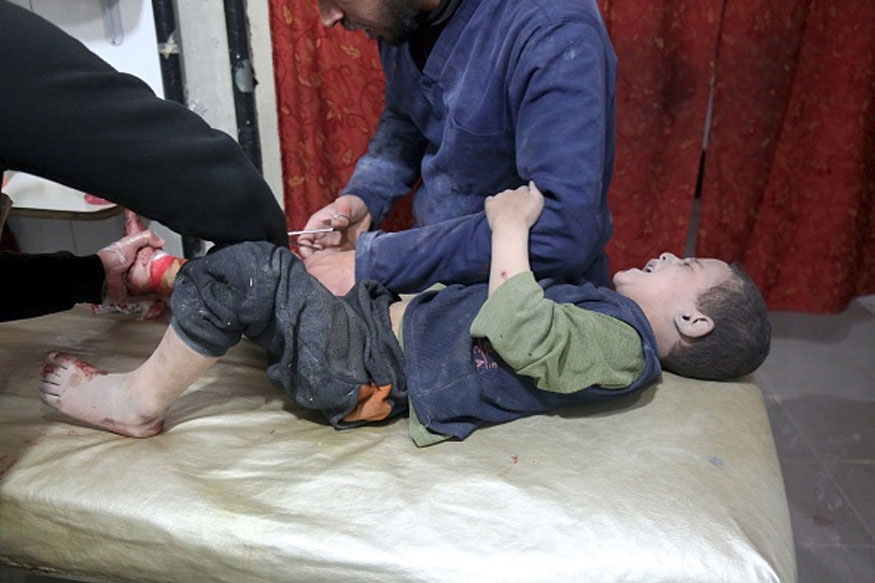 An injured Syrian child receives medical treatment ( Getty Images)
Reyhanli, Turkey: Emerging dazed but well after three days of treatment in Turkey following the suspected chemical attack in Syria, Ahmad Raheel says he is happy with US air strikes targeting the regime.
His one hope now is to see Syrian President Bashar al-Assad ousted.
"We are happy. I hope that they will rid us of Bashar al-Assad," he told AFP outside the hospital in the Turkish border town of Reyhanli.
"I hope that the war will come to an end in Syria."
At least 86 people including 27 children were killed early Tuesday in Khan Sheikhun and dozens more were being treated after they were found convulsing and foaming at the mouth.
Around 60 injured Syrians were brought to southern Turkey for medical treatment in the wake of the attack in Idlib province in rebel-held northwestern Syria.
The wounded were taken from Idlib through Turkey's Cilvegozu border gate for treatment in the town of Reyhanli just north of the Syrian border.
Three of the victims died in hospital and the Turkish health ministry on Thursday said initial analysis suggested they were exposed to the deadly nerve agent sarin.
'We fainted'
Around 20 wounded were discharged on Friday before returning to Syria.
Samer Mohamad, 35, another victim of the attack sitting on the front row of a bus transporting the survivors back, said he lost consciousness at the time of the attack and when he opened his eyes, he found himself in Turkey.
"We were in Khan Sheikun and we were targeted by chemical weapons. The planes hit us with chemical substances, we fainted and did not know what was going on," he said.
"After the chemical attack, we were completely unaware of what was going on.
"I was asleep and all of sudden a plane launched an attack, people started saying 'that was a chemical attack'," he added.
"We went out of the house and started vomiting and then we fainted. When we woke up we found ourselves in Turkey."
Looking somber, Mohamad still looked shocked, as he showed burn marks on his arms.
Too tired to even speak, he struggled to find the words when asked about the US air strikes. "I don't know what to say," he said.
The United States' missile strike on a Syrian regime airbase, welcomed by Ankara as a "positive" action, came in retaliation for the suspected chemical attack, the first such action by Washington in Syria's six-year civil war.
Hospital quarantined'
The bleak mood on the bus contrasted with the pictures on the seat covers on the vehicle hired from a Turkish tourism firm -- a desert island with a palm tree and a figure enjoying the sun.
Some women in the bus disguised their faces from the camera and one woman was seen weeping but refused to speak.
"All the injured have been discharged," a doctor, who asked not to be named, told AFP as he accompanied the wounded into the bus.
"They want to see their families, their kids. They've recovered and they're leaving now," he said.
Another injured Syrian who was discharged and gave his name as Faysal angrily blamed the United States for what happened in Syria, expressing impatience with the media coverage.
"Rid us of Russia and Bashar and everything will be fine. What counts for us is not to be filmed but to get rid of Bashar," he told AFP.
"Nobody in the world has gone through what we are going through," he said.
"All the time planes are hovering over us. Planes and explosions; and images of Bashar on the TV. This is all America's mistake."
Turkish President Recep Tayyip Erdogan has squarely put the blame on "murderer" Assad over the attack while the Damascus regime has denied any involvement.
Get the best of News18 delivered to your inbox - subscribe to News18 Daybreak. Follow News18.com on Twitter, Instagram, Facebook, Telegram, TikTok and on YouTube, and stay in the know with what's happening in the world around you – in real time.
| Edited by: Nakshab Khan
Read full article