All the President's Men: How Donald Trump's Go-To Guys Fell by The Wayside
From reports that he colluded with Russian Intelligence to get damaging information on Hillary Clinton, to allegations that the White House was stoking 'White Supremacist' sentiments — Donald Trump has been firefighting since he took office.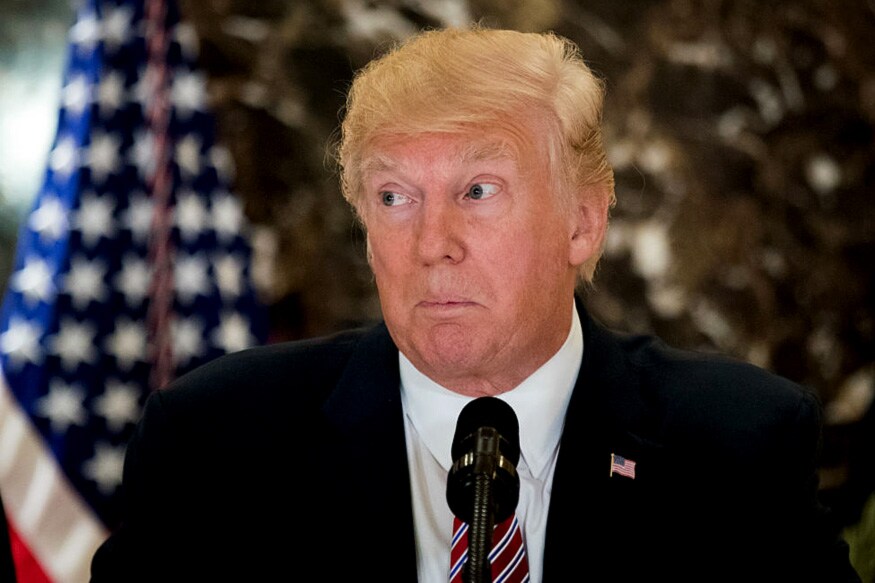 File photo of US President Donald Trump.
New Delhi: The tenure of US President Donald Trump has often been described as "White House in crisis". From reports that he colluded with Russian Intelligence in order to get damaging information on his opponent in the 2016 Election, Democratic nominee Hillary Clinton, to allegations that the White House was stoking 'White Supremacist' sentiments — Trump has been firefighting since he took office, seven months ago. On Friday, POTUS (President of the United States) fired Steve Bannon, his Chief White House Strategist. This was a major change in the White House since Bannon was often referred to in American media as the 'Shadow President' — the real power behind the throne.
But Bannon is not alone in the long list of political operatives who once had Trump's ear but later fell by the wayside, adding to the chaos in the White House.
Reince Priebus
After winning the election against Hillary Clinton, Trump named Reince Priebus as his pick for White House Chief of Staff, and the Republican Party breathed a sigh of relief. Priebus was, after all, the former Chairperson of the Republican National Committee and would be seen as the party establishment's "man on the inside", who would keep the maverick President in line with party values. But Priebus soon fell out of favour with Trump. There were reports of friction between Priebus and Jared Kushner, Trump's son-in-law who enjoys a great degree of influence in the administration. Meanwhile, the Trump administration was facing "leaks" – instances of White House aides leaking embarrassing information to the press. Anthony Scaramucci, who had been appointed as the White House Communications Director, indicated that Priebus was the "leaker". This culminated in Priebus losing his job. This was the shortest tenure of any permanent White House Chief of Staff in history.
Michael Flynn
During the transition of power, former President Barack Obama had warned Trump against appointing General Michael Flynn to any sensitive position. Going against his predecessor's advice, Trump named Flynn as his National Security Advisor (NSA). It later emerged that Flynn had met with Sergey Kislyak, Russian ambassador to the US, and had lied to Vice President Mike Pence when he was pressed about the meeting. In February, just a few weeks into the Trump Presidency, Flynn was dismissed from service. He is now under investigation for colluding with a foreign power.
Sean Spicer
Sean Spicer had a tumultuous tenure as White House Press Secretary. He began his job by claiming, falsely, that the crowd gathered at Trump's swearing in ceremony was the "largest audience ever to witness an inauguration, period – both in person and around the globe". His relationship with the White House Press Corps was, at best, adversarial. During this short period, he made several controversial statements, including one where he insinuated that Syrian President Bashar Al Assad's actions were worse than those of Adolf Hitler. In the weeks leading up to his resignation, he is said to have sought a greater role in communication, although Trump was reportedly unhappy with his work. The final nail in the coffin came when Trump appointed Anthony Scaramucci as the Communications Director. On July 21, Spicer announced that he was quitting and was replaced by Sarah Huckabee Sanders.
Anthony Scaramucci
The shortest tenure of all Trump's aides. On July 25, he took over as White House Communications Director but even before he could set up his desk, he was edged out — a mere six days after his appointment. Scaramucci's primary job was to find the "leakers" who were passing on information to the press, and have them fired. However, after General John Kelly took over as Chief of Staff, the axe fell on Scaramucci himself. According to reports, Kelly felt that Scaramucci was not disciplined and was doing more harm than good to Trump's public image. Scaramucci had infamously given an expletives-laden interview, in which he lashed out at senior White House officials like Steve Bannon.
Steve Bannon
When Trump appointed Bannon as his "Chief Strategist", a position that did not exist before Trump became President, many Americans had cause to worry. Bannon, the executive chairman of far-right news website, Breitbart, was accused of being a 'White Supremacist' and a Neo-Nazi. Breitbart News has been accused of peddling "racist, sexist, xenophobic and anti-Semitic material". Trump came to power after a campaign filled with vitriol against minorities, including people of colour, and it was felt that Bannon's appointment would mean that some of the political rhetoric would find its way into policy. And indeed, Bannon is believed to be the brains behind the infamous 'Executive Order 13769', colloquially referred to as the "Muslim Ban". The Executive Order, called out for its "Islamophobia", banned citizens of seven Muslim-majority countries from travelling to the US.
But soon, the notion that Bannon, rather than Trump, was calling the shots created friction between the President and his most powerful aide. This took place amidst turf wars between Bannon and Jared Kushner. On Friday, a White House spokesperson said Bannon and White House Chief of Staff General John Kelly "mutually decided" that Bannon should step down. Later, however, Bannon said that he was not fired, but had rather resigned.
Get the best of News18 delivered to your inbox - subscribe to News18 Daybreak. Follow News18.com on Twitter, Instagram, Facebook, TikTok and on YouTube, and stay in the know with what's happening in the world around you – in real time.
| Edited by: Aditya Nair
Read full article