Bangladesh Wants 'International Community' To Share Burden of Rohingyas, Asks India to Stand by Its Side
Farid Hossain, Press Minister at Bangladesh High Commission in New Delhi, said Bangladesh has agreed to provide temporary shelter to the Rohingya refugees, not permanent land.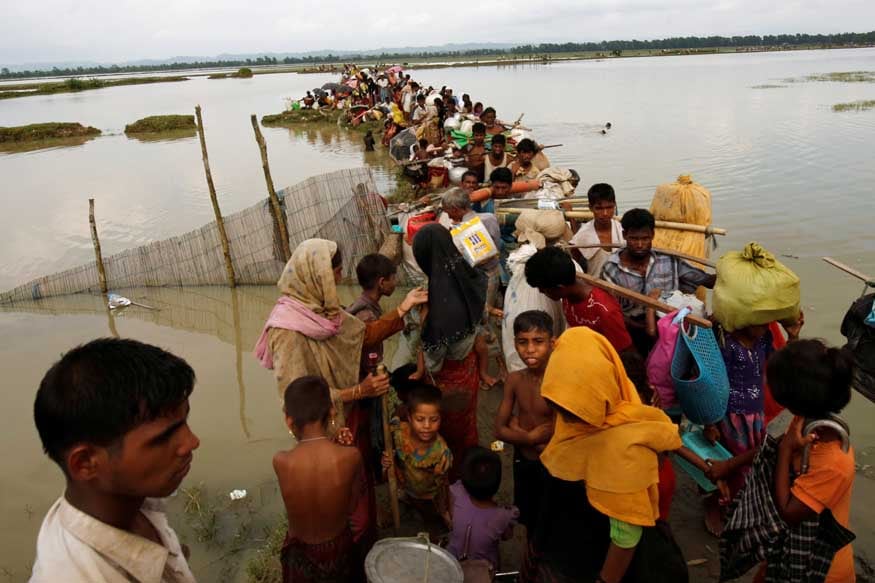 Rohingya refugees wait for boat to cross a canal after crossing the border through the Naf river in Teknaf, Bangladesh. (Reuters)
New Delhi: While the Supreme Court has agreed to hear a plea against deportation of illegal Rohingya Muslim immigrants to Myanmar, a move against the stand taken by the Centre, neighbour Bangladesh has urged the 'international community' to share burden of Rohingya refugees requesting India to stand by its side in this hour of crisis.
Farid Hossain, Press Minister at Bangladesh High Commission in New Delhi, told News18 that "Other international countries should share the burden of Bangladesh" and "Myanmar must take them back."
Hossain said Bangladesh has agreed to provide temporary shelter to the Rohingya refugees, not permanent land.
"Bangladesh cannot shelter them for unlimited period. Rohingyas are also found in countries like Malaysia, Indonesia, and India which has provided temporary shelter to 40,000 refugees. They are scattered and these countries should do something and share the burden. We want India as a regional power and our close neighbor to stand by our side," Hossain told News18.
Assuring help to the Rohingyas, Bangladesh Prime Minister Sheikh Hasina said, "We have the ability to feed 160 million people of Bangladesh and we have enough food to feed 700,000 Rohingya refugees."
The petition filed in the apex court by two Rohingya refugees argues that the proposed deportation would violate Article 14 (the Right to Equality) and Article 21 (the Right to Life) of the Constitution of India. It adds that India is a signatory to various conventions that recognise the principle of "non-refoulement", which prohibits forcing refugees to return to places where their lives might be at risk.
This statement issued by Hossain also comes close on the heels of a statement released by the Arakan Rohingya Salvation Army (ARSA) who have now claimed that they have no link with terrorist organisations like Al-Qaeda, ISIS and Lashkar–e-Taiba.
The statement also stated that it is ready to "support the security agencies to support counter-terrorism efforts in an effort to prevent infiltration by terrorist groups in the Arakan region.'
Hossain believes that any country sheltering them cannot be a solution and the solution only lies in the implementation of the recommendation by the Statement by Kofi Annan, Chair of the Advisory Commission on Rakhine State.
"Bangladesh has given them temporary shelter on humanitarian grounds and they must go back. Myanmar must take them back. The solution lies in the implementation of the Kofi Annan Commission's recommendations like providing them citizenship, rehabilitating them, etc. Bangladesh has proposed that Myanmar should accept them back and a safe zone must be created with the help of UN," said Hossain.
On September 11, the UN's High Commissioner for Human Rights, Zeid Ra'ad al-Hussein, criticised India over its plan to deport Rohingyas back to Myanmar, telling the UN Human Rights Council: "India cannot carry out collective expulsions, or return people to a place where they risk torture or other serious violations."
On the other hand, the Citizenship Amendment Bill, 2017, seeks to bar Muslim refugees from gaining citizenship in India. The bill includes a provision for welcoming refugees facing persecution, specifying "Hindus, Sikhs, Buddhists, Jains, Parsis and Christians from Afghanistan, Bangladesh and Pakistan", but notably excludes Muslims.
It was last week that Prime Minister Narendra Modi visited Myanmar, his second visit to the country in three years. He met and held talks with Aung San Suu Kyi in the capital Nay Pyi Taw. At the end of their talks, a joint statement was issued in which India extended its support to Myanmar to counter terrorism but it did not mention the ongoing crackdown on Rohingyas.
| Edited by: Bijaya Das
Read full article