Paris Climate Deal: Obama Slams Trump for 'Rejecting The Future'
Barack Obama slammed his successor President Donald Trump on Thursday for pulling out of the Paris climate deal, warning that the move would see the United States "reject the future."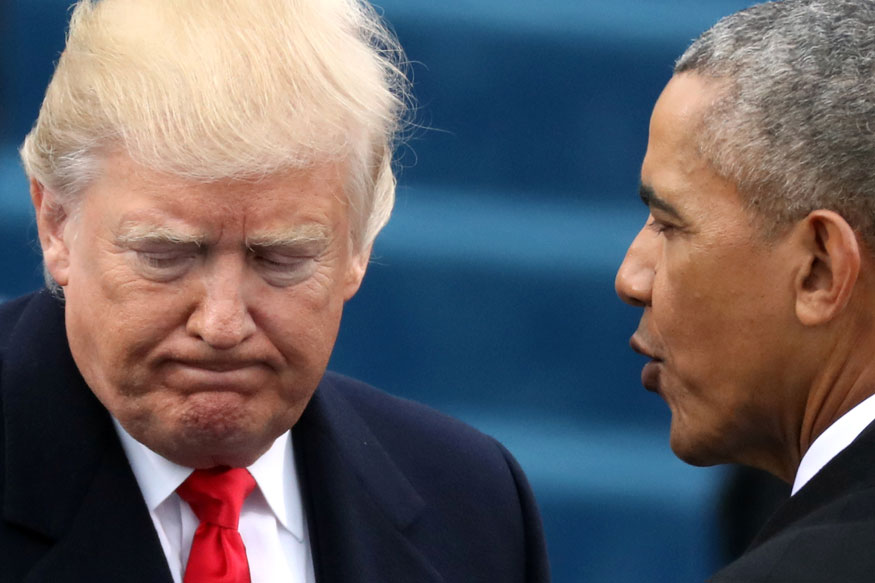 File image of US President Donald Trump (L) and Barack Obama. (Image: Reuters)
Washington: Barack Obama slammed his successor President Donald Trump on Thursday for pulling out of the Paris climate deal, warning that the move would see the United States "reject the future."
"The nations that remain in the Paris Agreement will be the nations that reap the benefits in jobs and industries created," Obama warned in a statement.
"Even in the absence of American leadership; even as this administration joins a small handful of nations that reject the future; I'm confident that our states, cities, and businesses will step up and do even more to lead the way, and help protect for future generations the one planet we've got," he added.
"A year and a half ago, the world came together in Paris around the first-ever global agreement to set the world on a low-carbon course and protect the world we leave to our children," said the former US president.
ALSO READ | US to Export Clean Technologies to Fight Climate Change: EPA
He said it was steady, principled American leadership on the world stage that made that achievement possible. It was bold American ambition that encouraged dozens of other nations to set their sights higher as well, he said.
"And what made that leadership and ambition possible was America's private innovation and public investment in growing industries like wind and solar - industries that created some of the fastest new streams of good-paying jobs in recent years, and contributed to the longest streak of job creation in our history," Obama said.
"Simply put, the private sector already chose a low- carbon future. And for the nations that committed themselves to that future, the Paris Agreement opened the floodgates for businesses, scientists, and engineers to unleash high-tech, low-carbon investment and innovation on an unprecedented scale," Obama said in his statement in which he did not directly name the US president.
ALSO READ | US Quits Paris Climate Pact, Trump Says Deal Not Tough Enough on India, China
Jen Psaki, the former White House Communication Director said the announcement is devastating.
"For the eight years I worked at the White House and the State Department under president Obama, we had a simple rule: When we made a promise as a nation -- one that nearly every other government in the world stood behind, one that was popular with both businesses and citizens, and one that safeguarded a prosperous future for our children -- we kept it," Psaki said.
"This administration is taking the opposite path. Any way you slice it, pulling out of Paris is the wrong move. It's bad for jobs, as clean energy jobs are growing 12 times faster than the overall economy.
"It's bad for our relationship with the rest of the world. It's bad for our health and safety, our national security, our air, and our water," she said and asked fellow Americans to oppose such a move.
"Thanks to Paris, united worldwide progress on climate change isn't theoretical anymore. Nearly every other country in the world is formally on board, with plans to make serious cuts in carbon pollution in the coming decades.
ALSO READ | Elon Musk, Robert Iger to Quit Trump Advisory Councils After Paris Accord Decision
"So are businesses like Apple. Even oil companies like Exxon understand the importance of the Paris agreement and that climate change must be addressed," Psaki said.
"So here's our chance to join them -- to make this a short, ugly bump on an otherwise long road of global cooperation and progress. To let the world know that, even if this administration doesn't yet recognise it, we as citizens won't go silent on climate change," Psaki said.
But Trump, who campaigned on a pledge to cancel US participation in the deal, said he would ditch the Paris accord because it handicaps the US economy.
ALSO READ | Trump Has 'Made a Mistake For Future of Our Planet', Says French Prez Macron
"The Paris accord would undermine our economy, hamstring our workers, weaken our sovereignty, impose unacceptable legal risk, and put us as a permanent disadvantage to the other countries of the world," Trump said in a speech in the White House Rose Garden.
Trump said though that he was open to renegotiating the deal, or creating a new agreement, "on terms that are fair to the United States, its businesses, its workers, its people, its taxpayers."
ALSO READ | Barack Obama Slams Donald Trump For Exiting Paris Climate Deal
Get the best of News18 delivered to your inbox - subscribe to News18 Daybreak. Follow News18.com on Twitter, Instagram, Facebook, Telegram, TikTok and on YouTube, and stay in the know with what's happening in the world around you – in real time.
| Edited by: Ananya Chakraborty
Read full article